#What are you reading?
Your library has the best (and newest) young adult books and an extensive collection of comics, graphic novels and manga. If you don't see what you need on the shelf, just ask! Another library probably has it and we can send it to your location!
Plus, your library card or student ID gives you instant access to FREE streaming movies, TV shows, music, e-books and so much more with apps like Libby, Hoopla and Kanopy on your phone! 
Get the most out of your card!
---
#Part hangout space, part study space
Did you know you can book study rooms at the library? Some branches even have dedicated teen rooms and computers. Find your branch under "Locations and Hours" to reserve a study room.
You can also get homework and research help online, level up and learn new software and skills with LinkedIn Learning, and set yourself up for success in college (and in your future career) with Peterson's Test Prep. It's all FREE with your library card.
#Make Your Voice Heard or Volunteer
---
Imagine if teen spaces and events were designed for you, by you (and your friends)...
At Teen Advisory Board, your voice matters! Last year, TAB planned a thrilling murder mystery and even a dessert decorating competition! What's next? That's up to you! 
Join us at TAB to vote for, plan and make things happen at your Library! You can even earn volunteer hours by helping out at TAB programs. If you library doesn't have a TAB, you can help out in other ways, too!
#Book Recommendations
---
#Hispanic Heritage Month
#Books About Middle School
#Stories Set in High School
#Popular Teen Reads
---
#Looking For More?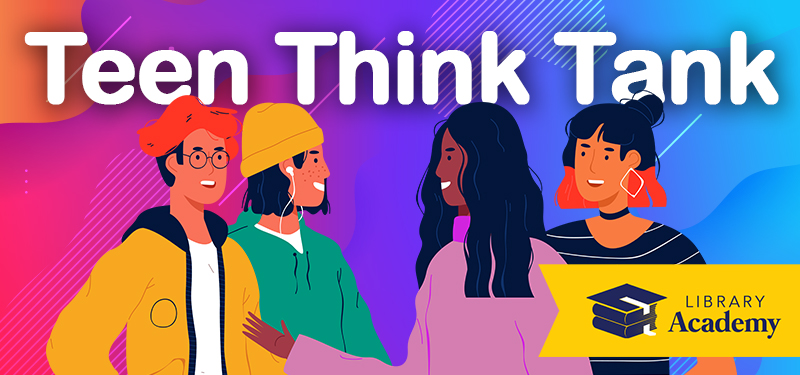 Get monthly book recommendations and links to online games and quizzes, fun podcasts, upcoming library programs and more – delivered to your inbox! 
You can also check out recent book recommendations and activities in our Teen Think Tank Archive!
---
#Upcoming Events and Programs