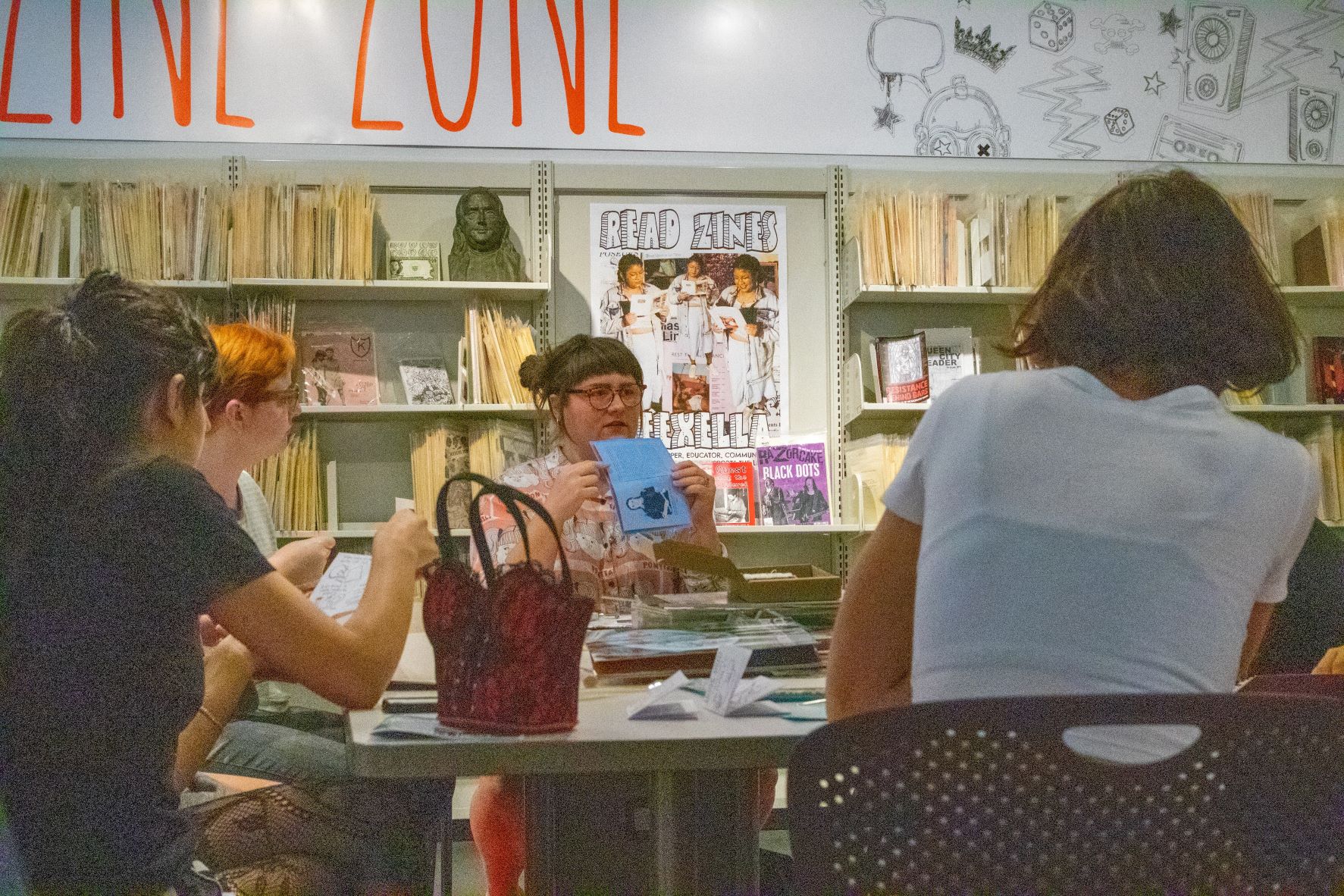 #The Zine Zone
The Jacksonville Public Library has an expansive Zine Collection—one of the first housed in a public library in the Southeast! We focus on regionally-based zines in an effort to better reflect the voices in our community and region but do collect zines from creators outside of Northeast Florida. The scope of the collection is broad, including the arts, music, comics, politics, gender issues and advocacy.
The collection is housed on the first floor of the Main Library and is fully searchable in our catalog.
Not only that, materials in the zine collection can be placed on hold and transferred to other libraries within Jacksonville. As with all library materials, users will need a library card to check out items, but all are welcome to come in and view the collection within the Main Library.
---
#What is a zine?
Zines (pronounced "zeens") are self-published pamphlets of all sizes and shapes, often covering subjects overlooked in larger-scale publications. 
#Why does the library have a zine collection?
Our goal is to circulate and preserve alternative media resources that inspire readers to re-examine and learn from alternative and under-served voices that represent our community. We hope that by offering these unique and inspiring materials, library users will gain a broader appreciation for their community (and library) and that they will feel empowered to contribute their own self-published comics and zines. 
#How do I donate my zine to the collection?
We accept zines of different shapes, sizes and formats. Whether hand-drawn or hand-written, photocopied and stapled, or professionally printed: we want to see it all! Selections are made by a committee from available donations and through vendor catalogs and reviews, using the Library's broader Collection Development Policy as a benchmark.
Criteria for selection will include literary merit, artistic merit, subject specialty, scarcity of material on the subject, quality, format, and local and regional authorship. Efforts will also be made to replace zines that have been heavily used and worn.
You can donate anytime in person or by mail to:
Main Library c/o Zine Collection
303 N. Laura St. 
Jacksonville, FL 32202
Be sure to include:
Name of Author(s)/Artist(s)
Volume number(s), if any
Year of publication
Your email address
There are also several drop boxes around town, sponsored by Duval Comics and Zines (DCAZ) and other community-minded businesses and organizations. Just look for the CALL FOR ZINES poster. There's no deadline to submit: We're always accepting new zines to the collection at the Library. The drop boxes may only be out for a relatively small period of time, though.
---
#Celebrating self-publishers
Jacksonville, Florida, is the home of many talented writers. To make their work accessible to the entire community, Jacksonville Public Library created the Local Author Collection.
Are you a local author or small press with a book, CD or DVD that you'd like us to consider adding to the collection? Click here to request a local author submission form.
Want more tips? Learn more about marketing your book to the library.
Don't have physical copies of your book? Find out more about self-publishing e-books at the library and FREE access to the Indie Author Project and Pressbooks self-publishing platforms. Check out some of the e-books that have already been submitted on our Biblioboard page.