Wednesday, December 21, 2022

#2023 Jax Stacks Reading Challenge
Are you ready for an all-new Jax Stacks Reading Challenge? With 16 categories to choose from (you pick 12), it's the perfect way to tackle that to-be-read list or challenge yourself and expand your reading horizons. 
#Get started
You can pick up your 2023 Jax Stacks Reading Challenge bookmarks right now at your local Jacksonville Public Library. The challenge "officially" starts January 1, 2023, but don't worry if you get started late! Any book you read in 2023 that fits the categories counts.
If you're looking for more structure and a prize, here are some rules for you:
Choose 12 categories that interest you.
Read one book that fits each category, for a total of 12 books.
Track the books you're reading on the Jax Stacks bookmark.
Snap a picture of your completed list and send it to jplprograms@coj.net by December 31, 2023! 
Join our mailing list and receive an email from us every month with a book recommendation for each of our 16 categories. You can read any book that fits a category, not just the ones we send out, but if you need help finding something new, the mailing list is here for you! You can also find these recommendations posted monthly to our blog.
#Win a prize
All winners receive a 25% off coupon to the Friends of the Jacksonville Library Bookstore. You can also get your choice of a Jax Stacks-branded mug, tumbler, notebook or pair of sunglasses (while supplies last). All that plus, you get some major bragging rights!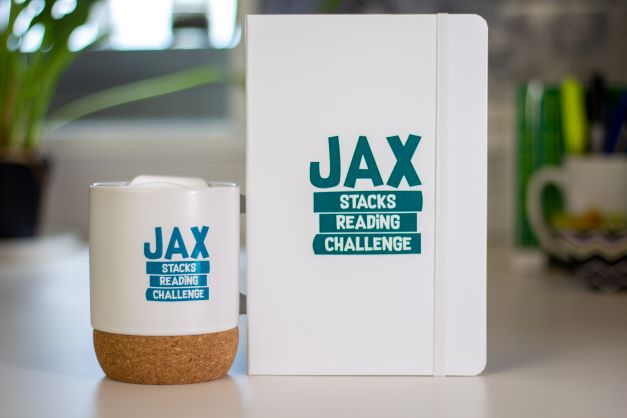 #Get social
Meet up with other readers at our monthly Jax Stacks book club meetings. Each meeting will focus on the categories we're highlighting in our monthly email, and you can also come to chat about any book you're reading for the reading challenge.
Share what you're reading on social media using the hashtag #jaxstacks and #amreading. Be sure to tag @jaxlibrary on Facebook, Twitter, TikTok and Instagram!
#Choose your categories
Each book only counts for one category, so choose wisely! Whether you try out a new format (like audiobooks), revisit old favorites or read a book in a genre you completely overlooked before, Jax Stacks Reading Challenge is one resolution you'll actually love sticking to!
A book you've read and loved before
This category is all about you! Is there a book you loved as a child and want to revisit? A book that you've read a dozen times, and find something new every time? Pick a well-worn book off your shelf and read it again!
A book that was written before 2000
Take a trip back in time and, for a challenge, read a book that is older than you are! Revisit beloved classics and or read some modern classics for the first time.
A book in a genre you don't usually read
Do you consider yourself a mystery reader? A romance enthusiast? Someone who will read anything except Westerns? This category will challenge you to pick up a book you normally wouldn't think about reading. Try a genre classic (Lonesome Dove, anyone?) or a crossover hit (like The Dresden Files fantasy/mystery series) and see what happens.
A book recommended by a library staff member
Our library staff doesn't get to read all day long, but they are surrounded by hundreds of books looking for a reader! Pop into your nearest branch and ask for a recommendation from staff, or get a Personalized Booklist from our Readers Advisory team by filling out this form on our website.
A historical book set in Africa
Are you a fan of anthropology or Period Dramas? Perhaps you appreciate alternate historical accounts of events? Why not take a look at what was going on in Africa during the same points in history? Whether you read about what Europeans were doing on the continent, or of the lives and perspectives of all the other diverse inhabitants of this ancient homeland, dive into the deserts and jungles, cities, and rivers of Mother Africa!
A book in translation
Did you know that there are over 7,000 languages spoken across the globe? Every language is different, from grammatical structures to colloquialisms, which makes literary works in translation a special kind of art form – no two translations are the same! Books in translation make up only a tiny percentage of works published in English each year, so take the time to enjoy one of these rarities!
A book that was written by an author when they were under 30
Those youngsters may have some really worthy words to read, right? We've heard of "The 27 Club" (Oscar Wilde being one of them), so we know that creative genius burns bright, sometimes too hot. Keeping in mind that many classics read in high schools today were published by several authors before their third decade, let's take a look at young writers—alive today and long gone before—whether they showcase idealistic, unbridled, or pensive works.
A book set in a place you want to visit
Experience the travel locations on your bucket list from the comfort of your couch. Whether you are looking for La Dolce Vita or climbing Mt. Everest, expand your horizons with this category in either fiction or nonfiction.
A book read by a library book club in 2023
Sometimes you finish a book and you just need to talk about it with someone. And with the library's wide variety of book clubs, you can! Check out our list of upcoming book club meetings, pick a book they're reading that intrigues you, and, optionally, attend the meeting to talk about it with other readers.
A book by a 2023 Lit Chat author
Have you ever wondered, "How on earth did someone come up with this book?" Now you can find out! The Library hosts 20+ author programs every year, including Lit Chat Interviews (one-hour interviews with locally and nationally known authors) and Lit Chat Author Talks (half-hour presentations by local authors). Check out our upcoming Lit Chat authors, read a book they've written, and join us at the program to ask them all of your questions about writing and publishing.
A self-improvement, how-to, or DIY book
We all want to get better at something at some point, like self-care, home improvement, or reading more books! Challenge yourself to learn from experts in a variety of subjects.
A book with a non-human protagonist
Have you ever wondered what goes on in your dog's head? What about in the heads of birds or farm animals or wolves? What would a dragon think? If you've ever pondered these questions, check out some books written from the points of view of our animal friends, and some fantastical beasts too!
A book banned in the last 10 years
While there have always been literary works that sparked controversy, the challenging and outright banning of books has grown exponentially over the past decade. Sometimes it's because parents feel that the content is unsuitable for their children, or because someone doesn't agree with the book's content or themes. Challenge yourself to examine your own thoughts as you read one of these recently banned books.
A book by a Nobel Prize winner
What do Winston Churchill and Bob Dylan have in common? They both are winners of the prestigious Nobel Prize for Literature. Since 1901, 119 authors have been chosen. Take this challenge category as an opportunity to read one of their selected works.
A book with illustrations
Cartoons aren't just for kids! Adult illustrators first catered to adult audiences, and many novels and academic works still have great art accompanying them. Perhaps a graphic adaptation of that stuffy classic may get the point across better!
A book under 300 pages
You'll be surprised at how much a slim book holds! Explore new worlds and learn new things from novellas, poetry collections, essay anthologies, and more. From inventive fantasy to raw memoirs, you can gain new perspectives from just a few hundred pages.
Looking for more suggested titles? Get The Book Hookup and get book recommendations from several popular categories. Or request your own Personalized Booklist from one of our librarians!