Thursday, February 24, 2022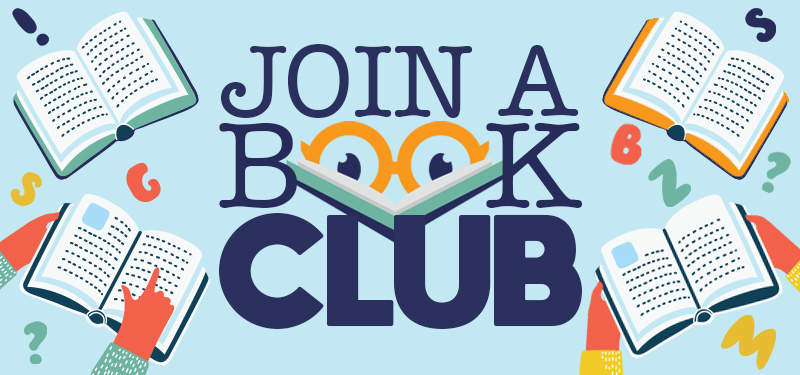 Spring is on the horizon and it's a great time to try a new book club on for size! We have 10 book clubs meeting in March at the library or virtually. If you're interested in humorous science fiction adventure, gods behaving badly, serial killers, poetic memoirs, and everything in between, we have a club for you.
Check out the list of book clubs below and join your fellow readers for a great chat!
Thursday, March 3 @ 6:30 pm Discovery Book Club at Pablo Creek
The Martian, by Andy Weir
"Six days ago, astronaut Mark Watney became one of the first people to walk on Mars. Now, he's sure he'll be the first person to die there. After a dust storm nearly kills him and forces his crew to evacuate while thinking him dead, Mark finds himself stranded and completely alone with no way to even signal Earth that he's alive--and even if he could get word out, his supplies would be gone long before a rescue could arrive. Chances are, though, he won't have time to starve to death."
Thursday, March 10 @ 1pm As the Page Turns Book Club at South Mandarin (Note the temporary location change!)
The Push, by Ashley Audrain
"A tense, page-turning psychological drama about the making and breaking of a family, about a woman whose experience of motherhood is nothing at all what she hoped for--and everything she feared."
Tuesday, March 15 @ 6 pm ComiClub Graphic Novel Book Club at Willow Branch
The Vision Vol. 1 Little Worse than a Man & The Vision Vol. 2 Little Better than a Beast, by Tom King
"Every ninety years, twelve gods return as young people. They are loved. They are hated. In two years, they are all dead. It's happening now. It's happening again."
Tuesday, March 15 @ 6 pm Nuts About Reading Book Club at West
Sourdough, by Robin Sloan
"A software engineer at General Dexterity, a San Francisco robotics company with world-changing ambitions, Lois Clary codes all day and collapses at night, her human contact limited to the two brothers who run the neighborhood hole-in-the-wall from which she orders dinner every evening. When the brothers have Visa issues, they have one last delivery for Lois: their culture, the sourdough starter used to bake their bread."
Saturday, March 19 @ 2:30 pm Mysterious Affairs Book Club at Highlands
Seduction In Death, by J.D. Robb
"Dante had been courting his victim in cyberspace for weeks before meeting her in person. A few sips of wine and a few hours later, she was dead. The murder weapon: a rare, usually undetectable date-rape drug with a street value of a quarter million dollars. Detective Eve Dallas is playing and replaying the clues in her mind. The candlelight, the music, the rose petals strewn across the bed—a seduction meant for his benefit, not hers. He hadn't intended to kill her. But now that he had, he is left with only two choices: to either hole up in fear and guilt. Or start hunting again…"
Thursday, March 24 @ 7 pm Club 364.1 True Crime Book Club Online via Zoom
The Black Hand, by Stephan Talty
"Beginning in the summer of 1903 the children of Italian immigrants were kidnapped, and dozens of innocent victims were gunned down. Bombs tore apart tenement buildings. Judges, senators, Rockefellers, and society matrons were threatened with gruesome deaths. The perpetrators' only calling card: the symbol of a black hand. The tabloid press heated ethnic tensions to the boiling point. Joseph Petrosino, a dogged and ingenious detective, and the all-Italian police squad he assembled, raced to capture members of the secret criminal society before the country's anti-immigrant tremors exploded into catastrophe."
Saturday, March 26 @ 12:30pm New Leaf Book Club at Highlands
Brown Girl Dreaming, by Jacqueline Woodson
"Raised in South Carolina and New York, Woodson always felt halfway home in each place. In vivid poems, she shares what it was like to grow up as an African American in the 1960s and 1970s, living with the remnants of Jim Crow and her growing awareness of the Civil Rights movement. Touching and powerful, each poem is both accessible and emotionally charged, each line a glimpse into a child's soul as she searches for her place in the world."
Mondays starting March 28 Virtual Book Club on LibraryU
Written in Bone, by Sue Black
Join us for our weekly reading check-ins for our March/April LibraryU pick starting March 28, and save the date for April 25 for our live online meeting!
Tuesday, March 29 @ 6:45 pm Flamingo Book Club at Beaches
Anxious People, by Fredrik Backman
"Taken hostage by a failed bank robber while attending an open house, eight anxiety-prone strangers--including a redemption-seeking bank director, two couples who would fix their marriages, and a plucky octogenarian--discover their unexpected common traits."
Thursday, March 31 @ 1:00 pm Jax Stacks Reading Challenge Book Club at Regency
Categories: A book about current events  
Are you participating in our Jax Stacks Reading Challenge? Do you want to? Do you need a few more ideas for books you can read for that one elusive category? Check out our Reading Challenge book club! Each month we'll get together to talk about that month's featured categories as well as books that you have read or will read for any of the categories in the challenge. No reading is required to attend this book club, just an interest in our reading challenge and the ability to talk about great books!