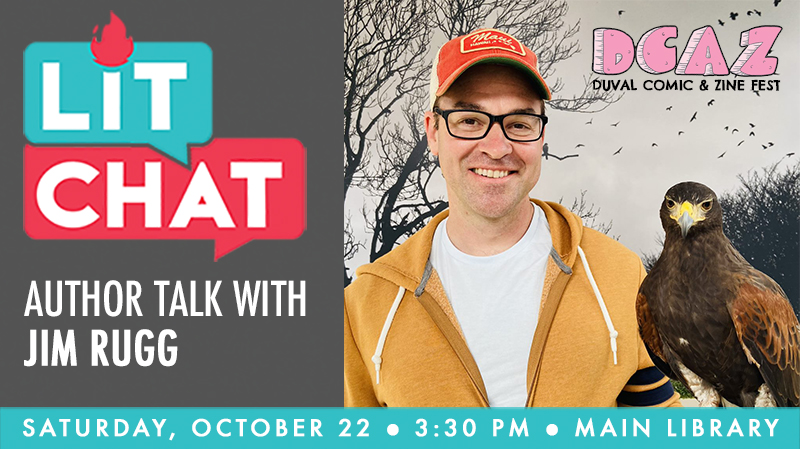 Lovers of zines, comics, and podcasts will all enjoy our upcoming Lit Chat Interview with Jim Rugg, a big name in all of those fields! Jim Rugg joins us on October 22 as our headlining author for the inaugural Duval Comic and Zine (DCAZ) Fest at the Main Library downtown. Read on for more info!
JOIN
Lit Chat Interview with Jim Rugg, Saturday, October 22 at 3:30 p.m. This event will take place live and in person on the first floor of the Main Library and will be live-streamed online via Zoom. Books and comics will be available to purchase on-site from Gotham City Limit or you can bring a work purchased from your favorite seller.
Jim Rugg is an Eisner and Ignatz Award-winning cartoonist, designer, and YouTuber. His comics have been published by Marvel, DC, Image Comics, AdHouse Books, New York magazine, Dark Horse Comics, Titan Books, and Fantagraphics.
Rugg's comics career began with the publication of Street Angel in 2004. Street Angel comics are part of the National Archives and the Smithsonian Collection. In 2007, Cecil Castellucci and Jim Rugg created The PLAIN Janes, launching the Young Adult graphic novel explosion. Rugg's graphic novel Afrodisiac was honored on the AIGA 50/50 list for book design. In 2018, Rugg started Cartoonist Kayfabe on YouTube with Ed Piskor (X-Men Grand Design). Cartoonist Kayfabe celebrates all things comics – with creator interviews, history, tutorials, and discussions about comics. In 2020, Jim Rugg created the world's 1st blacklight comic book, Mtsyry: Octobriana 1976. He taught visual storytelling at the School of Visual Arts from 2012-2022. Rugg has run one marathon so far and lives in Pittsburgh with his wife and cats.
Interviewer Badr Milligan is a project manager by day and an audio creator by night. Since 2012, he has used a mic to help others share their stories. He hosts the award-winning show, The Short Box Podcast, and recently created the Nexxt Spin podcast for fellow vinyl lovers. Inspired by the expanding podcast medium and community around him, he assembled the first Jax Podcaster's United! meet-up in 2018, a now regular event with a fast-growing collective of podcasters and audio enthusiasts dedicated to helping one another through collaboration and community. Badr is also an FSCJ alumnus and veteran of the Florida Air National Guard, using both experiences to run his own small business, The Short Box Entertainment Company.
READ
Check out Jim's books from the library, from full-length graphic novels to a few pages in popular comic series.
JIM RECOMMENDS
"I'm sure I'm forgetting a million great comics and cartoonists, but here are a few I love and recommend!
Eightball, by Dan Clowes - A complete reprint of this seminal alternative comic book series from the 1990s is due out this fall from Fantagraphics Books. It includes Ghost World, Art School Confidential, Caricature, Like a Velvet Glove Cast in Iron, Pussey, as well as many other stories, short strips, cover art, and more. This is my desert island comic, so having it all in one volume is a great and easy place for new readers to start!
Black Hole, by Charles Burns - A teen plague set in the 1970s by one of the best visual artists to ever draw comics? Yes! Great for horror fans as well as lovers of graphic art.
Fist of the North Star, by Buronson and Tetsuo Hara - For the first time in English, a complete reprint of the Japanese fight comic classic is coming to America and it is a beautiful edition with great art reproduction! Violence never looked so pretty!
Dirty Plotte, by Julie Doucet - a complete reprint of Dirty Plotte was published a couple of years ago. Julie Doucet's background as a screen printer and zine maker helped to make Dirty Plotte a unique and influential alternative comic book in the 1990s. And it's still as fresh and exciting as the day it was published!
This One Summer, by Jillian Tamaki and Mariko Tamaki - This coming-of-age YA graphic novel is one of the most beautiful graphic novels I've ever seen.
You & A Bike & The Road, by Eleanor Davis - Davis set out on a bike trip across the southern US from Arizona to Georgia. Each evening, she made comics about the day's experiences. This graphic novel is special and defies easy classification. Davis is one of the best cartoonists of her generation. The book is part travelogue, part meditation on American culture and people, and an account of a physically demanding journey. Also, her art is well-observed, deceptively simple and a joy to read.
Jane, the fox & me, by Fanny Britt and Isabelle Arsenault - is the story of a middle-school-aged girl dealing with mean girls, Jane Eyre, and her younger brothers (who she sees as ninjas). The star of the story Britt's and Arsenault's breathtaking storytelling. Like This One Summer, this is one of the most beautiful graphic novels I've ever read. And it is a big influence on Street Angel: Deadliest Girl Alive."