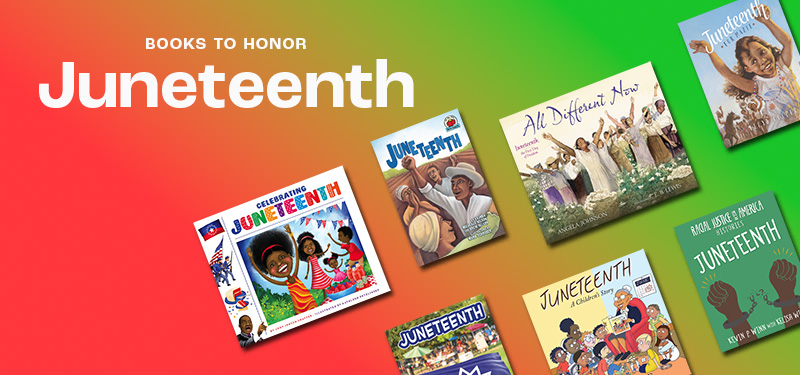 #Freedom for All People
Juneteenth commemorates the end of slavery in the United States. Also known as Emancipation Day, Freedom Day, or Black Independence Day, it has been celebrated annually on June 19 since 1865 in various parts of the country.
#The First Juneteenth
Emancipation came at different times to various places in the South – Florida commemorates the end of slavery on May 20. To learn more about the day freedom finally came to the last enslaved African Americans, check out All Different Now by Angela Johnson. Brought to life by E.B. Lewis's striking paintings and told through the eyes of one little girl, it includes a timeline of important dates and a glossary of relevant terms.
For older kids, The Story of Juneteenth by Steven Otfinoski takes readers back to the end of the Civil War – before the Emancipation Proclamation was read in Galveston, Texas – with an interactive history "adventure" that provides readers a front-row seat to the past.
#Celebrating Freedom
Juneteenth became an official federal holiday on June 17, 2021. If you're attending your first Juneteenth jubilee or looking for ways to celebrate, check out Juneteenth for Mazie by Floyd Cooper or Celebrating Juneteenth by Jody Jensen Shaffer.
#Young Writer's Festival
Celebrating Juneteenth at James Weldon Johnson Park Sunday, June 19 from 2-5 p.m.? Don't miss the Young Authors Award Ceremony and the James Weldon Johnson Young Writers Festival Mass Choir in the Conference Center at Main. Sponsored by the Friends of the Brentwood Library, the inaugural James Weldon Johnson Young Writer's Festival will showcase poetry and dramatic monologues written by local students.
Note: Jacksonville Public Library will be closed on Monday, June 20 in observance of Juneteenth. If you can't make it in before we close for the holiday, don't forget that you can stream ebooks, audiobooks, movies and more on Hoopla!
#More Reading Recommendations