Our flatbed scanners are capable of scanning photos, slides, and negatives. Scan bed can accommodate photos or documents up to 8 ¾" x 12". If you're scanning legal size or above, check out our Bookeye 5 V2 Overhead Book Scanner. If you're scanning a large number of photos, try the Epson FastFoto (Fast Scan 04). It can quickly scan up to 36 photos at a time. Note: It can only accommodate photos, Polaroids, panoramas and postcards up to 8"x10."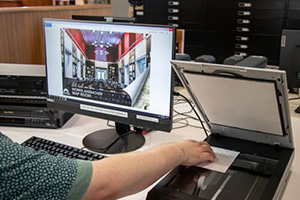 #Hardware and Software:
Lenovo Thinkstation P350 on Windows 10
Epson V600 Flatbed Scanner
Epson FastFoto FF-680W
All scanning stations have Photoshop for photo editing.
We also have a variety of accessories (available upon request):
Pacific Image ImageBox 9MP Stand-Alone Scanner
Zuma Slide Viewer SV-3 LED
Logan Electric E-Z View Slide Sorter
Kaiser Slimlite Plano 5000K LED Lightbox
Bower Digital 35mm Slide Duplicator
Carson 10x Stand Magnifier Loupe
#Plan ahead:
Bring a flash drive or SD card to save files. Files can also be saved to Cloud storage such as Google Photos.
An SD Memory Card is necessary to save files with the Image Box Stand-Alone Scanner.
If you're new to Photoshop, you view tutorials ahead of time on LinkedIn Learning (free with your library card).
Never used a scanner? Check out our video tutorials below.
Introduction to Scanning with the Epson V600
Scanning Photos with the Epson V600