Tuesday, January 11, 2022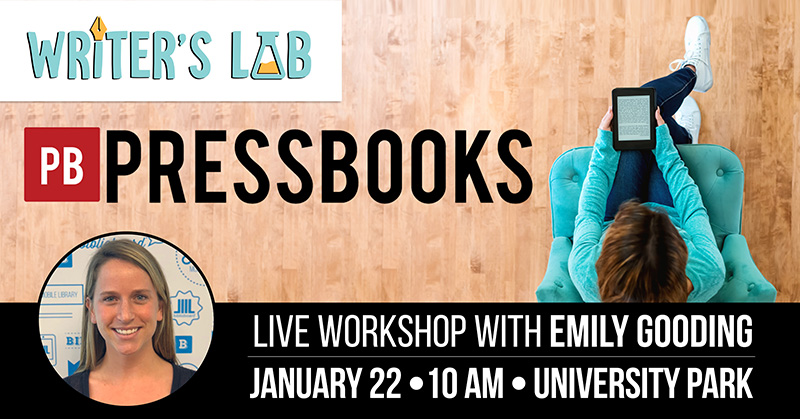 Do you have a completed book just waiting to make its debut in the world? Do you need some help turning that book into a file that you can publish? Check out Pressbooks, a service offered for free with your library card that gives you a book formatted perfectly for your favorite publishing service.
#JOIN:
Writer's Lab: Pressbooks, with Emily Gooding of Biblioboard, on Saturday, January 22, at 10am.
Are you ready to turn your manuscript into a professional-quality eBook or print-ready book file? Whether you're a seasoned author with multiple completed works or you're just getting started writing a brand new project, you can create beautifully designed book files for free with Jacksonville Public Library's Pressbooks Public tool. This hands-on session will walk through the entire process step-by-step from setting up a Pressbooks account through designing and exporting your book file(s). All with no design or tech experience necessary!
This event will be held in-person at the University Park Library. Participants are encouraged to bring their own laptops and documents to turn into publishable files, and the library will provide laptops and sample documents to those who need them. Click here to register.
#READ:
Pressbooks-formatted books can end up in the library's collection through Biblioboard, which showcases local authors as well as authors nationwide. Check out books by Writer's Lab instructor Nikesha Elise Willams and upcoming Lit Chat author Debora De Farias. Sign up for Debora's Lit Chat here!
#EXPLORE:
Now that your book is in a publishable form, check out all of the great things you can do with it at the library!
Submit to the Indie Author Project to make your ebook available at public libraries around the country, If you want more info, check out our next Writer's Lab on the Indie Author Project in February!
If you have printed copies of your book, consider submitting them to our Local Author Collection, housed at the Main Library, which features books in all genres from dozens of local authors.
#HOW USEFUL WAS THIS ARTICLE TO YOU?
If you closed that survey pop-up but are ready now to let us know how useful this article is to you, we'd love to hear it. Click here for a very short survey so we can make our content fit you better. Thank you!