Wednesday, September 6, 2023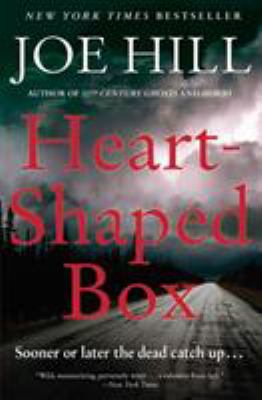 Whenever I am in the mood for a creepy read, I pick up a copy Joe Hill's Heart Shaped Box. This is my scary story comfort food. In this story, the reader is transported into the very unsettling world of Jude Coyne, an aging rock musician with a macabre collection that will make your skin crawl. To go with his assortment of items such as the confession of a witch, a snuff film, and a hangman's noose, he purchases the funeral suit of a dead man. The fact that Jude is warned the suit contains the soul of its former owner does not deter him from the sale. Soon the suit arrives and Jude's girlfriend is pricked by an invisible pin on the suit. That night, Jude is awakened by a visit from the dead man, himself, wearing the suit!! 
Soon, Jude just wants the suit gone and the ghost wants him dead. What follows is an exhilarating tale of ghostly revenge enacted by a departed, evil hypnotist. The spiritual tug of war between the two sides is riveting, making this a difficult book to put down. Readers will find that this tale is not just scary (and it is definitely scary). This is also a story full of heart in which characters are not stagnant. They learn and grow from their ordeals. This gritty story ultimately provides an in-depth character study that is best pondered with the lights on. For those who enjoy a thrill ride with substance, this is recommended title from an author, who happens to be coming to Jacksonville Public Library's Bookfest!
Whether you enjoy your spine tingling reads in graphic, short story, or full-length novel form, there are a plethora of other Joe Hill titles available through Jacksonville Public Library.
Be sure to check out these offerings from Joe Hill:
Victoria McQueen has a secret gift for finding things. On her Raleigh Tuff Burner bike, she makes her way to a rickety covered bridge that, within moments, takes her wherever she needs to go, whether it's across Massachusetts or across the country. Charles Talent Manx has a way with children. He likes to take them for rides in his 1938 Rolls-Royce Wraith. With his old car, he can slip right out of the everyday world, and onto the hidden roads that transport them to an astonishing, and terrifying, playground of amusements he calls "Christmasland."
After his childhood sweetheart is brutally killed and suspicion falls on him, Ig Parrish goes on a drinking binge and wakes up with horns on his head, hate in his heart, and an incredible new power which he uses in the name of vengeance.
The story of Keyhouse, a New England mansion with fantastic doors that transform all who dare to walk through them. Bode Locke, a six-year-old survivor of the tragedy that claimed his father, is about to get a crash course in death when he walks through an impossible door that separates his spirit from his body. The Ghost Door, though, is only one of Keyhouse's unlikely secrets, the other is the creature who lives in the house's well, a girl who is not a girl, and who would kill to be set free.
A compilation of short fiction includes the tales of Imogene, the legendary ghost of the Rosebud theater, and Francis, an unhappy, hopeless human turned giant locust seeking revenge on his Nevada hometown.
A terrifying new plague is spreading like wildfire across the country, striking cities one by one: Boston, Detroit, Seattle. The doctors call it Draco IncendiaTrychophyton. To everyone else it's Dragonscale, a highly contagious, deadly spore that marks its hosts with beautiful black and gold marks across their bodies, before causing them to burst into flames. Millions are infected; blazes erupt everywhere. There is no antidote. No one is safe.