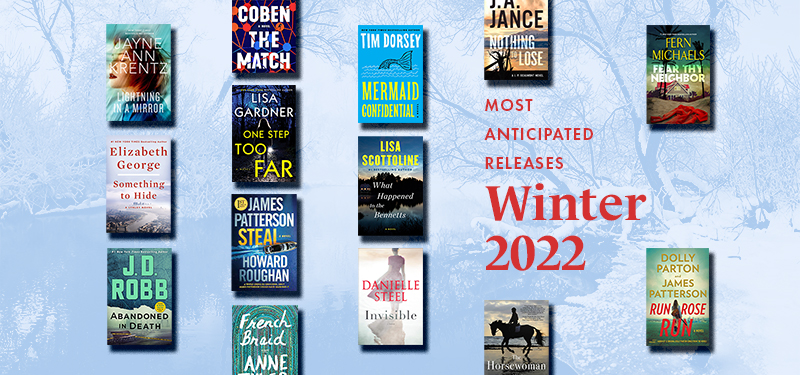 "Book" Your Winter Plans Now!
The New Year brings with it tons of possibilities including some of your favorite authors rolling out highly-anticipated new releases… And we've got a preview of what's to come!
Did you know? You can find "Forthcoming Books" in the catalog and place them on hold – even before their release.
What to watch out for
There are several prolific authors on this list, of course. For romance fans, there's Invisible by Danielle Steel (January 4). James Patterson teams up with Hall of Fame sportswriter Mike Lupica to bring you The Horsewoman (January 10).
Florida-favorite author Tim Dorsey drops Mermaid Confidential January 25. It's his 25th book featuring the dangerously insane crusader for law and order, Serge Storms.
Fan of J.D. Robb? Abandoned in Death (February 8) is the newest novel in the long-running Forgotten in Death series. If murder's what you're after: Fern Michael's Fear They Neighbor or Jude Deveraux's A Relative Murder both come out March 29.
Turn over a new leaf
Catch up on the Zig and Nola series from Jax Book Fest alum Brad Meltzer. The Lightning Rod (March 8) is the follow-up to his New York Times bestselling thriller The Escape Artist.
Looking for a dark fantasy rooted in African mythology? Moon Witch, Spider King (February 15) by Marlon James is the second installment of the Dark Star trilogy which began with National Book Award finalist Black Leopard, Red Wolf. Catch up before Michael B. Jordan's film adaptation premiers.
Something for everyone
Looking for something lighter? Anne Tyler's French Braid (March 22) has already been hailed "classic Anne Tyler" that's "full of heartbreak and hilarity."
Self-improvement? The Power of Regret (February 1) by Daniel H. Pink tackles the "no regrets" philosophy and shows how constantly looking forward (and not back) limits growth.
Find more upcoming releases below: