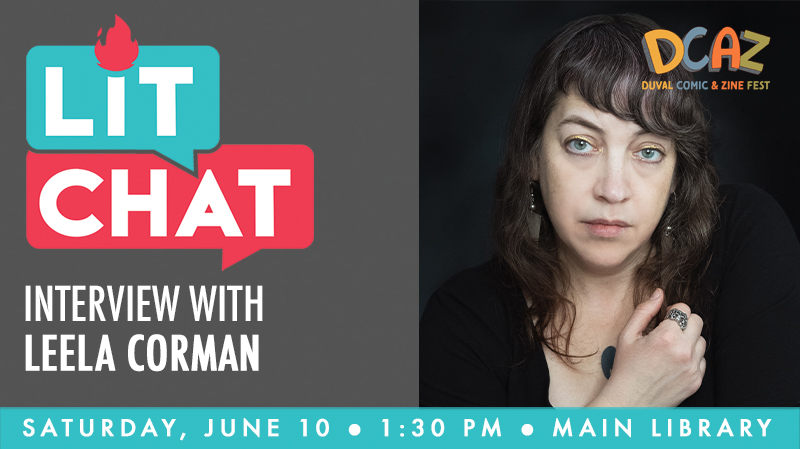 The Duval Comic and Zine Fest returns to the Main Library on Saturday, June 10, from 1 - 5 p.m., and with it, dozens of local creators selling their original, self-published zines, mini-comics, small press, alternative press, underground art and DIY media. This is the perfect opportunity to find and support emerging artists and underrepresented voices here in Jacksonville!
Headlining the event, we have graphic novelist and educator, Leela Corman. A founding instructor of the Sequential Artists Workshop in Gainesville, Florida, and an instructor at Rhode Island School of Design, her teaching philosophy centers on the direct physical experience of making art by hand (often with unpredictable physical materials) and the use of storytelling practices to arrive at powerful images.
---
#Join the In-Person or Online Event
Join us for a Lit Chat Interview with Leela Corman on Saturday, June 10, at 1:30 p.m. live at the Main Library (and live on Zoom). A book signing will follow the interview with books available to purchase on-site from Gotham City Limit. You can also bring a copy purchased from your favorite bookseller.
Note: Chair seating will be guaranteed to those who register for the in-person program but there will also be standing room available at the event.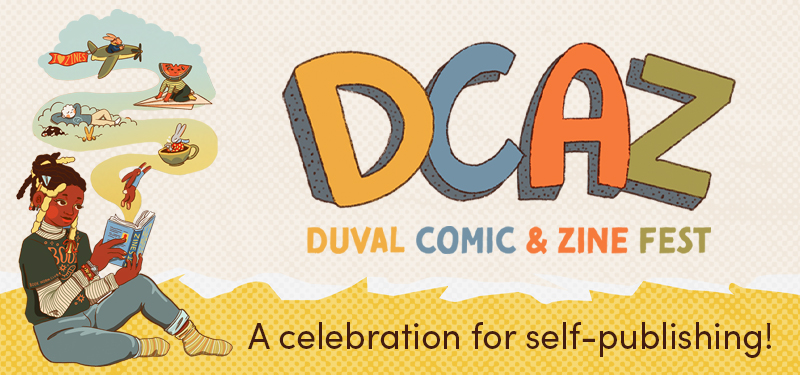 ---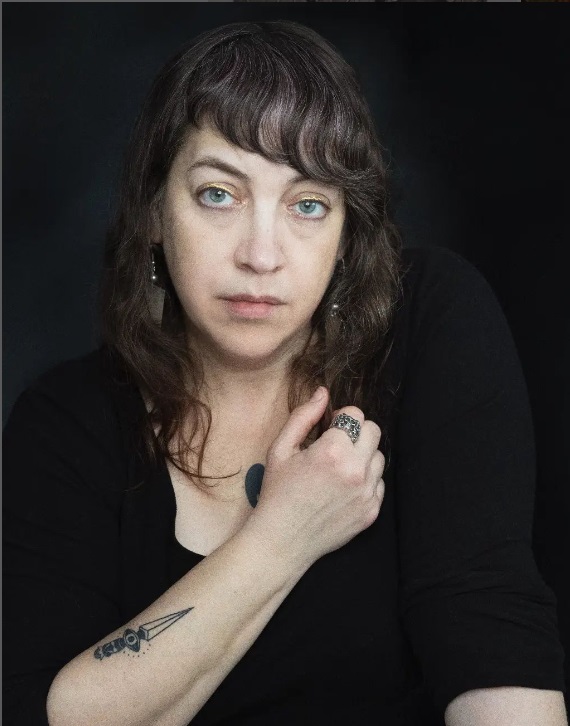 Leela Corman is a painter, educator, and graphic novel creator, working in the realm of diaspora Ashkenazi culture and third-generation restorative work. Her books include the Unterzakhn (Schocken/Pantheon, 2012), which was nominated for the Eisner, the L.A. Times Book Award, and Le Prix Artemisia, and won the ROMICS Prize for Best Anglo-American Comic. Her latest, a short comics collection called You Are Not A Guest, was released by Field Mouse Press in 2023. Her graphic novel Victory Parade, a story about WWII, women's wrestling, and the liberation of the Buchenwald concentration camp, will be published by Schocken/Pantheon in 2024. Her short comics have also appeared in The Believer Magazine, Tablet Magazine, Nautilus, and The Nib.
Corman works primarily with Polish-Jewish history and life, in both her fiction and nonfiction comics, as well as women's history, 20th-century New York history, trauma, loss and (occasionally) music.
---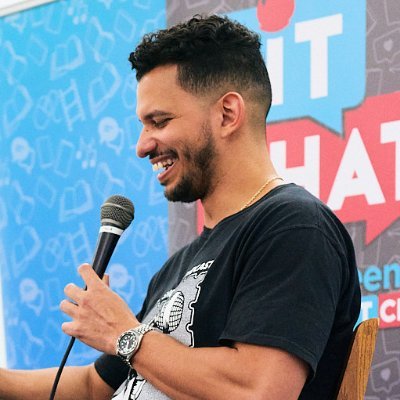 Interviewer Badr Milligan is a project manager by day and a podcast creator by night. Since 2012, he has been vocal in sharing his interests with the world and amplifying the stories of others. He's the creator and host of the award-winning podcast, The Short Box: A Comic Book Talk Show, and recently launched The Nexxt Spin podcast for music lovers. In 2018, he helped form the Jax Podcaster's United Group, a collective of podcasters and audio creators dedicated to helping one another through collaboration and community. Badr is also an FSCJ alumnus and veteran of the Florida Air National Guard, using both experiences to run his own small business, The Short Box Entertainment Company. 
---
#Books We Recommend
Check out Leela's work from the library!
Unterzakhn by Leela Corman
A mesmerizing, heartbreaking graphic novel of immigrant life on New York's Lower East Side at the turn of the twentieth century, as seen through the eyes of twin sisters whose lives take radically and tragically different paths. For six-year-old Esther and Fanya, the teeming streets of New York's Lower East Side circa 1910 are both a fascinating playground and a place where life's lessons are learned quickly and often cruelly.
---
#Leela Recommends
"I am a recommendations factory!"
#Places to visit in Florida:
The Springs! Visit with care and gentleness for their fragile ecosystems and be amazed at their hallucinatory beauty. They're Florida's best-kept secret!
Chamblin's Book Mine in Jacksonville.
Hear Again Records, the amazing Third House Books, and Volta Coffee, all in Gainesville.
#Podcasts Leela Recommends:
Maintenance Phase! Essential listening for debunking all the wellness pseudoscience, diet culture, and anti-fatness we all grew up with. The BMI episode alone should be required listening. Plus it's very funny!  
Conspirituality, a weekly deep dive into the intersection of cults, yoga and wellness culture, right-wing extremism, mis- and disinformation, and politics.
On The Media, essential investigative journalism and media literacy.
Reveal, one of the best investigative journalism podcasts I've heard, especially in the areas of systemic racism and abuses of power in the US, hosted by the fantastic Al Letson, who I believe is a Florida native. [Editor's note: An Orange Park High School grad!]
#Artists Leela Recommends:
Clarity Haynes
Jinal Sangoi
Jeanne Mammen
Joan Semmel
#Television Leela Recommends:
Reservation Dogs, a funny and heartbreaking series about contemporary Indigenous life in Oklahoma, created and starring Indigenous folks.
Pose, set in the queer ballroom scene of New York in the late 1980s and early 90s, starring, among other greats, national treasure Billy Porter.
This is going to sound strange, but I'm really into German detective shows on Netflix, especially Dogs Of Berlin, Same Sky, NSU German History X, and Kleo, all of which deal in various ways with the end of the Cold War, the rise of racist movements after the Wall fell, and the complexities of immigration and contemporary Germany. CW for violence and depictions of racism.
Severance is an excellent sci-fi, reminiscent of the very best of Philip K Dick's work.
#Films/Directors Leela Recommends:
That documentary about Little Richard, I Am Everything. What a beautiful person he was! 
#Music Leela Recommends: 
Come, the best band of the 1990s, who've been re-issuing their back catalog and playing reunion shows everywhere.
Bill Orcutt Quartet, "Music For Four Guitars", very up my Branca/Verlaine alley.
Chris Brokaw, "Puritan".
Thurston Moore Group.
#Prose Leela Recommends:
Lisa Carver books.
Jewish Currents magazine, the best of contemporary diaspora thought and politics.
Girls They Write Songs About by Carlene Bauer, the most pitch-perfect Gen X novel I have yet encountered.
This Way for the Gas, Ladies and Gentlemen, by Tadeusz Borowski. A corrosive work written a few years after the author's release from Auschwitz, that is required reading for high school students in Poland.
#Comic Creators Leela Recommends:
#Miscellaneous Recommendations:
Casey Johnston's newsletter She's A Beast, in which she writes about weight lifting, debunking and dismantling diet culture and fitness pseudoscience and anti-fatness, and celebrates getting swole.