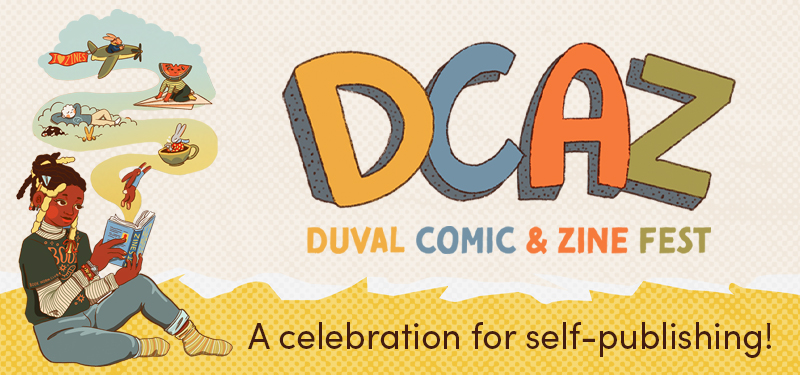 #Duval Comic and Zine Fest
The Duval Comic and Zine (DCAZ) Fest returns to the Main Library on Saturday, June 10 from 1 – 5 p.m. Get to know dozens of local creators of independent and self-published zines, mini-comics, small press, alternative press, underground art and DIY media. If you're a fan, the vendors will have plenty of merchandise for sale. If you're a fellow creator, don't forget to bring zines for trading! You never know... you could find your next collaborator. 
#What can I expect at DCAZ Fest?
This is your opportunity to meet over 40 local zine and comic makers who are sure to bring a heavy dose of eclectic, often bizarre, and infectiously colorful art! Located on the first floor of the Main Library, next to the Library's Zine Collection, the event will also include a Lit Chat Interview, a panel discussion about the history and future of zines, a riso printmaking drop-in activity, the opportunity to collaborate on one of a few improvised Jam Comics and a zine-making program for teens (ages 12-17)! There will even be a "Double Feature" screening of Ghost World and $100 & A T-Shirt: A Documentary About Zines in the Northwest in the Lounge (just in case you need to chill for a moment, away from the hustle and bustle of the main event).
Reminder: Street parking downtown is free on Saturdays!
#Schedule of Events
---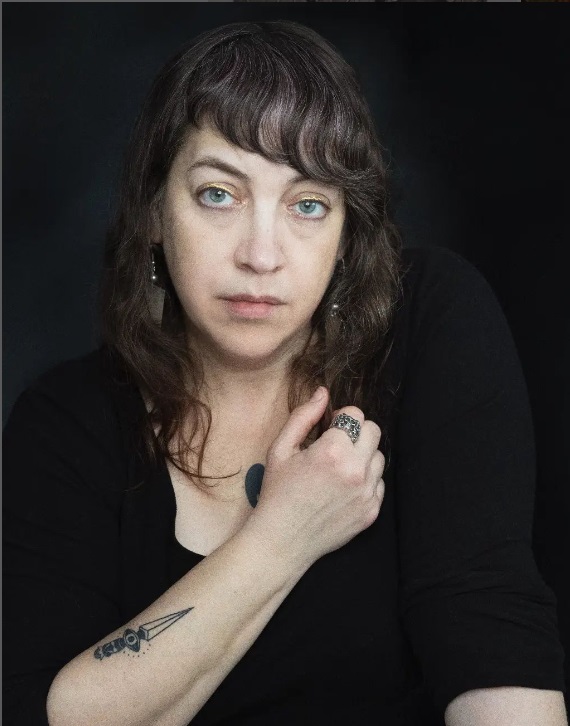 Corman will be in conversation with interviewer Badr Milligan of The Short Box Podcast from 1:30-2:30 p.m. live at the Main Library and live on Zoom. She is a founding instructor at Sequential Artists Workshop, a freestanding school for comics and graphic novels based in Gainesville, Florida. Past books include the graphic novel Unterzakhn (Schocken-Pantheon, 2012) and the short comics collection We All Wish for Deadly Force (Retrofit/Big Plant, 2016). Find more of her work here.
Note: Chair seating will be guaranteed to those who register for the in-person program, and there will also be standing room available at the event. Corman will sign books after the program and copies will be available for sale on-site from Gotham City Limit.
---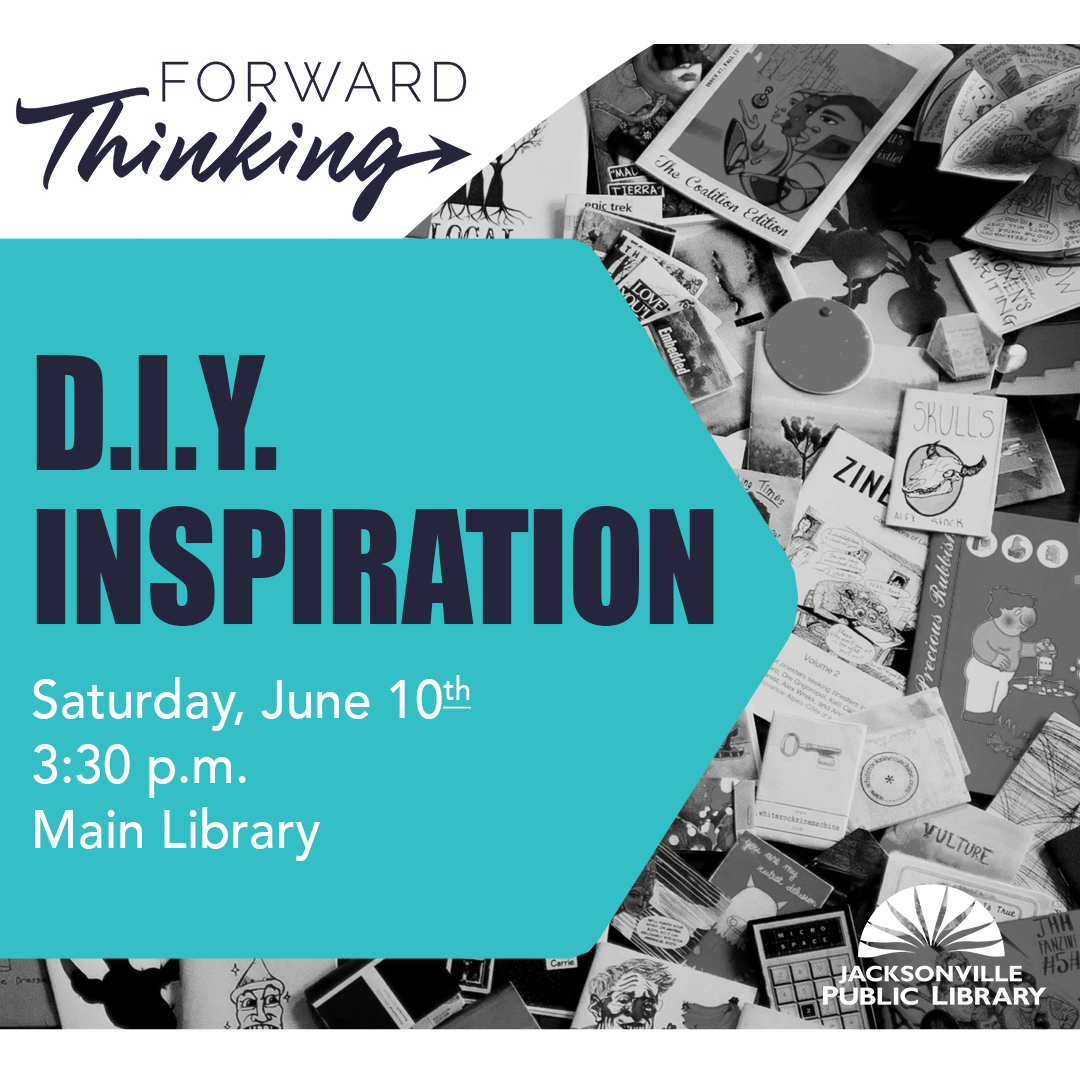 Join us for a panel discussion from 3:30 - 4:30 p.m. to discuss do-it-yourself culture and inspiration within the context of self-made media like zines, comics and printmaking. What does that space look like now, and what will it look like in the future? How have digital tools and distribution methods changed how (and what) creators produce? Panelists will address these questions (and more) from the perspectives of physical production, digital media and distribution. They will also discuss building and curating a community of readers and fellow zinesters. 
Moderator: Shelton Hull is a writer, zinester, journalist, broadcaster, and co-founder of Bold City Records.
Panelist: Emma Lee Jensen is a comics artist, editor and educator at Sequential Artists Workshop
Panelist: Andrew Kozlowski is an artist, printmaker, University of North Florida professor and zinester
Panelist: Aysha Miskin is a digital designer, illustrator, zinester and teaching artist
Note: The Lit Chat and Forward Thinking panel discussion both take place on the first floor of the Main Library, right in the center of the action! So, you can attend both programs and still have plenty of time to check out everything else DCAZ Fest offers!
---
Using the book, Whatcha Mean What's a Zine? by Mark Todd and Esther Pearl Watson (as well as several zines from local creators), teens (ages 12-17) will explore what a zine is and how to create one of their own! These hour-long programs include an icebreaker, games and discussion to kickstart their creative thinking. Then, they'll get zine-making supplies and instructions for making their own!
Join us in the Teen Room at 2:30 or 4:30 p.m. to make your mini-zine! When you're done, you can donate your zine to the Library, trade it with a fellow zinester at the festival, or take it home. 
#More Books About Zine and Comic-Making
---
#Drop-In Activity: Make Your Own Riso Print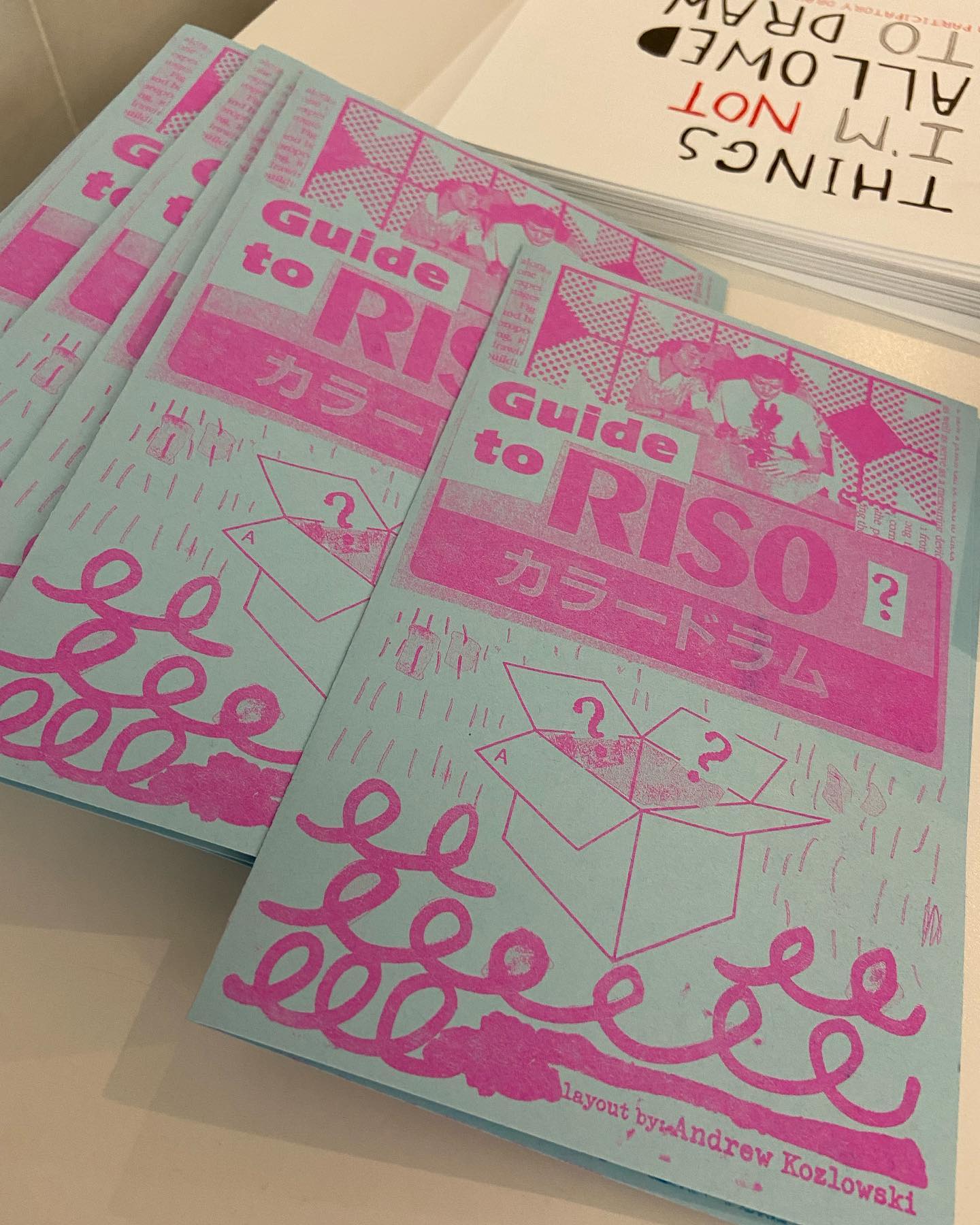 If you're interested in zine making, be sure to drop in for a quick risograph print activity with Dr. Kozlowski from the University of North Florida. Create either a vibrant cover for your next zine or an awesome 11 x 17" poster you can use to promote your work!  
If you've never seen one, a risograph printer looks like a photocopier (but it's way cooler than that!). Riso printing is similar to screen printing in that it allows you to create vibrant prints using rich spot colors. Riso also uses soy inks, so it has little impact on the environment. We'll have some magazines, drawing utensils and other zine-making materials available if you'd like to try the riso out.
---
#Drop-In Activity: Jam Comics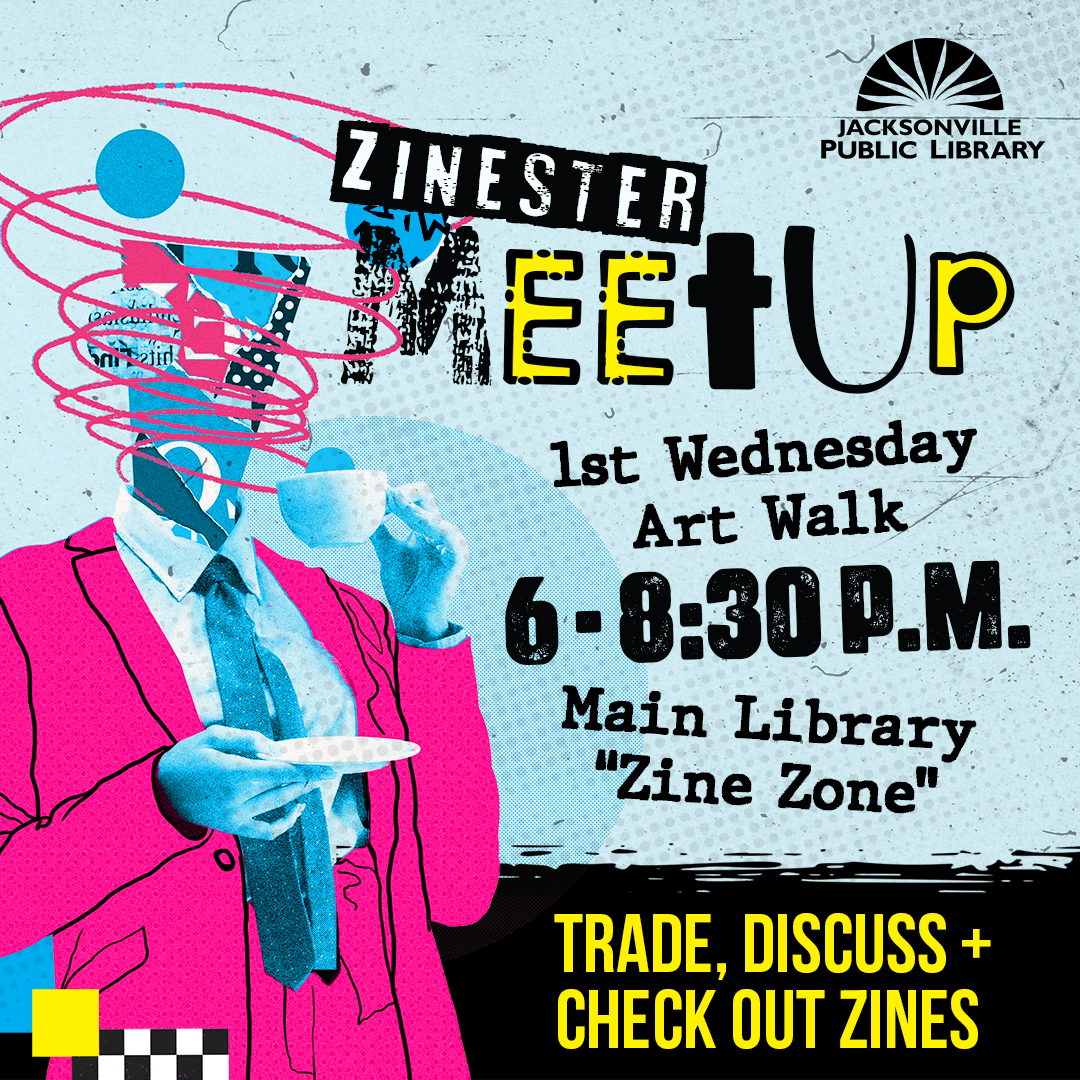 If you're feeling collaborative, stop by the Jam Comics station between 1-5  p.m.! Read what the other artists have contributed and add your own panel to take the story one step further. Artists and amateurs alike are welcome!
If you're looking for a community of fellow creators, you can also join us for Zinester Meetups 1st Wednesdays from 6 - 8:30 p.m. during Art Walk or Saturday Morning Cartooning Saturdays from 9:30 - 11:30 a.m. 
---
#Make, Trade, Read and DONATE Zines!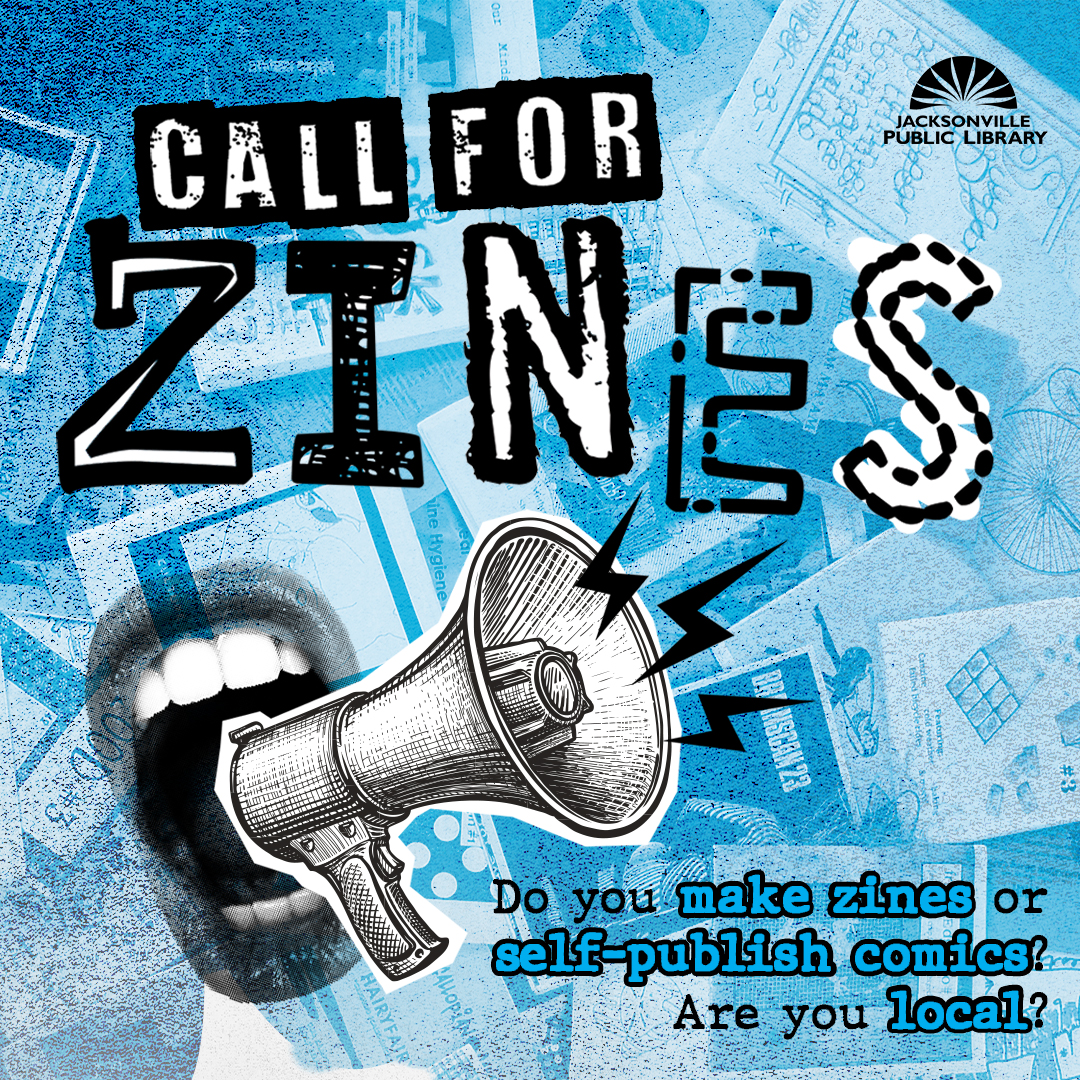 Located in the heart of downtown Jacksonville, the Main Library boasts the largest public collection of zines in the Southeast. The Zine Collection (and related events) are designed to foster community and spark creative expression. So, come together, create and engage with the printed-matter community here at the Library! 
Have a zine or self-published comic you'd like to donate? Whether hand-drawn or hand-written, photocopied and stapled, or professionally printed: we want to see it all! Bring your DIY media to DCAZ Fest or donate anytime, in person or by mail to:
Main Library c/o Zine Collection
303 N. Laura St. 
Jacksonville, FL 32202
Be sure to include:
Name of Author(s)/Artist(s)
Volume number(s), if any
Year of publication
Your email address
---
#Cardholder Perks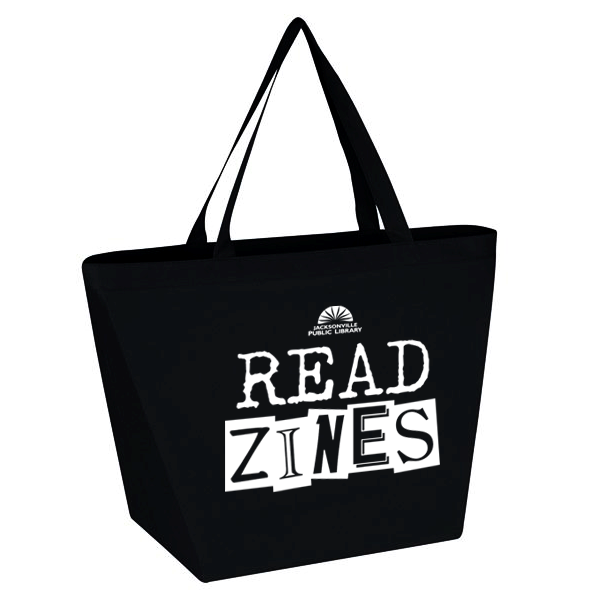 Jacksonville Public Library cardholders will enjoy special perks at the event! So, be sure to sign up for a library card! In fact, if you're one of the first to check out material from the Library's Zine Collection, you'll get a free "Read Zines" tote bag!
You'll also want to check out the new Do-It-Yourself Memory Lab (on the fourth floor of the Main Library). It's perfect for artists and zinesters! There are scanners, including a large, overhead book scanner (perfect for oversized prints). You can also transfer VHS, film, cassette tapes, vinyl and more to digital formats you can share online! Find out more, reserve a digitization station or schedule your appointment at jaxpubliclibrary.org/memory.
---
#Sign Up for Updates
Be the first to know about upcoming Lit Chat author events, Writer's Lab workshops, and more! 
Sign up for one (or more) of our email newsletters: bit.ly/JaxLibraryUpdates
---
#Vendor Information
Table applications were accepted April 15-30 at dcazfest.com/tabling. For questions or to ask about a waitlist, please reach out to dcazfest@gmail.com. If you are tabling: Creators are asked to contribute their work to the Library's Zine Collection, so be sure to save one for the Library before you sell out!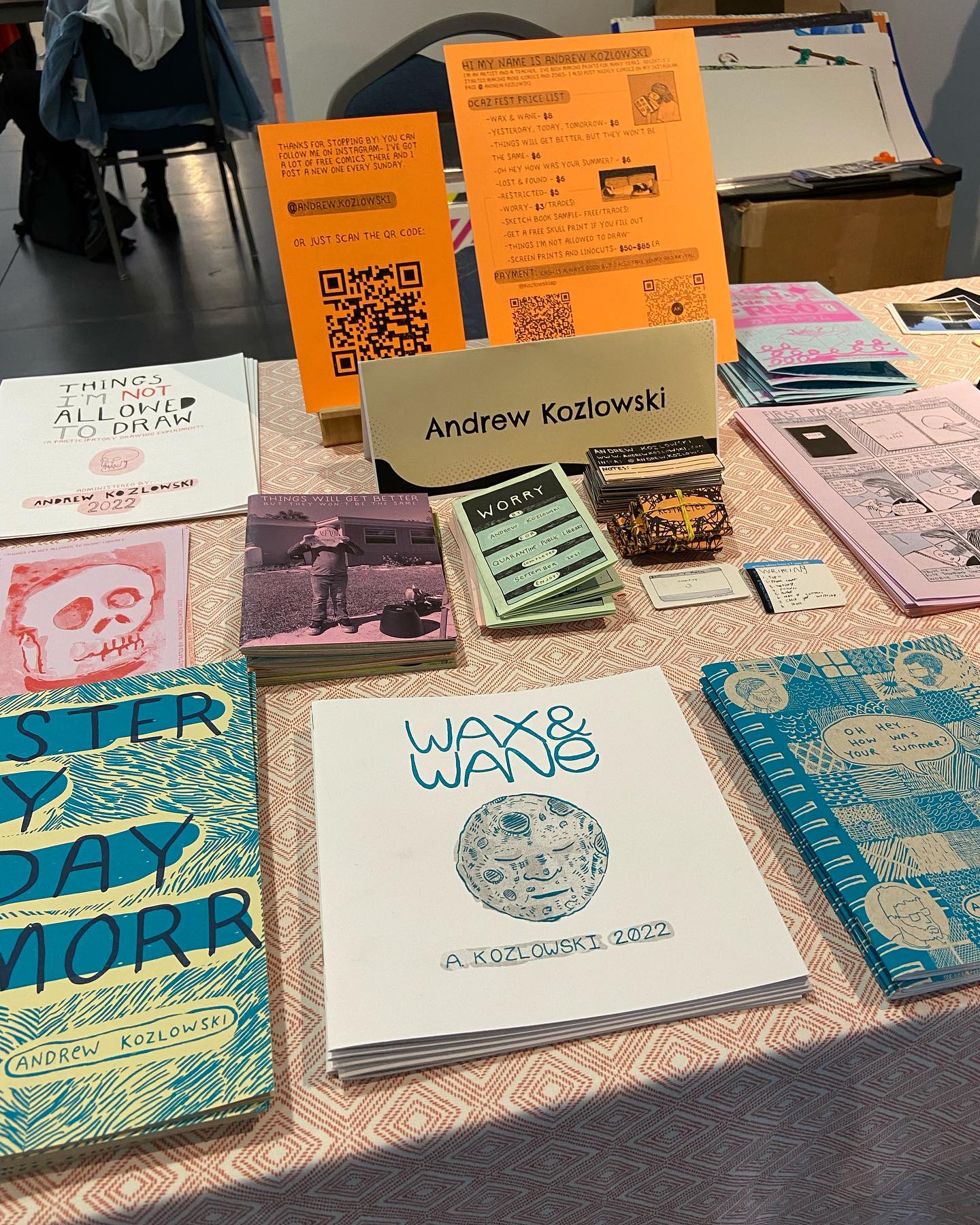 ---