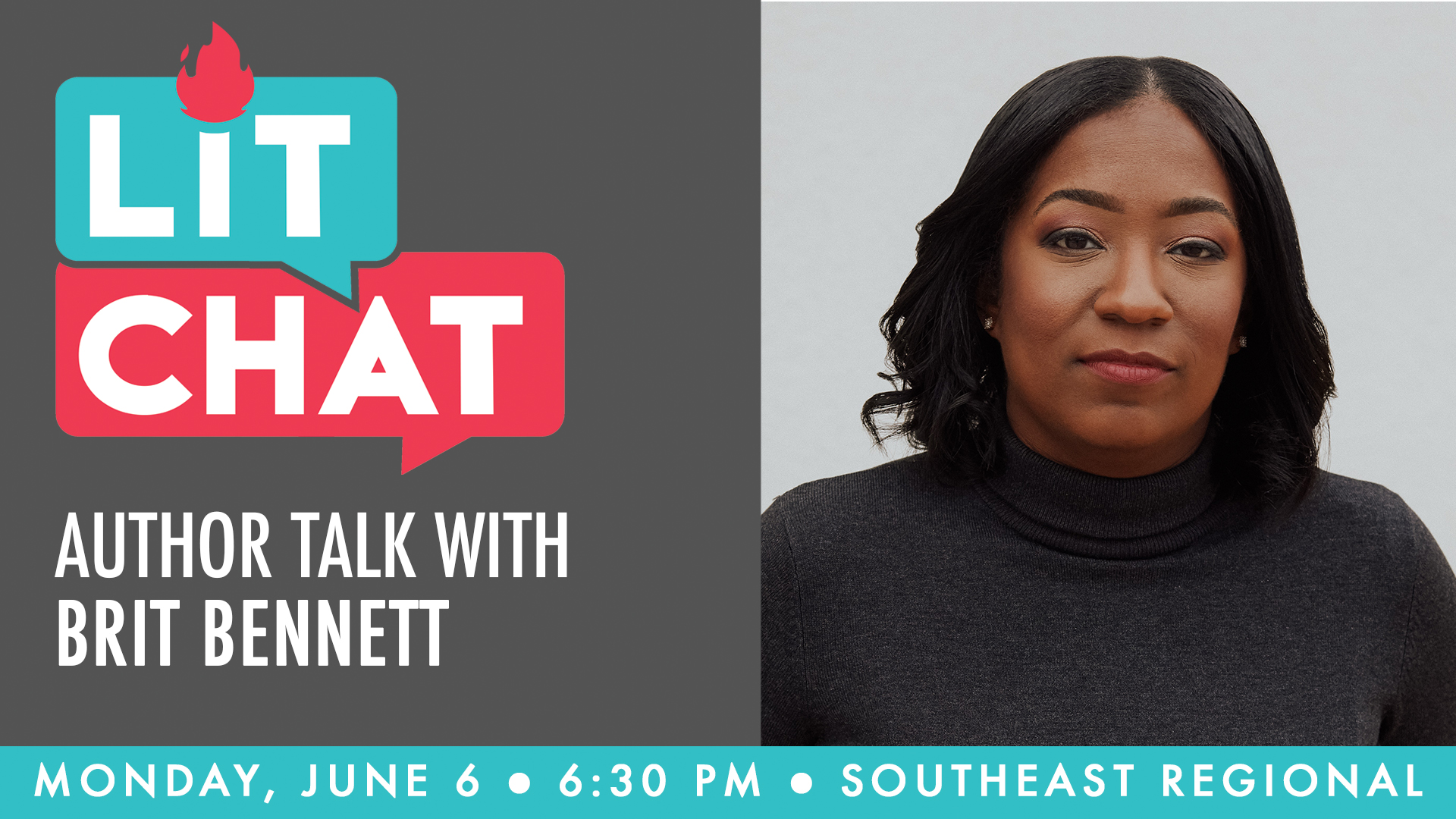 Brit Bennett wowed readers in 2016 with her debut novel, The Mothers, and again in 2020 with her New York Times number-one bestselling novel The Vanishing Half. If you were one of those readers, you now have a chance to meet Brit Bennett in person at the library! Come hear about her books and writing process, and get a chance to ask her questions during our Q&A session.
#JOIN:
Lit Chat with Brit Bennett, Monday, June 6, at 6:30 pm. This event will take place live at the Southeast Library and will be livestreamed online via Zoom. Bennett will sign books after the event. Books will be available to purchase on-site from The Bookmark or you can bring a book purchased from your favorite bookseller. If you want to be the first to know about upcoming Lit Chats, sign up for our Lit Chat mailing list!
Brit Bennett is the author of the dazzling coming of age novel The Mothers and the National Book Award nominated novel, The Vanishing Half, which was also longlisted for an Andrew Carnegie Medal for Excellence in Fiction. Bennett was named a 5 Under 35 honoree by the National Book Foundation and the book was longlisted for the NBCC John Leonard First Novel Prize and the PEN/Robert W. Bingham Prize for Debut Fiction. Her work has also been featured in the New York Times, The New Yorker, The New York Times Magazine, and The Paris Review. While an undergraduate at Stanford, she won the Bocock/ Guerard and Robert M. Golden Thesis prizes for her fiction. Earning her MFA at University of Michigan, she won a Hopwood Award in Graduate Short Fiction as well as the 2014 Hurston/ Wright Award in College Writing. Her conversations are as memorable as her writing and give audiences a window into her craft while exploring broader themes of race and systemic injustice.
Interviewer Nikesha Elise Williams is a two-time Emmy award winning producer, an award-winning author, and producer and host of the Black & Published podcast. Her latest novel, Beyond Bourbon Street, was awarded Best Fiction by the Black Caucus of African-American Librarians in the 2021 Self-Published eBook Literary Awards. It also received the 2020 Outstanding Book Award from the National Association of Black Journalists. Nikesha is a Chicago native and she attended The Florida State University. Nikesha writes full time with bylines in The Washington Post, ESSENCE, and VOX.
#READ:
Check out The Vanishing Half and The Mothers from the library!
And for more great reads, here are Brit's current reading recommendations:
The Three Mothers, by Anna Malaika Tubbs: "A fascinating exploration into the lives of three women ignored by history, the mothers of Martin Luther King Jr, James Baldwin, and Malcolm X. By tracing the intellectual, political, and emotional strands of each woman's life, Anna Malaika Tubbs uncovers hidden complexities within black motherhood that illuminate our understanding of the past while also shedding light on the overlooked contributions of black women today."
Afterparties, by Anthony Veasna So: "A beautiful and blisteringly funny story collection from a young writer we lost far too soon. The book weaves through a Cambodian-American community in the shadow of genocide. following the children of refugees as they grapple with the complexities of masculinity, class, and family. Anthony Veasna So explores the lives of these unforgettable characters with bracing humor and startling tenderness."
#WATCH:
The Vanishing Half addresses themes of colorism and passing. For a real-life story of unintentional passing, check out the documentary Little White Lie, available through Kanopy.
The Mothers talks about motherhood, of course, as well as coming of age and navigating friendships. In Daughters of the Dust, Julie Dash tells an intergenerational story of women living in a Gullah community in South Carolina. Fans of Beyoncé will know that this movie also influenced her 2016 album Lemonade. 
#EXPLORE:
For an artistic interpretation of Black motherhood, check out the virtual exhibit of "Magic, Mirth, and Mortality: Musings on Black Motherhood" on the website of Yellow House, a Jacksonville art and community space. The exhibit showcases writing and visual art from Jacksonville artists Shawana Brooks, Tatiana Kitchen, Marsha Hatcher, and Cheryl McCain.