Tuesday, February 7, 2023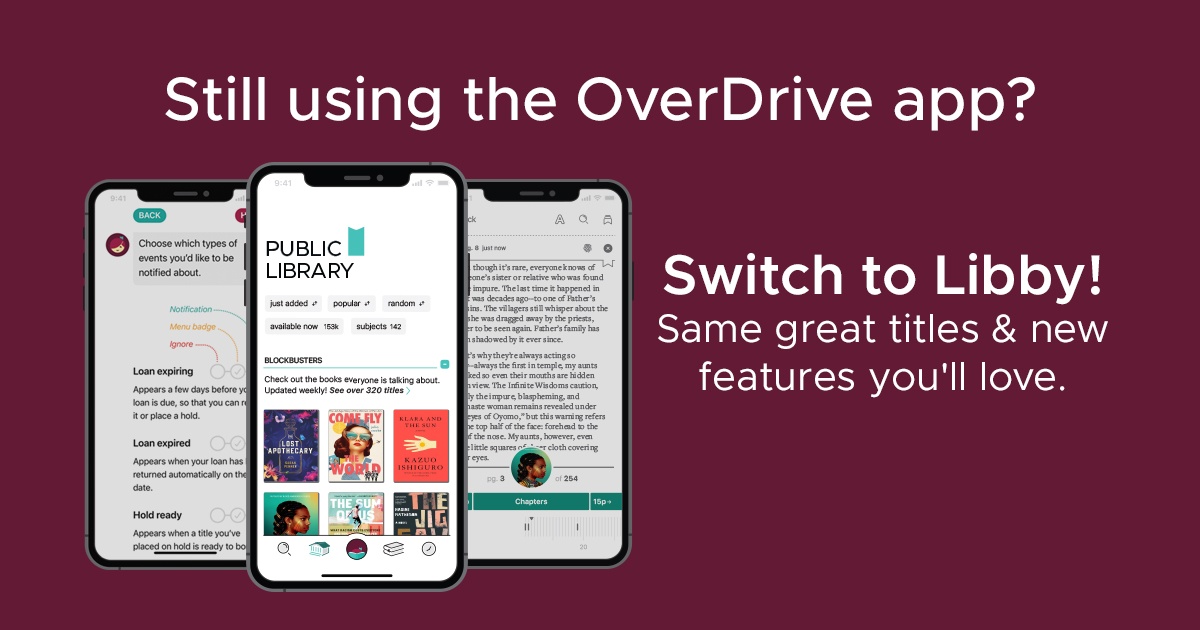 #Still using the OverDrive app? Switch to Libby!
On February 23, 2022, OverDrive removed the original OverDrive app from the Apple App Store, Google Play, and Microsoft Store making Libby the primary app for enjoying the Library's OverDrive digital collection. New customers will only be able to download and install the Libby app going forward. By the end of April 2023, the OverDrive app will be discontinued completely.
#Same great titles & new features you'll love.
If you haven't already switched to Libby, we encourage you to give it a try! Libby is made by the same people, with the same goal of connecting you to your library and to your favorite books, audiobooks, and magazines. You can read on your phone or tablet using the Libby app. You can even send and read your borrowed e-books to your Kindle e-reader! It's free and easy to get started for new users.
The Libby app has everything you loved about OverDrive plus many unique features:
Audiobook compatibility with Apple CarPlay, Android Auto and Bluetooth
A way to tag things to create wish lists
Push notifications
A single bookshelf displaying all of your loans and holds
Direct, in-app support (not just FAQ)
Accessibility enhancements like screen reader support 
Customizable e-book reader display and more!
#Get Libby and start reading now!
Libby is completely free. It's free to install, and there are no subscription costs, no in-app purchases, and no late fees. All you need is a library card. Learn more about Libby here.
---
#Why the change?
The original OverDrive app was released over a decade ago. A lot has changed since then! Libby was inspired by library and customer feedback. It was designed to get people reading as quickly as possible. It's also a better, more streamlined experience for current OverDrive app users.
#When should I switch?
You can switch to the Libby app now without losing your current checkouts or holds. If you haven't already, now's the time to sync your wish lists from the OverDrive app or the OverDrive website with the Libby app.
Customers who already have the OverDrive app installed can continue to use it through the end of April 2023. 
#Streaming Videos
Videos are not available in the Libby app. But you can access "extras" like videos in other ways:
Did you know? OverDrive and Kanopy have joined together! Libby will do what it does best: enhancing the digital reading experience and helping you find more of the books you love. While Kanopy will remain your source for streaming video content, on the world-class platform you're already familiar with. Tap "Extras" in the Libby app to find streaming entertainment and more.
Download the Kanopy app on the App Store or Google Play. Kanopy is also available for streaming on several television apps and devices.
OverDrive's digital collection, including its video collection, will continue to be available at https://jpl.overdrive.com. It can be viewed on your desktop or laptop computer. This link will also be posted on the Digital Library page of our website.
#What if I use a Kindle?
You can now use the Libby app to send borrowed ebooks to Kindle or set Kindle as your reading preference.
#Does Libby have books for kids?
Yes! You can even filter your Preferences to only see books for kids.