Monday, September 11, 2023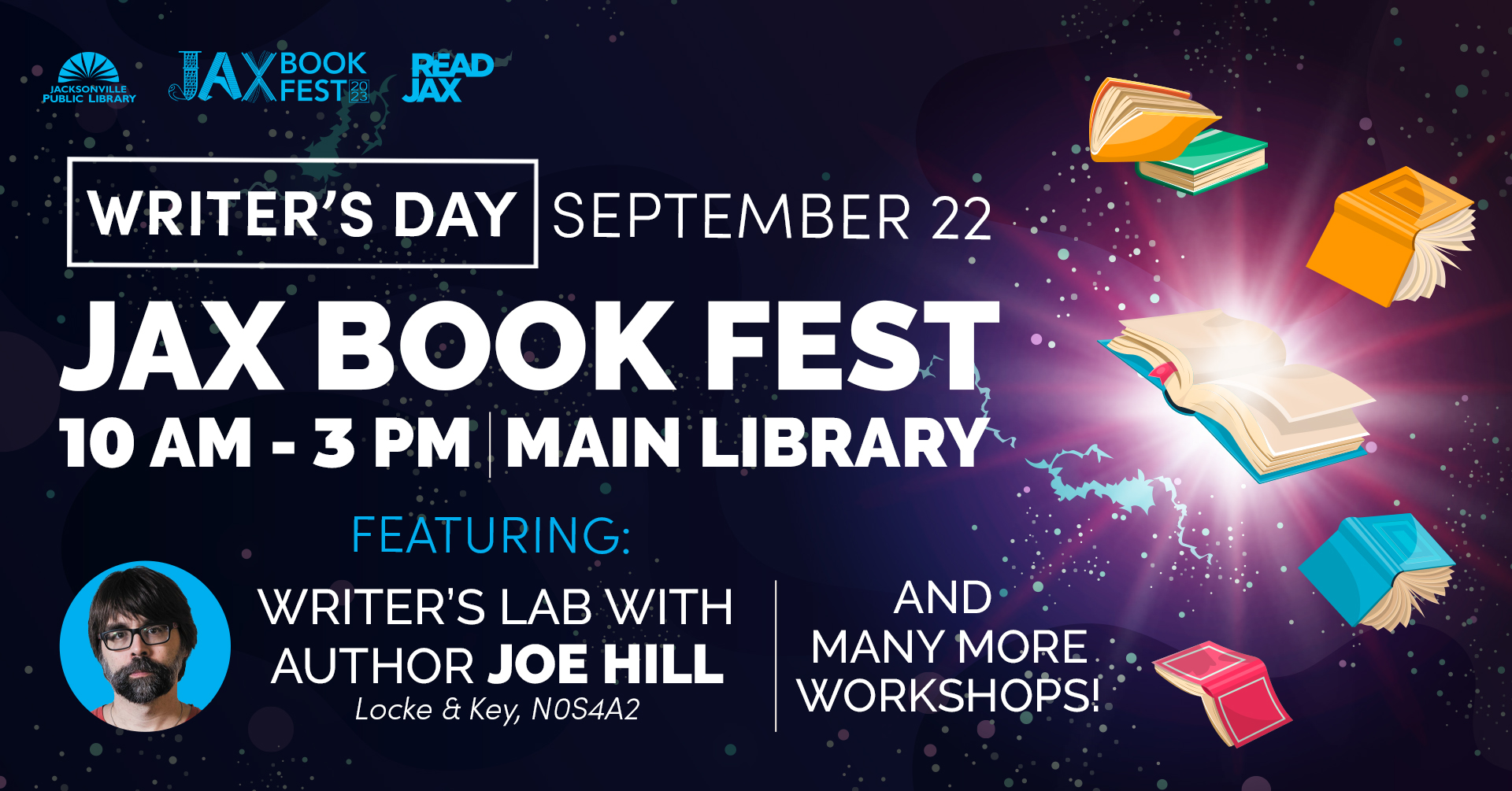 #Jax Book Fest: Writer's Day
Are you an aspiring author? Have you ever wanted to see your own book on the library's shelves?
Join us Friday, September 22 from 10 a.m. - 3 p.m. at the Main Library for FREE writing and publishing workshops, networking with local authors, and more! There will be two Writer's Lab workshops offered in the morning and two in the afternoon. Please note: There is limited seating available at our hands-on workshops. So, if you're interested in Writing and Publishing for Children or A Game of Perspective, don't forget to pre-register or join the waitlist!
There will also be three Pressbooks Public workshops held throughout the day. Are you an indie author ready to submit your e-book to the Florida Indie Author Collection? Or do you need help getting your manuscript ready for on-demand printing? You'll want to join us in the computer lab inside the Center for Adult Learning for one of three repeating sessions.
#REGISTER NOW!
---
#Repeating Session
---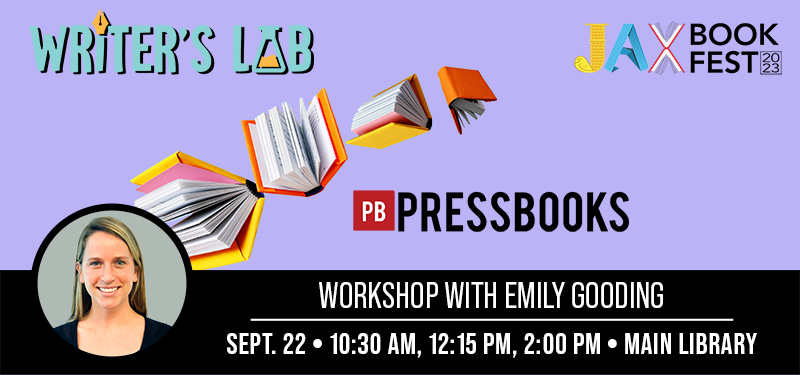 Center for Adult Learning Computer Lab
10:30 - 11:30 a.m., 12:15 - 1:15 p.m., or 2 - 3 p.m.
Are you ready to turn your manuscript into a professional-quality eBook or print-ready book file? Whether you're a seasoned author with multiple completed works or you're just getting started writing a brand new project, you can create beautifully designed book files for free with Jacksonville Public Library's free Pressbooks Public tool. This hands-on session will walk you through the entire process, step-by-step, from setting up a Pressbooks account all the way to designing and exporting your book file(s). No design or tech experience necessary!
Emily Gooding is a Library Relations Coordinator with Biblioboard, which provides the Pressbooks Public tool to the library.
#Morning Sessions
---
10:30 a.m. - 12:30 p.m.
Multipurpose Room
Join us for an enchanting workshop that will ignite your creativity and set you on a path to becoming a published children's book author! Get ready to embark on a journey filled with inspiration, knowledge, and the keys to success in the captivating world of children's literature.
Twyla Prindle is the founder of Kash Kids, Inc. and author of more than a dozen financial literacy books for kids. Her best-known work is Where Is My Money? She is one of North Florida's leading advocates teaching children financial literacy and entrepreneurial skills. Twyla graduated from Florida A&M University.
---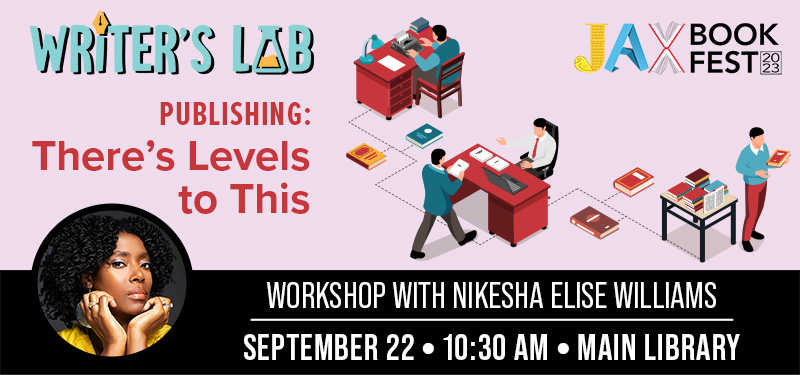 10:30 a.m. - noon
Hicks Auditorium
Award-winning author Nikesha Elise Williams will take participants through the often opaque and mystifying world of publishing. From self-publishing herself and indie publishing others to working with a university press and landing a "Big 5" traditional publishing deal, Williams has navigated every level of the industry with success. She will delve into the differences between vanity, boutique, and indie publishing, the benefits to university presses and other non-profit imprints, why self-publishing is not "less than," the difficulty in getting to the Big 5, and what role Amazon plays in reshaping the book world and the publishing industry time and time again. 
Nikesha Elise Williams is a two-time Emmy award-winning producer, an award-winning author, and producer and host of the Black & Published podcast. Her latest novel, The Seven Daughters of Dupree was acquired by Scout Press and will be published in 2025. A Chicago native, Nikesha now lives in Florida with her family and is a columnist with JAX Today. Her work has also appeared in The Washington Post, ESSENCE, and VOX.
#Afternoon Sessions
---
1:30 - 3 p.m.
Multipurpose Room
Joe will demonstrate how to get inside a character's head, exploring what they notice – and, just as importantly, what they don't. Every character in your story has their own idiosyncratic biases; they have regrets, daydreams, fears, and longings entirely unique to them. So it stands to reason that the reader will experience a scene one way from one character's point-of-view, and an entirely different way from another character's perspective. Find out how an agile use of POV can unlock the possibilities of your story and heighten the power of a moment. 
 
Joe Hill is the #1 New York Times bestselling author of Heart-Shaped Box, The Fireman, and others. Much of his work has been adapted for film, including the Blumhouse smash The Black Phone, adapted from his short story, and Locke & Key, a hit Netflix series based on the comic he co-created with artist Gabriel Rodriguez. He lives in New England. 
---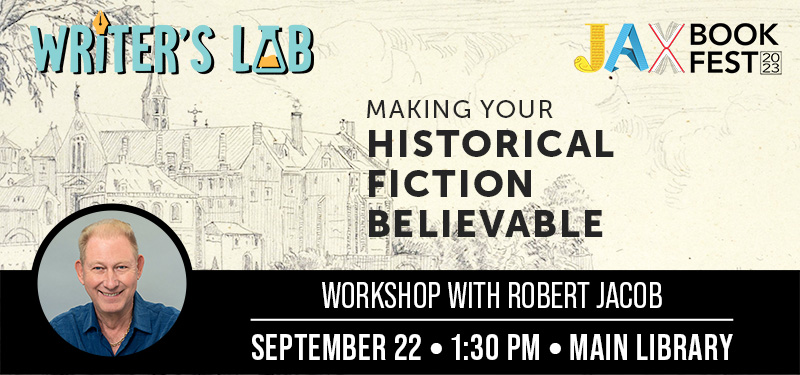 1:30 - 3 p.m.
Hicks Auditorium
Believability is in the details! In this free writing workshop, award-winning author Robert Jacob will talk about why historical accuracy is important (even in fiction), where to begin your research, what to use for source material, and how to create an outline and timeline. He'll also cover how to develop your characters by exploring the attitudes, beliefs, and vernacular of the people who lived when your story takes place.
Robert Jacob has been heavily involved in education and living history interpretation for over 50 years. During the past 18 years, he has focused on the golden age of piracy. While researching information on the golden age of piracy, Robert realized that most of the publications on the subject were contradictory and even incorrect. This motivated him to write the award-winning A Pirate's Life in the Golden Age of Piracy. After its release, his readers expressed a strong interest in the pirates that visited the coast of Florida. This inspired Robert to write his second award-winning book, Pirates of the Florida Coast: Truths, Legends, and Myths. In addition to writing and lecturing, Robert currently holds the office of President of the Florida Authors and Publishers Association (FAPA).
---
#Network with Other Authors
Looking to make friends with and learn from other local authors? Need help with writing, editing, publishing, or marketing? Authors Roundtable is a local 501C3 that supports authors in reaching their highest potential by hosting educational forums, workshops, classes, and events. They're joining us at Jax Book Fest for a Drop-In Networking Space on Friday from 10 a.m. - 3 p.m. Find them in the Conference Center program space (across from the Center for Adult Learning). 
All genres are welcome. Please note: they meet the first Saturday of every month here at the Main Library (and live on Zoom). 
#Find More Readers
Are you a published author? This is a great time to Submit your Book to the Local Author Collection or Market Your Book to the Library. You can also add your e-book to the Indie Florida Collection on Biblioboard Library by using Pressbooks or Indie Author Project.
We also have an Open Call for Zines and Self-Published Comics as well as a new, annual event celebrating the DIY and printed matter community! Join us for Duval Comic and Zine Fest (held annually in June). There's also a monthly Zinester Meetup at the Main Library on the first Wednesday of the Month (during Art Walk). Or drop in Saturdays from 9:30 - 11:30 a.m. at Main Library for Saturday Morning Cartooning.
---
Be the first to know about upcoming Writer's Lab workshops and more! 
---