Wednesday, January 19, 2022
It's February, and our shortest month is packing in 10 different book clubs for you to join! Check out our quarterly Cookbook Book Club, pick up your first (or latest) graphic novel, read about how weird Florida is, or try out a four-week read along with us in our LibraryU book club!
Check out the list of book clubs below and join your fellow readers for a great chat!
Ask Again Yes, by Mary Beth Keane
"A family saga about two Irish American families in a New York suburb, the love between two of their children, and the tragedies that threaten to tear them apart and destroy their futures."
Thursday, February 10 @ 1 pm As The Page Turns Book Club at Mandarin
The Dovekeepers, by Alice Hoffman
"A tale inspired by the tragic first-century massacre of hundreds of Jewish people at Masada presents the stories of a hated daughter, a baker's wife, a girl disguised as a warrior, and a medicine woman who keep doves and secrets while Roman soldiers draw near."
Category: A book by an author that shares your zodiac sign
Are you participating in our Jax Stacks Reading Challenge? Do you want to? Do you need a few more ideas for books you can read for that one elusive category? Check out our Reading Challenge book club! Each month we'll get together to talk about that month's featured categories as well as books that you have read or will read for any of the categories in the challenge. No reading is required to attend this book club, just an interest in our reading challenge and the ability to talk about great books!
Anya's Ghost, by Vera Brosgol
"Anya, embarrassed by her family and lacking confidence in her body and her social skills, finally finds a friend after falling down a well, but quickly learns there are drawbacks to having a ghost for a friend."
Oh, Florida!: How America's Weirdest State Influences the Rest of the Country, by Craig Pittman
"Oh, Florida! That name. That combination of sounds. Three simple syllables, and yet packing so many mixed messages. To some people, it's a paradise. To others, it's a punch line. Oh, Florida! explores those contradictions and shows how they fit together to make this the most interesting state. "
Cul-De-Sac, by Joy Fielding
"A shooting lays bare the secrets harbored by five families in a sleepy suburban cul-de-sac in this riveting psychological thriller from the New York Times bestselling author of All the Wrong Places."
Colombiana, by Mariana Velázquez
"A recipe developer and food stylist—whose work has taken her across the globe to work with clients like Michelle Obama and into the test kitchens of today's most esteemed culinary publications—pays homage to her native country with this vibrant, visually stunning cooking, the first dedicated solely to Colombian food, featuring 100 recipes that meld the contemporary and the traditional."
Writers and Lovers, by Lily King
"Blindsided by her mother's sudden death, and wrecked by a recent love affair, Casey Peabody has arrived in Massachusetts in the summer of 1997 without a plan. Her mail consists of wedding invitations and final notices from debt collectors. A former child golf prodigy, she now waits tables in Harvard Square and rents a tiny, moldy room at the side of a garage where she works on the novel she's been writing for six years. At thirty-one, Casey is still clutching onto something nearly all her old friends have let go of: the determination to live a creative life. When she falls for two very different men at the same time, her world fractures even more."
Thursday, February 24 @ 7 pm Club 364.1 True Crime Book Club Online via Zoom
The Killer Across the Table, by John E. Douglas
"The legendary FBI criminal profiler, number-one New York Times bestselling author, and inspiration for the hit Netflix show Mindhunter delves deep into the lives and crimes of four of the most disturbing and complex predatory killers, offering never-before-revealed details about his profiling process, and divulging the strategies used to crack some of America's most challenging cases."
The Water Dancer, by Ta-Nehisi Coates
"Young Hiram Walker was born into bondage--and lost his mother and all memory of her when he was a child--but he is also gifted with a mysterious power. Hiram almost drowns when he crashes a carriage into a river, but is saved from the depths by a force he doesn't understand, a blue light that lifts him up and lands him a mile away. This strange brush with death forces a new urgency on Hiram's private rebellion."
Everything is Horrible and Wonderful, by Stephanie Wittels Wachs
Join us for our weekly reading check-ins for our January LibraryU pick starting January 31, and save the date for February 28 for our live online meeting!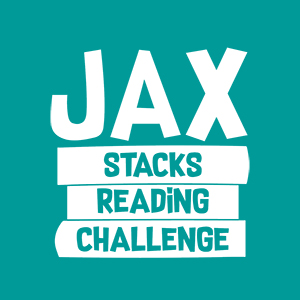 Don't forget, all of our book club picks count for the Library Book Club category in our Jax Stacks Reading Challenge! If you've already checked that category off your list, many of our picks fit into the other 15 categories as well. Visit our website for more info and pick up a Reading Challenge bookmark at your nearest branch – maybe at the next book club meeting!