Tuesday, February 8, 2022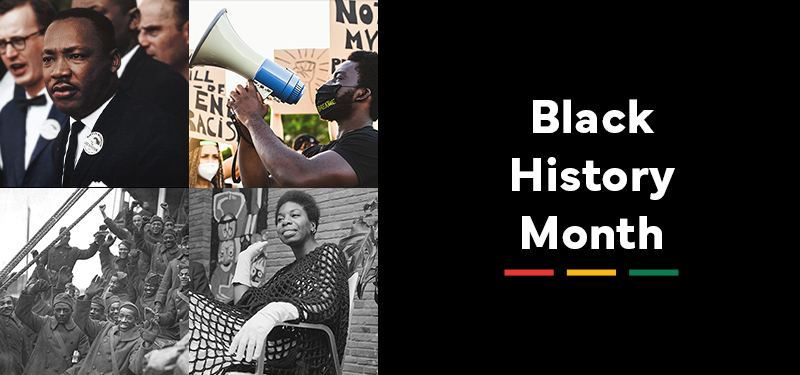 Celebrating Black History -- And Futures
Your Library has lots of books, movies and more to help you and your family celebrate Black history and culture this February (or really, any time you want). First created by historian Carter G. Woodson as a week-long event in 1926 encompassing the birthdays of Abraham Lincoln and Frederick Douglass, Black History Month (or African American History Month) highlights the many achievements made by Black Americans since emancipation.
Books like The ABCs of Black History by Rio Cortez and Brave. Black. First. 50+ African American Women Who Changed the World by Cheryl Hudson honor that legacy. They also speak to directly to Woodson's desire to highlight and honor heroes Black children could be proud of and look up to.
Understanding History
Celebrating triumphs and progress often requires a broader accounting of history -- including the struggles faced by Black people throughout slavery, Jim Crow, the Civil Rights Movement and beyond. For the story (and legacy) of the 1921 Tulsa Race Massacre, check out Black Birds in the Sky by award-winning author Brandy Colbert.
Black Creators and #BlackExcellence
The impact of Black art and culture can be felt everywhere: music, poetry, literature and so much more! Some great examples at the Library are New York Times bestselling author and presidential inaugural poet Amanda Gorman's Call Us What We Carry and Harlem Shuffle by Colson Whitehead, the two-time Pulitzer Prize-winning author of The Underground Railroad.
#BlackGirlMagic and #BlackBoyJoy
Glory Edim, who inspired millions with her online book club, knows the importance of recognizing yourself in literature. The Well-Read Black Girl: Finding Our Stories, Discovering Ourselves is an NAACP-nominated collection of inspiring essays by Black women writers.
For young adults, Black Enough: Stories of Being Young and Black in America by Tracey Baptiste is a collection of stories from best-selling, award-winning and emerging African-American authors.
Whether you're looking for characters who look like you or to learn more about history, the Library has some great options: