Want a portable digital archive of your favorite classic tracks? Convert your audio cassette tapes, vintage vinyl, and reel-to-reel audio into digital audio files.
Each "Music & Audio" station comes equipped with Audacity – a free, easy-to-use software for audio recording and editing. It supports and can export to MP3, WAV, AIFF, and other formats.
Note: The Reel-to-Reel Station is for transferring personal home and commercial recordings (stereo and mono). It is not equipped for transferring unmixed, multi-track recordings. It is available by appointment only. Call us at (904) 255-6195 to schedule or for more information. 
#Hardware: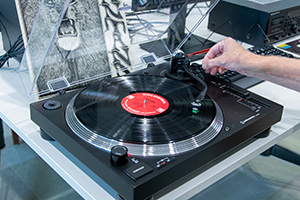 Lenovo Thinkstation P350 on Windows 10
Audio-Technica AT-LP120XUSB-BK Direct Drive
TASCAM 202MKVII Dual Cassette Deck
Otari MX5050BII2 Reel-to-Reel Deck
#Plan ahead:
Plan to do any editing or playback? You may want to bring your own headphones.
Need a walkthrough of Audacity? Before you visit, check out the video tutorials on LinkedIn Learning (free with your library card).
Bring a flash drive to save files.