#Learn English
Our experienced instructors can help you improve your English listening, speaking, writing, reading, writing and comprehension skills.
Our FREE classes will help you: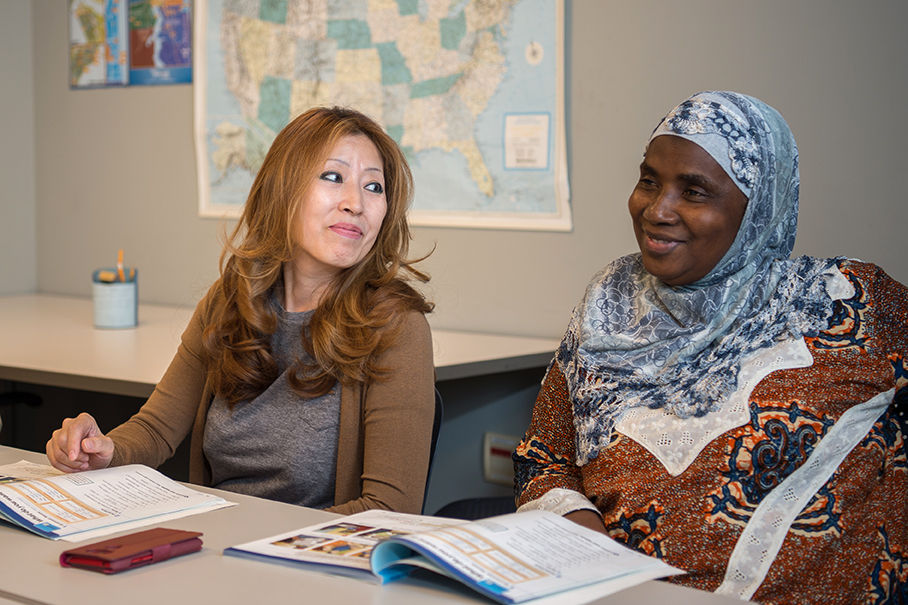 Improve pronunciation and fluency
Increase vocabulary
Read various written sources such as signs, articles, newsletters, and books
Learn English grammar rules and improve your writing skills
Communicate more effectively on the phone, while shopping, at school or work, and during job interviews
#How Do I Sign Up?
Adults entering the English for Speakers of Other Languages (ESOL) program must be:
A resident of Duval County
18 years of age or older
In order to register for classes, all new students will complete a registration appointment. All appointments are held online through Zoom, so you will need internet access in order to complete the appointment.
#What to Expect Before the Appointment:
The week of your appointment, a staff member will send you an email reminder which includes links to join the Zoom virtual appointment, a registration form, and an English level placement test. You must complete the registration form and English level placement test before your scheduled appointment.
Please call 904-255-6135 if you have any questions. We look forward to meeting you!
#Even More Practice Speaking English:
Conversation Essentials are informal drop-in sessions facilitated by a native speaker. Each session has a particular topic that incorporates vocabulary and key grammar points. 
Note: Due to COVID safety, all classes are currently being offered virtually, online. For dates and times click on the button below. Classes are FREE!
#Library resources:
In addition to FREE classes and online resources, the Library has books, videos and more to help customers improve their English. In the children's department of every library, you will find books with read-along CDs. Enjoy an audiobook with your child and listen to English at the same time!
Schedule an intake appointment to enroll. The appointment will take 1 hour and be completed online through Zoom.
All teachers are native English speakers and have several years of experience teaching English language learners, but most importantly, they have a heart for helping those who wish to learn English.
Yes, you will be placed in a class with students who have a similar level of English speaking, reading and writing skills.
Mornings and evenings Monday through Friday.
We offer multiple English Conversation Essentials workshops each week.
In addition to classes, our instructors are available by appointment for individual support. With your Library Card, you can access several language learning resources, such as Transparent Language.
It is up to you. It depends on how much time you can devote to learning and practicing, as well as your starting point. During your intake appointment, you will complete a brief assessment to determine your starting level. We will also identify any specific goals you wish to achieve and put a plan together to help you reach those goals.