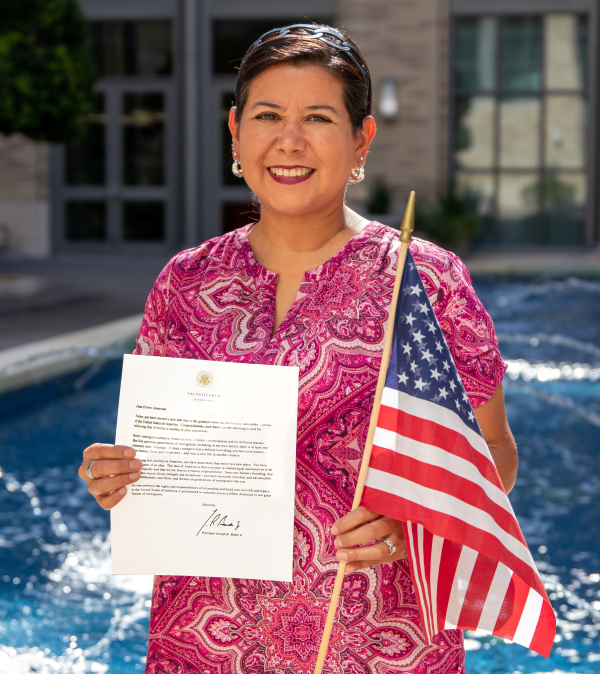 #Become a United States Citizen
Do you need help preparing for the U.S. Naturalization (Citizenship) Test and Interview? Jacksonville Public Library offers a free, nine-week citizenship class designed to support immigrants on the path toward United States citizenship. The course covers U.S. History, Civics, interview prep and the naturalization process.
Classes meet once a week with a live instructor, online via Zoom. This series is offered 3-4 times annually.
#How to Sign Up
---
To express your interest in US Citizenship classes hosted by the Jacksonville Public Library, please respond to the questions in the form below. This information will remain confidential and is not shared with anyone. 
Our next course runs from November 17, 2023, through January 19, 2024. Staff will reach out to anyone who has joined the waitlist when it's time to fill available spots.
If you prefer, you can also call (904) 255-6135 to speak with our Center for Adult Learning staff. 
For general information about U.S. Citizenship and Immigration Services, please visit https://www.uscis.gov/citizenship. You can also find free flashcards, study guides, practice tests, and more test and study resources on their website.
---
Citizenship Course Wait List
#More Library Resources
---
#Need a Laptop or WiFi Hotspot to Connect?
Did you know that you can borrow a laptop and/or a Wi-Fi hotspot for FREE at several Jacksonville Public Library locations? Devices are available to cardholders in good standing, ages 18 and older.
Click here to check availability!
#Other Library Classes You Might Like:
#College and Career Help:
---