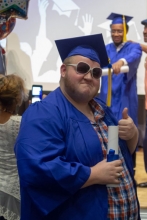 Dennis Hoffman's education was derailed when he quit school to help take care of his teenage sister's children. Even though he dropped out after failing ninth grade, he never gave up on his dream to continue his education "one day." That day finally came when Dennis enrolled in GED studies through LEAP—Library Enhanced Access Program—at the library's Center for Adult Learning (CAL).
LEAP, a library initiative that focuses on underserved neighborhoods, offers GED prep classes at several community centers throughout Jacksonville. After searching online for GED information, Dennis discovered the library program and signed up for classes at the Emmett Reed Center. He studied, took and passed GED exams starting in October 2017 with social studies, followed by science, and reading (Reasoning through Language Arts), and completing his last—and hardest—exam in math in March 2018. 
With his GED under his belt, the confident 24-year-old sees his life getting back on track. Not only did he earn his GED within six months, shortly thereafter he landed a full-time job with benefits at the Amazon warehouse. He expected things might happen in that order. Dennis said, "I thought it would be easier getting a job if I had something to write in the education section on job applications. It's the main reason I wanted to get a GED."
Dennis can't say for sure if the GED made the difference in the job offer he accepted but admits that previous job searches typically came up empty. He said, "I've put in applications in the past and I heard nothing, no response at all. Since the GED, I've gotten a few calls for applications I put in before I got this job." 
GED graduate Dennis Hoffman gives a thumbs up during the GED celebration May 1, 2018 at the Main Library!
After moving from Pennsylvania to Jacksonville eight years ago, Dennis and his family found themselves the victims of a housing scam. They'd put down money in advance to rent a home, and arrived to find the place "practically condemned" and uninhabitable. They were forced to live in their car for a couple of weeks before moving into a cheap motel and getting by on food stamps.
Those days are long gone, but they serve as a constant reminder of how far Dennis has come—and how far he still wants to go. "I plan on going to college later on, maybe do something with my hands like electrical work," he said.
For Dennis, the biggest challenge of the GED was the math, which he passed the first time around. He took careful notes in class and worked on homework packets given to him by LEAP instructor Sherri Jackson. She said Dennis always came to class prepared and ready to learn. He sings her praises too. "Ms. Jackson is wonderful," he said. "Whatever they're paying her, it's not enough. She's fantastic."
A creative guy, Dennis is also learning to play the ukulele—he's taught himself Let It Be by the Beatles. He also enjoys building his own props, recreating things he's seen in movies and video games. When it comes to reading for pleasure, his favorite book is Rot & Ruin. He just finished Hellboy, a collection of short stories, and he's working on his own comic book.
Dennis, who says it feels "really good" to have his GED, will be forever grateful to the library. He recently gave advice to a friend who's looking into getting a GED. "I told my friend to come to the library," he said. "I'd shout it from the rooftops if I could. It's a good experience. I cannot recommend it enough. I couldn't be happier."
Once Dennis buys a car—his first major purchase after he settles in at his job—he plans to frequent the library more often. "I came expecting it to be just a library. But it's so much more, way more than books," he said. He'd like to take advantage of the Jax Makerspace, perhaps check out the ukulele classes and 3-D printing.
Asked what he would say to others who may be procrastinating about getting their GED, Dennis said, "Keep going. I know it sounds cliché but just do it. Pay attention and get going." And what does his family think of his major accomplishment? Dennis laughed and said, "I think they're just happy they don't have to drive me to classes anymore."
GED Program – Center for Adult Learning (CAL)

For 33 years, the library's Center for Adult Learning has helped hundreds of adults fulfill their literacy needs and achieve their educational goals. If you or someone you know is interested in obtaining a GED, check out GED and pre-GED classes through the library's Center for Adult Learning. Visit CAL online or call 630-2426 to learn more.