#12 Books. 1 Year. 16 Categories.
Welcome to the 2023 Jax Stacks Reading Challenge, the Library's year-round reading challenge for adults! Library staff have hand-picked 16 categories of books for you to choose from. Try a new series, a new genre or a new format (like audiobooks). It's a great way to broaden your reading horizons or read something you might have overlooked in the past!
Please note: We'll be announcing the 2024 Jax Stacks Reading Challenge categories starting in mid-December! Be sure to follow us on Instagram for the reveal!
---
#Skip to:
Rules | Recommendations | Categories | Book Club | Prizes | Share
---
#Learn the Rules
Rule #1: Have fun reading.
Rule #2: Check out books from the library!
That's it, that's all we're really asking of you! But if you want some more structure, and a prize, head on over to our Jax Stacks blog for a complete rundown of the rules and how to claim a prize.
If you want to keep track of your progress, stop by your local library for a 2023 Jax Stacks Reading Challenge Bookmark! We also ask that you email a picture of the completed bookmark to claim your prize.
---
#Get Recommendations
Looking for ideas (or a friendly reminder)? Sign up for the Jax Stacks email newsletter! Every month, we'll send library staff suggestions for each of the 16 categories! Note: You can read any book that fits a category, not just the ones we send out, but if you need help finding something new, the mailing list is here for you! We also post book recommendations to the Library's blog.
Get great book recommendations by email! 
Pro Tip: For even more great book recommendations, sign up for The Book Hookup or get a Personalized Booklist from one of our librarians!
---
#Choose 12 Categories That Interest You
Choose your categories and read one book that fits each category, for a total of 12 books. Each book only counts for one category, so choose wisely!
A book you've read and loved before
A book written before 2000
A book in a genre you don't usually read
A book recommended by a Library staff member
A historical book set in Africa
A book in translation
A book written by an author when they were under 30
A book set in a place you want to visit
A book read by one of the Library's book clubs in 2023 
A book by a visiting 2023 Lit Chat author
A self-improvement, how-to, or DIY book
A book with a non-human protagonist
A book banned in the last 10 years
A book by a Nobel Prize winner
A book with illustrations
A book under 300 pages
Don't worry if you get started later in the year! Any book you've read in 2023 -- that fits one of these 16 categories -- counts for the challenge. For more detailed descriptions of each category, check out our blog! 
---
#Join the Book Club for More
Want to connect with fellow Jax Stacks Readers across Jacksonville? Join us at our monthly Jax Stacks Book Club meetings and come talk about the books you're reading! Each meeting will focus on one or two categories from the bookmark. 
Note: Meeting locations and times change every three months. This is a great opportunity for you to meet fellow book lovers in different parts of the City and to visit a library branch you might not have seen before! 
---
#Pick a Prize
If you want to win a prize, be sure to write those book titles down on our Reading Challenge bookmark, snap a picture of the completed bookmark, and send it to us at jplprograms@coj.net before December 31, 2023! YOu can choose between a Jax Stacks branded tote, notebook, earbuds and more (while supplies last).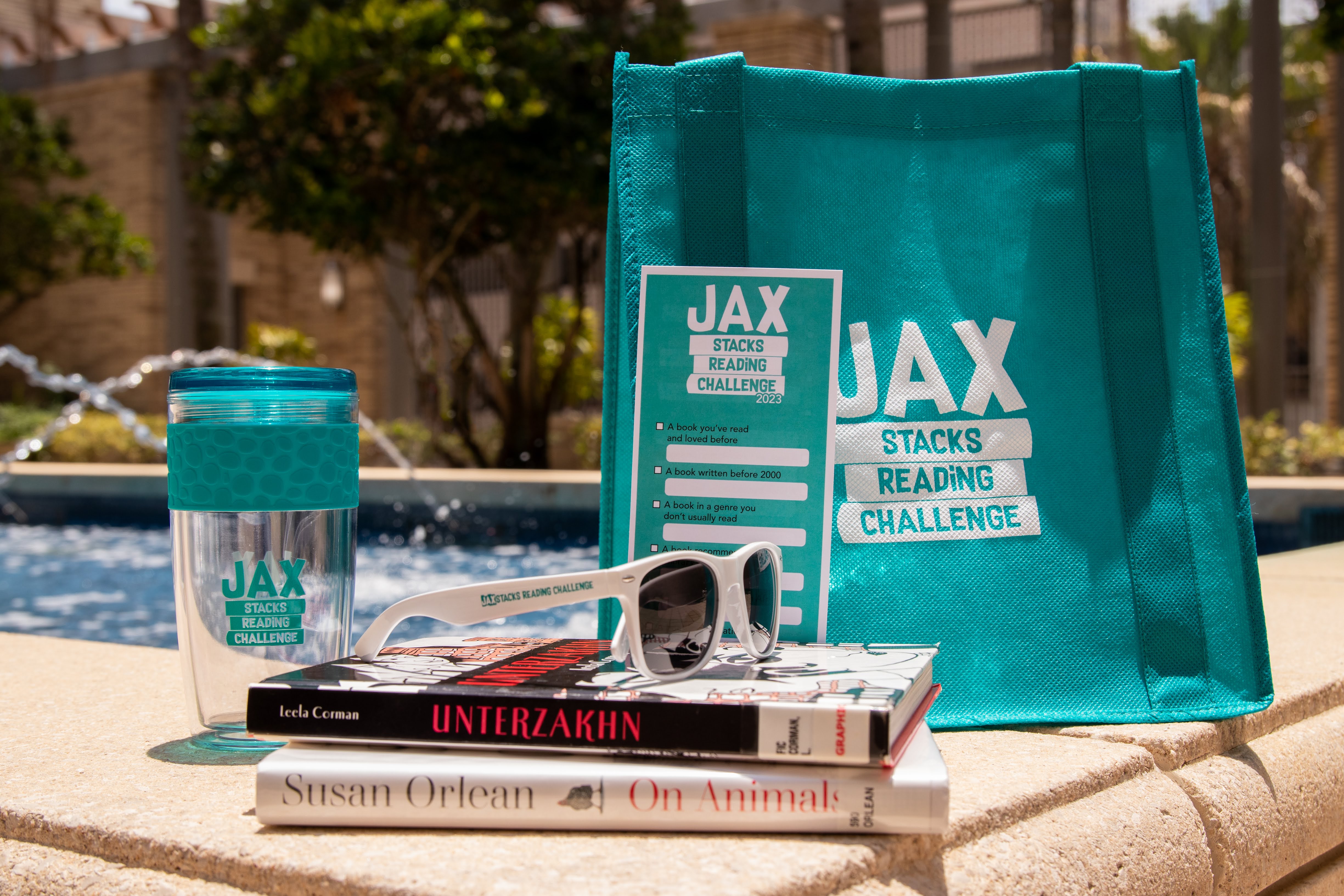 ---
#Get Social
As you read through the challenges, share what you're reading on social media using the hashtag #jaxstacks and #amreading.
Be sure to tag @jaxlibrary on Facebook, Twitter, and Instagram! 
---