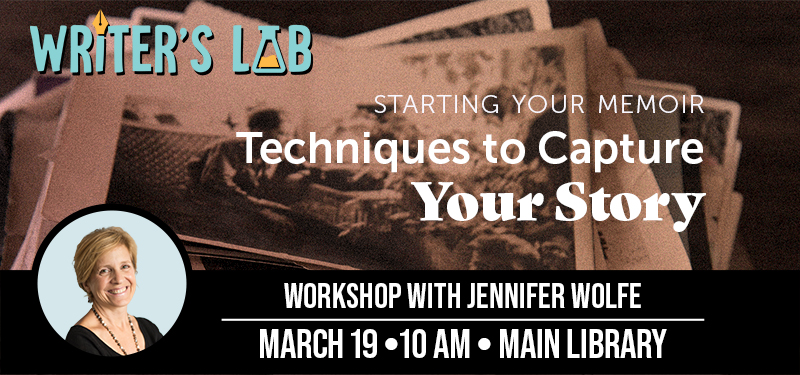 March is Women's History Month, and we know a lot of you out there have a story of your own to share with the world. If you're not sure how to get your memories out of your head and onto paper, check out this great workshop for the techniques you need! 
#JOIN:
Writer's Lab: Starting Your Memoir – Techniques to Capture Your Story, on Saturday, March 19, at 10am at the Main Library. Register here.
Join Jennifer Wolfe of Women Writing for (a) Change at this in-person writing circle to learn how you can capture your personal story on paper, for yourself, for your family, or for the big-time publishing world!  
Practice capturing your memories and then learn a variety of techniques to continue the memoir-writing process. Before you can write that story, you've got to get it down on paper! Learn how to generate your first drafts using techniques like "Captured Moments," "List of 100," "Fast Writes," "Clustering," "Character Sketch" and more. Learn how to trust your inner voice and get ahead of the inner critic. Create a discipline for your writing practice and find support in your community. 
Bring your journal, laptop, or notebook, sentimental photographs or moments if you want to, and your favorite writing pen. We'll provide the agenda and the support. 
#READ: 
Jennifer says, "One important way to learn how to write a memoir is to read other memoirs!" Check out some recent memoirs to get ideas: 
Between Two Kingdoms, by Suleika Jaouad 
Crying in H Mart, by Michelle Zauner 
Just As I Am, by Cecily Tyson 
If you want a little more technical help with the writing process, check out these great books specifically about writing memoir: 
The Art of Memoir, by Mary Karr 
The Memoir Project, by Marion Roach Smith 
Writing the Memoir, by Judith Barrington 
#EXPLORE: 
If you're looking for more instruction after this workshop, Jennifer recommends these paid courses for more on using your journal to jumpstart your memoir.