Monday, September 26, 2022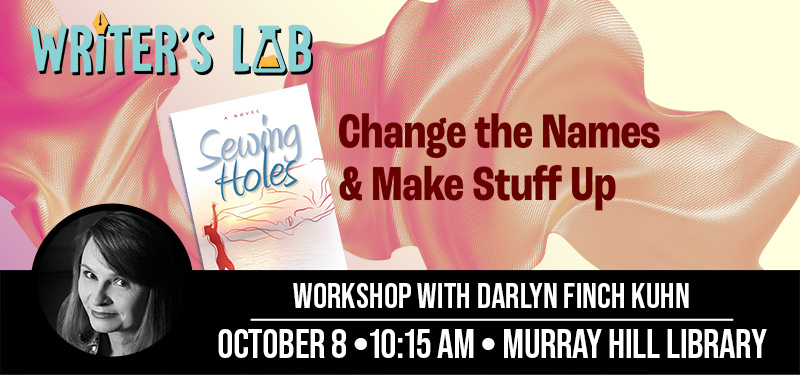 Have you ever wanted to tell your life story, but thought it wasn't exciting enough? Are you trying to write your first novel but don't know where to find a plot? An autobiographical novel might be the place to start? Join us for this workshop to learn how to use real things that have happened to you in fun, fictional ways!
#JOIN:
Writer's Lab: Change the Names and Make Stuff Up, on Saturday, October 8, from 10:15am-12:15pm, at the Bill Brinton Murray Hill Library. 
Talk with Sewing Holes author Darlyn Finch Kuhn about the process of turning life experience into fiction. You never know how great your life stories can be until you free yourself to exaggerate!
Participants will learn how to:
Free yourself from worry about what people will think about what you write.
Convert friends and family into characters even they won't recognize.
Ramp up the drama to turn real life into compelling, selling fiction.
Register online here! 
Please note: you will not receive a copy of the presentation after the workshop, so be prepared to take notes!
Darlyn Finch Kuhn is a prolific poet, short-story writer, and novelist who edits the Scribbles literary e-newsletter and produces book trailer videos. Her debut novel, Sewing Holes, is available from Twisted Road Publications, and won First Place in the published novella category of the FWA's 2015 Royal Palm Literary Awards. She enjoys speaking at book clubs, high schools, colleges, and writing conferences such as the Florida Heritage Book Festival, The Florida Literary Arts Coalition, and the Florida Writers Association. She is the director of the JaxbyJax Literary Arts Festival.
#DARLYN RECOMMENDS:
Check out conversations between Darlyn and other great authors on her podcast, Scribbler's Corner at River of Grass.
For a day of author talks and writing workshops, check out Darlyn's festival, JaxbyJax, taking place on October 29 in downtown Jax. (And for more of these throughout the year, keep an eye on the Library's Lit Chat and Writer's Lab calendars!)