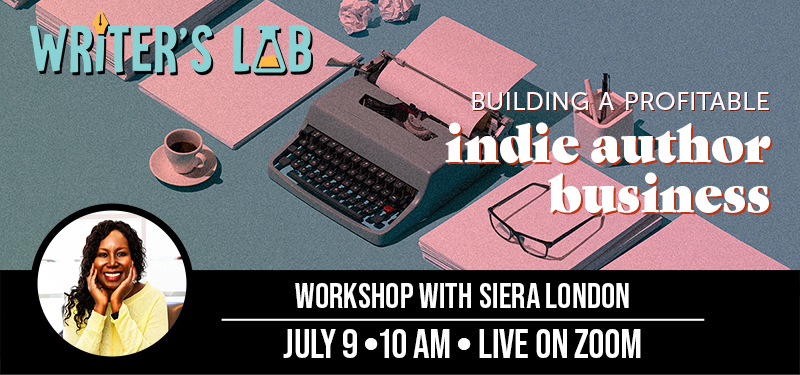 You've written a polished story or two or ten and you feel confident that it's time to share your work with the world. You've heard about self-publishing, but is it the right fit for you, financially? Join us for a Writer's Lab with local author Siera London that covers the basics of the indie publishing business and what you should consider before jumping in.
#JOIN:
Writer's Lab: Building a Profitable Indie Author Business, on Saturday, July 9, at 10am, online via Zoom. 
Many novice self-published authors invest thousands of dollars into crafting their first novel before they have an understanding of the publishing industry, their genre's tenets, or a long-term book selling strategy. This presentation is an overview of business decisions to consider when launching your self-publishing career and crafting your novel.
Register online here!
Siera London is the USA Today bestselling author of twenty-two contemporary fiction novels and novellas. She is a native Floridian who served 22 years in the United States Navy as a registered pediatric nurse practitioner and nursing clinical instructor before deciding to focus on her writing career. Her debut novel, Chasing Ava, was an Amazon Best Seller in the contemporary romance and women's fiction category.
#READ:
Self-published books can be added to the library's collection through Biblioboard, which showcases local authors as well as authors nationwide. Check out books by featured Lit Chat authors Nikesha Elise Williams and Debora De Farias, among many others!
#EXPLORE:
Siera recommends two blogs and one podcast for the up-and-coming indie author:
Jami Gold's blog, full of tips on the writing process: https://jamigold.com/blog/
Angela Ackerman's Writers Helping Writers blog, featuring advice from a variety of writers: https://writershelpingwriters.net/blog/
Savannah Gilbo's Fiction Writing Made Easy Podcast, sharing "simple, actionable, and step-by-step strategies that you can implement in your writing right away": https://www.savannahgilbo.com/podcast