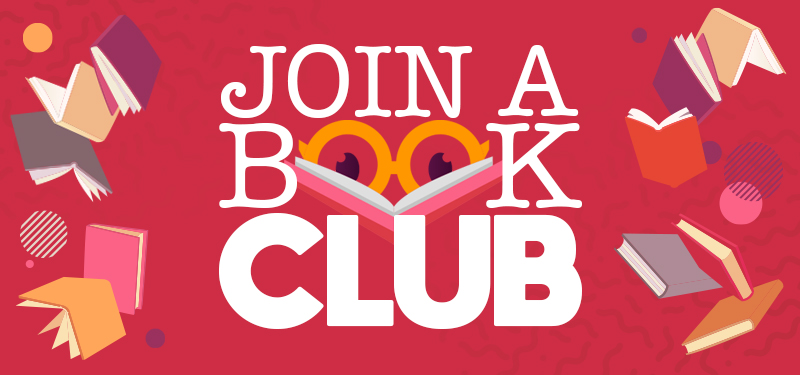 July is sizzling with our newest book club, Between the Covers Romance Readers! Join us for a steamy read or check out one of our other book clubs for a book that speaks to you.
Check out the list of book clubs below and join your fellow readers for a great chat! 
#Thursday, July 7 @ 6:30pm Discovery Book Club at Pablo Creek
Salt to the Sea, by Ruta Sepetys 
"World War II is drawing to a close in East Prussia and thousands of refugees are on a desperate trek toward freedom, many with something to hide. Among them are Joana, Emilia, and Florian, whose paths converge en route to the ship that promises salvation, the Wilhelm Gustloff. Forced by circumstance to unite, the three find their strength, courage, and trust in each other tested with each step closer to safety. Just when it seems freedom is within their grasp, tragedy strikes. Not country, nor culture, nor status matter as all ten thousand people—adults and children alike—aboard must fight for the same thing: survival."
The Marquess Makes His Move, by D.C. Quincy
"London's most renowned mapmaker is a woman...but nobody knows it. If anyone discovers that Rose Fleming is the power and talent behind the family business, the scandal could ruin them. Rose's secret is tested by the arrival of a handsome new footman who shows far too much interest in his new mistress. Rose battles an intense attraction to the enigmatic servant, but maintaining a proper distance isn't easy when you and temptation live under the same roof. Few have met the reclusive half-Arab Marquess of Brandon, who is rumored to live with a harem of beauties among his mother's people near Jerusalem. Brandon couldn't care less what society thinks of him, or that his fellow peers are disdainful of his common blood, but he won't stand for being robbed. That's why he's disguised himself as a footman in the home of a respected mapmaker who cheated Brandon out of his land. But the nobleman's plans for retribution are complicated by his growing attraction for the secretive lady of the house. When Brandon uncovers the shocking truth about Rose's role in his stolen birthright, can a love born of deception really conquer all?"
Monstress Vol. 1 & 2, by Marjorie Liu
"Set in an alternate world of art deco beauty and steampunk horror, Monstress tells the epic story of Maika Halfwolf, a teenage survivor of a cataclysmic war between humans and their hated enemies, the Arcanics. In the face of oppression and terrible danger, Maika is both hunter and hunted, searching for answers about her mysterious past as those who seek to use her remain just one step behind...and all the while, the monster within begins to awaken."
Klara and the Sun, by Kazuo Ishiguro
"From her place in the store that sells artificial friends, Klara--an artificial friend with outstanding observational qualities--watches carefully the behavior of those who come in to browse, and of those who pass in the street outside. She remains hopeful a customer will soon choose her, but when the possibility emerges that her circumstances may change forever, Klara she is warned not to invest too much in the promises of humans."
Black and Blue, by Ian Rankin
"Already tackling a murder in Edinburgh, Inspector John Rebus becomes involved when a copy-cat serial rapist called 'Johnny Bible' begins striking in Aberdeen and must keep his wits about him in the center of the media circus surrounding the case."
Apparently There Were Complaints, by Sharon Gless
"Anyone who has seen Sharon Gless act in Cagney & Lacey, Queer as Folk, Burn Notice, and countless other shows and movies, knows that she's someone who gives every role her all. She holds nothing back in her memoir that spills all about Gless's five decades in Hollywood. A deeply personal story about Gless's complicated family and her struggles with alcoholism and fear of romantic commitment--and a juicy, hilarious tell-all about Hollywood and Sharon's encounters with some of the industry's biggest stars. Gless puts it all out on the page in the same way she has lived: never with moderation."
The Book Thief, by Markus Zusak
"Trying to make sense of the horrors of World War II, Death relates the story of Liesel--a young German girl whose book-stealing and story-telling talents help sustain her family and the Jewish man they are hiding, as well as their neighbors."
Categories: "A book adapted for or from TV/film/video game" and "An audiobook read by the author"
Are you participating in our Jax Stacks Reading Challenge? Do you want to? Do you need a few more ideas for books you can read for that one elusive category? Check out our Reading Challenge book club! Each month we'll get together to talk about that month's featured categories as well as books that you have read or will read for any of the categories in the challenge. No reading is required to attend this book club, just an interest in our reading challenge and the ability to talk about great books!
#Saturday, July 23 @ 12:30pm New Leaf Book Club at Highlands
Me Before You, by Jojo Moyes
"Louisa Clark is an ordinary girl living an exceedingly ordinary life--steady boyfriend, close family--who has never been farther afield than their tiny village. She takes a badly needed job working for ex-Master of the Universe Will Traynor, who is wheelchair bound after a motorcycle accident. Will has always lived a huge life--big deals, extreme sports, worldwide travel--and now he's pretty sure he cannot live the way he is. Will is acerbic, moody, bossy--but Lou refuses to treat him with kid gloves, and soon his happiness means more to her than she expected. When she learns that Will has shocking plans of his own, she sets out to show him that life is still worth living."
Curse of the Spellmans, by Lisa Lutz
"A follow-up to The Spellman Files finds Izzy struggling to retain her private investigator's license after a pseudo engagement and her fourth arrest, a challenge that is further complicated by David's marriage to Petra and Rae's teenage angst."
Whereabouts, by Jhumpa Lahiri
"The woman at the center wavers between stasis and movement, between the need to belong and the refusal to form lasting ties. The city she calls home, an engaging backdrop to her days, acts as a confidant: the sidewalks around her house, parks, bridges, piazzas, streets, stores, coffee bars. We follow her to the pool she frequents and to the train station that sometimes leads her to her mother, mired in a desperate solitude after her father's untimely death. In addition to colleagues at work, where she never quite feels at ease, she has girl friends, guy friends, and "him," a shadow who both consoles and unsettles her. But in the arc of a year, as one season gives way to the next, transformation awaits. One day at the sea, both overwhelmed and replenished by the sun's vital heat, her perspective will change."
The Babysitter: My Summers with a Serial Killer, by Jennifer Jordan and Liza Rodman
"Growing up on Cape Cod in the 1960s, Liza Rodman was a lonely little girl. During the summers, while her mother worked days in a local motel and danced most nights in the Provincetown bars, her babysitter-the kind, handsome handyman at the motel where her mother worked-took her and her sister on adventures in his truck. He bought them popsicles and together, they visited his "secret garden" in the Truro woods. To Liza, he was one of the few kind and understanding adults in her life. Everyone thought he was just a "great guy." But there was one thing she didn't know; their babysitter was a serial killer. Some of his victims were buried-in pieces-right there, in his garden in the woods. Though Tony Costa's gruesome case made screaming headlines in 1969 and beyond, Liza never made the connection between her friendly babysitter and the infamous killer of numerous women, including four in Massachusetts, until decades later. Haunted by nightmares and horrified by what she learned, Liza became obsessed with the case. Now, she and cowriter Jennifer Jordan reveal the chilling and unforgettable true story of a charming but brutal psychopath through the eyes of a young girl who once called him her friend."
Oryx and Crake by Margaret Atwood
Please join the Excalibris Book Club at the Regency Square Branch Library for a fantastic discussion! This book club focuses on speculative fiction which transports you outside of our world. This book club meets on the last Saturday of each month.