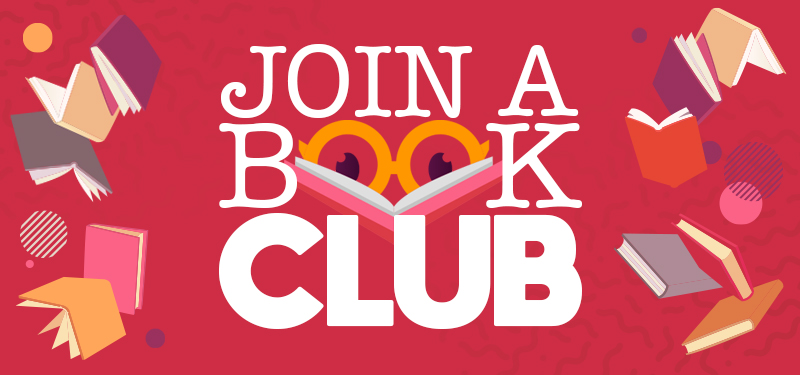 Enjoy one of our 12 awesome book clubs this month! Check out our newest club, the Scottish Mystery Book Club at Regency, or the return of our quarterly Cookbook Book Club, or any of these clubs with a book to fit your interests.
Check out the list of book clubs below and join your fellow readers for a great chat! 
Turn of the Key, by Ruth Ware
"When she stumbles across the ad, she's looking for something else completely. But it seems like too good an opportunity to miss--a live-in nannying post, with a staggeringly generous salary. And when Rowan Caine arrives at Heatherbrae House, she is smitten--by the luxurious "smart" home fitted out with all modern conveniences, by the beautiful Scottish Highlands, and by this picture-perfect family. What she doesn't know is that she's stepping into a nightmare--one that will end with a child dead and herself in prison awaiting trial for murder."
The Chancellor: The Remarkable Odyssey of Angela Merkel, by Kati Marton
"Famously private, the Angela Merkel who emerges in The Chancellor is a role model for anyone interested in gaining and keeping power while holding onto one's moral convictions--and for anyone looking to understand how to successfully bridge huge divisions within society."
#

Monday, May 16 @ 6:30pm

Cumulative Realities

at Murray Hill (Please note book change)
Calypso, by David Sedaris
"When he buys a beach house on the Carolina coast, Sedaris envisions long, relaxing vacations spent playing board games and lounging in the sun with those he loves most. And life at the Sea Section, as he names the vacation home, is exactly as idyllic as he imagined, except for one tiny, vexing realization: it's impossible to take a vacation from yourself."
Black Food, by Bryant Terry
"With contributions from more than 100 Black cultural luminaries from around the globe, the book moves through chapters exploring parts of the Black experience, from Homeland to Migration, Spirituality to Black Future, offering delicious recipes, moving essays, and arresting artwork."
I Am Malala, by Malala Yousafzai
"When the Taliban took control of the Swat Valley, one girl spoke out. Malala Yousafzai refused to be silenced and fought for her right to an education. On Tuesday October 9, 2012, she almost paid the ultimate price."
Doctor Strange: The Oath by Brian K. Vaughan and Doctor Strange: The Way of the Weird by Jason Aaron
Two compilations of Doctor Strange comics to enjoy!
Category: Book by an international author 
Are you participating in our Jax Stacks Reading Challenge? Do you want to? Do you need a few more ideas for books you can read for that one elusive category? Check out our Reading Challenge book club! Each month we'll get together to talk about that month's featured categories as well as books that you have read or will read for any of the categories in the challenge. No reading is required to attend this book club, just an interest in our reading challenge and the ability to talk about great books!
Raven Black, by Ann Cleeves 
"When murder strikes a remote hamlet in the Shetland Islands, and the body of a teenage girl turns up in the winter snow, Inspector Jimmy Perez launches an investigation into the killing that takes him into the heart of sinister secrets from the past."
Educated, by Tara Westover 
"As a way out, Tara began to educate herself, learning enough mathematics and grammar to be admitted to Brigham Young University. Her quest for knowledge would transform her, taking her over oceans and across continents, to Harvard and to Cambridge. Only then would she wonder if she'd traveled too far, if there was still a way home."
After the Eclipse: A Mother's Murder, a Daughter's Search, by Sarah Perry
"A searing memoir of the author's efforts to understand her late mother's life and murder describes the traumatic loss of her mother in childhood, the 12-year manhunt for the killer and the author's investigations into her mother's past in the dark corners of a small Maine community."
#

Saturday, May 28 @ 12:30pm

New Leaf Book Club

at Highlands
All the Light We Cannot See, by Anthony Doerr
"Marie Laure lives with her father in Paris and is blind by age six. Her father builds her a model of their neighborhood, so she can memorize it and navigate the real streets. When the Germans occupy Paris, they flee to Saint-Malo on the coast. In Germany, Werner grows up enchanted by a crude radio he finds. He becomes a master at building and fixing radios, which wins him a place with the Hitler Youth. Werner travels throughout Europe, and finally to Saint-Malo, where his meets Marie Laure."
Phantoms and Felonies, by Lucy Ness
"Avery Morgan has been hired to breathe new life into the Portage Path Women's Club, but first she'll have to deal with a dead body and a meddling ghost."