Wednesday, September 6, 2023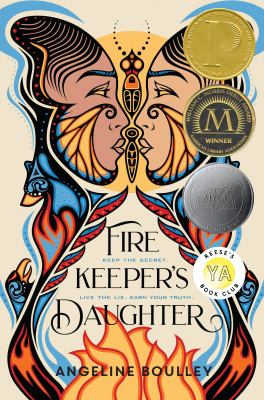 Angeline Boulley's critically acclaimed novel, Firekeeper's Daughter starts out with most of the things the average teenager is concerned with: dating, friendships, school, sports, and family relationships. The tone of the book switches about a quarter of the way through with a gunshot that takes away Daunis' closest friend and the innocence of her small community.
A child of two worlds, Daunis Fontaine is the child of a French-Canadian mother and her late Ojibwe father. Though close to her paternal family, she is not fully a part of the Ojibwe nation. After the death of her friend Lily, Daunis becomes aware of illegal drug production and distribution tied to the nearby reservation. Asked to become a confidential informant because of her access to the reservation and aptitude for science, Daunis joins an undercover agent posing as a player on the local hockey team. What follows will test Daunis and the ties that bind her to her family, the Ojibwe, her hockey teammates and friends, and loved ones who have passed away but still deeply affect the 18-year-old girl.
A member of the Ojibwe nation which Daunis and other characters exist in, Angeline Boulley infuses Firekeeper's Daughter with the lore and customs of her people. Boulley based her novel on events from her own adolescence and describes its young protagonist as the indigenous Nancy Drew. Fans of the book will be glad to know Netflix has begun development on a dramatized version of the story. In the meantime, try Boulley's follow-up novel Warrior Girl Unearthed which continues the story of the Firekeeper family and these other books with similar themes to Boulley's fictional works about indigenous peoples.