Wednesday, September 13, 2023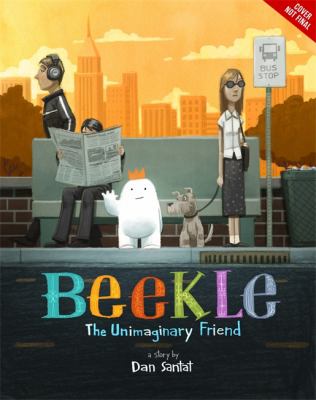 The Adventures of Beekle: The Unimaginary Friend wasn't Dan Santat's literary debut, but it was the book that made him a kid lit superstar. The New York Times bestselling author and illustrator received the Caldecott medal for Beekle at the 2015 National Book Festival in Washington, D.C. Dedicated to his oldest son, Alek, Santat has described the book as a metaphor for awaiting the birth of his first child. As a matter of fact, Beekle's name comes from the way Alek would pronounce the word "bicycle" as a toddler.
Our story begins on an island where all imaginary friends are born, each of them eagerly waiting to be imagined by a real child and given a name. One creature on this island stands in stark contrast with the others: a small, colorless blob with a gold crown on its head.
According to Santat, Beekle believes himself to be "so strange looking that no one can really imagine him". He's worried about making a friend so, rather than waiting to be imagined, he builds a little boat and leaves the island in search of a child.
Once in the real world, Beekle struggles to find his kindred spirit. In all of creation, is there no one like him?
Just when he begins to lose hope, our hero catches a glimpse of something familiar, another imaginary friend! The fantastical creature leads Beekle to a vibrant playground bubbling with whimsy and imagination. Right away, Beekle senses something special about this particular place.
Santat's vividly illustrated picture book is a remarkable tale about fateful meetings and the courage required to live one's dream. Beekle dares to shape his own destiny, and the rest is serendipity.
If you're interested in meeting Dan Santat, join us September 23rd for a Junior Lit Chat with the author. Register for Jax Book Fest today to secure your seat!
#Check out these other titles from Dan Santat: