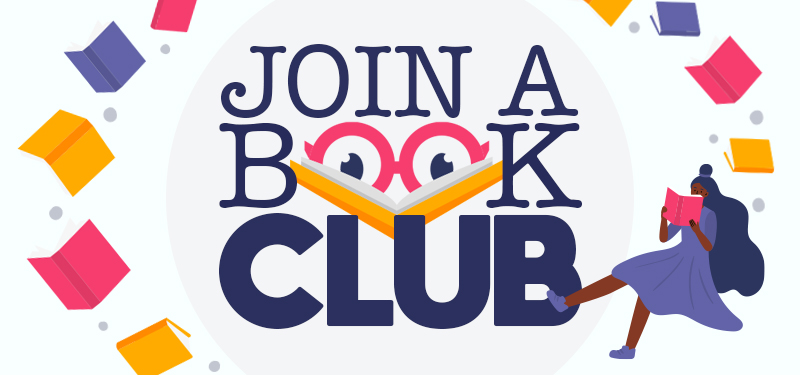 April brings a new book club to the mix! Give a warm welcome to Cumulative Realities, our new biography and memoir book club at the Bill Brinton Murray Hill Library. And find other great nonfiction and fiction reads in our other 10 book clubs!
Check out the list of book clubs below and join your fellow readers for a great chat! 
Thursday, April 7 @ 6:30 pm Discovery Book Club at Pablo Creek
How the Penguins Saved Veronica, by Hazel Prior
"Eighty-five-year-old Veronica McCreedy is estranged from her family and wants to find a worthwhile cause to leave her fortune to. When she sees a documentary about penguins being studied in Antarctica, she tells the scientists she's coming to visit-and won't take no for an answer. Shortly after arriving, she convinces the reluctant team to rescue an orphaned baby penguin. He becomes part of life at the base, and Veronica's closed heart starts to open. Her grandson, Patrick, follows Veronica to Antarctica to make one last attempt to get to know his grandmother. Together, Veronica, Patrick, and even the scientists learn what family, love, and connection are all about."
Tuesday, April 12 @ 6 pm ComiClub Graphic Novel Book Club at Willow Branch
Lumberjanes, Vol. 1 and Vol. 2, by Noelle Stevenson
"Friendship to the max! At Miss Quinzella Thiskwin Penniquiqul Thistle Crumpet's camp for hardcore lady-types, things are not what they seem. Three-eyed foxes. Secret caves. Anagrams. Luckily, Jo, April, Mal, Molly and Ripley are five rad, butt-kicking best pals determined to have an awesome summer together-- and they're not gonna let a magical quest or an array of supernatural critters get in their way!"
Thursday, April 14 @ 1pm As the Page Turns Book Club at South Mandarin (Note location change!)
The Sweetness of Water, by Nathan Harris 
"In the waning days of the Civil War, brothers Prentiss and Landry, freed by the Emancipation Proclamation, seek refuge on the homestead of George Walker and his wife, Isabelle. The Walkers, wracked by the loss of their only son to the war, hire the brothers to work their farm, hoping through an unexpected friendship to stanch their grief. Prentiss and Landry, meanwhile, plan to save money for the journey north and a chance to reunite with their mother, who was sold away when they were boys. Parallel to their story runs a forbidden romance between two Confederate soldiers. The young men, recently returned from the war to the town of Old Ox, hold their trysts in the woods. But when their secret is discovered, the resulting chaos, including a murder, unleashes convulsive repercussions on the entire community. In the aftermath of so much turmoil, it is Isabelle who emerges as an unlikely leader, proffering a healing vision for the land and for the newly free citizens of Old Ox." 
Monday, April 18 @ 6:30 pm Cumulative Realities at Murray Hill (Our newest book club!)
Untamed, by Glennon Doyle
"Four years ago, Glennon Doyle—bestselling Oprah-endorsed author, renowned activist and humanitarian, wife and mother of three—was speaking at a conference when a woman entered the room. Glennon looked at her and fell instantly in love. Three words flooded her mind: There She Is. At first, Glennon assumed these words came to her from on high. Soon she realized that they came to her from within."
Tuesday, April 19 @ 6 pm Nuts About Reading Book Club at West
Frankenstein, by Mary Shelley 
"Obsessed with creating life itself, Victor Frankenstein plunders graveyards for the material to fashion a new being, which he shocks into life with electricity. But his botched creature, rejected by Frankenstein and denied human companionship, sets out to destroy his maker and all that he holds dear."
Saturday, April 23 @ 12:30pm New Leaf Book Club at Highlands
Golden Girl, by Elin Hilderbrand
"Entering the afterlife due to a hit and run accident, a successful author learns she can observe the earthly lives of her nearly grown children and is also permitted three "nudges" to alter the outcome of events."
Wednesday, April 27 @ 7 pm Jax Stacks Reading Challenge Book Club at Southeast
Categories: Book in a different format than you usually read AND A book in a genre you don't usually read
Are you participating in our Jax Stacks Reading Challenge? Do you want to? Do you need a few more ideas for books you can read for that one elusive category? Check out our Reading Challenge book club! Each month we'll get together to talk about that month's featured categories as well as books that you have read or will read for any of the categories in the challenge. No reading is required to attend this book club, just an interest in our reading challenge and the ability to talk about great books!
Tuesday, April 26 @ 6:45 pm Flamingo Book Club at Beaches
The Midnight Library, by Matt Haig
"Somewhere out beyond the edge of the universe there is a library that contains an infinite number of books, each one the story of another reality. One tells the story of your life as it is, along with another book for the other life you could have lived if you had made a different choice at any point in your life. While we all wonder how our lives might have been, what if you had the chance to go to the library and see for yourself? Would any of these other lives truly be better?"
Thursday, April 28 @ 7 pm Club 364.1 True Crime Book Club Online via Zoom
Hell in the Heartland, by Jax Miller
"On December 30, 1999, in rural Oklahoma, sixteen-year-old Ashley Freeman and her best friend, Lauria Bible, were having a sleepover. The next morning, the Freeman family trailer was in flames and both girls were missing. While rumors of drug debts, revenge, and police collusion abounded in the years that followed, the case remained unsolved and the girls were never found. In 2015, crime writer Jax Miller--who had been haunted by the case--decided to travel to Oklahoma to find out what really happened on that winter night in 1999, and why the story was still simmering more than fifteen years later."
Saturday, April 30 @ 2:30 pm Mysterious Affairs Book Club at Highlands
The Madness of Crowds, by Louise Penny
"When a visiting professor spreads lies so that fact and fiction are so confused it's nearly impossible to tell them apart, leading to murder, Chief Inspector Armand Gamache must investigate this case as well as this extraordinary popular delusion."
Mondays in April Virtual Book Club on LibraryU
Written in Bone, by Sue Black
"Sue Black … tak[es] us on a guided tour of the human skeleton and explaining how each person's life history is revealed in their bones, which she calls 'the last sentinels of our mortal life to bear witness to the way we lived it.'"
Join us for our weekly reading check-ins for our April LibraryU pick starting March 28, and save the date for April 25 for our live online meeting!