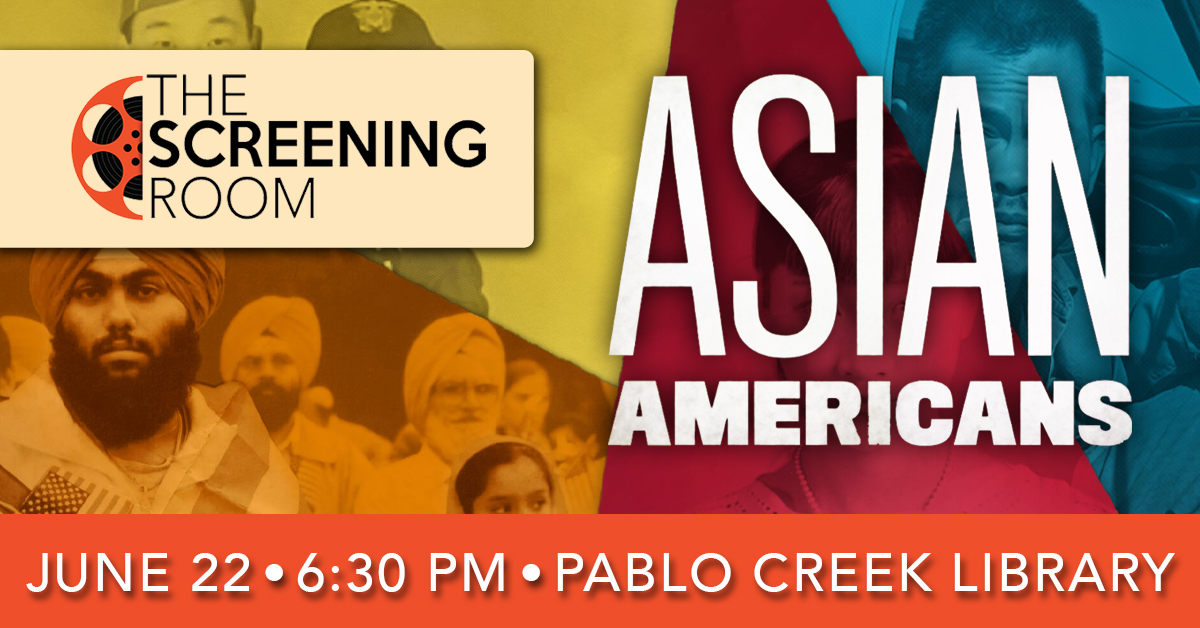 Join the Jacksonville Public Library as we watch the last episode of PBS' Asian Americans series! After the film, we will hear from guest speaker Dr. Tes Tuason from the University of North Florida who will talk about community building, identity, and cultural education in Asian American communities.    
#JOIN: 
Screening Room: Asian Americans – Breaking Through, Wednesday, June 22, at 6:30 pm. This event will take place live at the Pablo Creek Regional Library. Click here to register. 
About the film series: Asian Americans is a five-hour film series that chronicles the contributions, and challenges of Asian Americans, the fastest-growing ethnic group in America. Personal histories and new academic research will cast a fresh lens on U.S. history and the role Asian Americans have played in it. More information on the series can be found here. 
About our speaker: Tes is Full Professor, Clinical Director, and a Licensed Psychologist at the University of North Florida. Tes was born and raised in the Philippines, where she learned resilience of spirit and using one's personal power for transformative teaching and research. She came to the U.S. for Ph.D. in Counseling Psychology at the University at Albany, State University of New York, and she did her internship and postdoctoral fellowship at the University of Utah. She has received several awards such as the Outstanding Graduate Teaching Award in 2009 and 2019, the Susan B. Anthony Award in 2011, and the Outstanding Faculty Scholarship Award in 2012, among others. An external reviewer for her promotion letter wrote, "Tes is a faculty member you not only want to promote, but to clone."  
Because of her love for the Philippines, she conducts research on Philippines poverty's determinants, its consequences, the influence of cultural values, ways of coping, and effective ways for upward mobility. Through teaching, research, and practice, she continues to work to give the underserved a voice and to make the face of the poor and marginalized more concrete, palpable, and within reach of alleviation efforts. 
#READ:
Reading books by Asian American authors is one of many ways to learn about Asian American perspectives. Start your reading journey with the memoirs listed below!
Long Live the Tribe of Fatherless Girls by T Kira Madden, "With unflinching honesty and moving, lyrical prose, and spanning from 1960's Hawai'i to the nip and tuck rooms of 1990s Florida to the present-day struggle of a young woman in a culture of harassment, Long Live the Tribe of Fatherless Girls is the story of families both lost and found, unmade and rebuilt, crooked and beautiful."
Sigh, Gone: A Misfit's Memoir of Great Books, Punk Rock, and the Fight to Fit In by Phuc Tran, "For anyone who has ever felt like they don't belong, Sigh, Gone shares an irreverent, funny, and moving tale of displacement and assimilation woven together with poignant themes from beloved works of classic literature."
#WATCH: 
Chan is Missing directed by Wayne Wang, "Two cab drivers search San Francisco's Chinatown for the mysterious Chan, who disappeared with their $4000."
Vincent Who? directed by Tony Lam, "In 1982, at the height of anti-Japanese sentiments arising from massive layoffs in the auto industry, a Chinese-American named Vincent Chin was murdered in Detroit by two white autoworkers. Chin's killers, however, got off with a $3,000 fine and 3 years probation, but no jail time. Outraged by this injustice, Asian Americans around the country united for the first time across ethnic and socioeconomic lines to form a pan-Asian identity and civil rights movement."
#EXPLORE: 
For those of you who need help preserving your family's history, please make an appoint to visit the Jacksonville Public Library's Special Collections' Digitization Station in the Main Library to digitize images, texts and film. Click here to learn more about the Digitization Station.