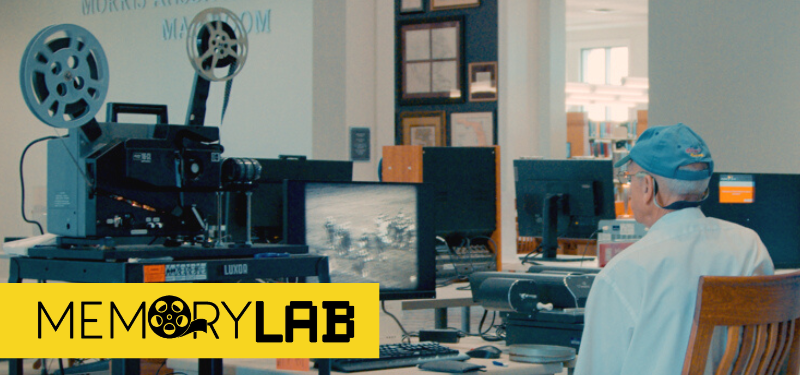 #Preserve Your Priceless Memories
Do you have boxes of old photographs? Home movies on VHS? Mixed tapes on cassette? Have you ever wanted to convert them to an easily stored and sharable digital format? How does "for FREE" sound?
#The Memory Lab
When Richard T. Marchionda heard that Jacksonville Public Library had received a grant* to expand its do-it-yourself digitization stations to include 8mm, 16mm and Super 8 film, he asked the librarians in the Special Collections Department when he could start using it. He'd already become a regular at the Library, looking through old Florida Times-Union articles on the microfilm reader for any mention of his alma mater.
#What once was lost
After Richard attended a class reunion in February, he started looking for footage of his glory days on the gridiron. He had played football for Terry Parker High School in 1962 and 63 and he knew that the school recorded games for the players. He remembers fondly when his coach would review them with the team after the games. Not only that, he knew that some parents shot their own films to use as keepsakes. Someone had to have something, right?
As luck would have it, another Terry Parker alumnus donated their parents' 16mm reels back to the school. They were all films from the 60s and 70s. Richard was thrilled! But he quickly learned that digitizing them was out of his price range. He did the research and companies were charging anywhere from $80-200 per reel. He soon learned, though, at the Library he could transfer all of those films on his own for FREE.
Now, Richard is on a mission to preserve these films before they're all forgotten. He says he plans to share them with his old coach, Aaron Brown, and his former classmates. He's even telling other coaches and athletic directors about the Memory Lab so they can preserve their old VHS tapes and film!
#Reserve a station
The Memory Lab is located on the fourth floor of the Main Library in Special Collections, right next to the Ansbacher Map Room. Library card holders can reserve a do-it-yourself digitization station for FREE any time the Library is open. Note: Film transfer and audio reel-to-reel stations are available by appointment only. For more information or to schedule an appointment, call us at (904) 255-BOOK. Click here for more information or to make an appointment online.
#Plan ahead
If you don't have a library card, click here to sign up. You'll also want a way to save your files (such as a flash drive, memory card, or a Google Photos account). And if you plan on doing any editing, you might want to check out Photoshop tutorials on LinkedIn Learning before you visit. They're also FREE with your library card!
The Memory Lab was funded under the provisions of the Library Services and Technology Act from the Institute of Museum and Library Services. Florida's LSTA program is administered by the Department of State's Division of Library and Information Services.