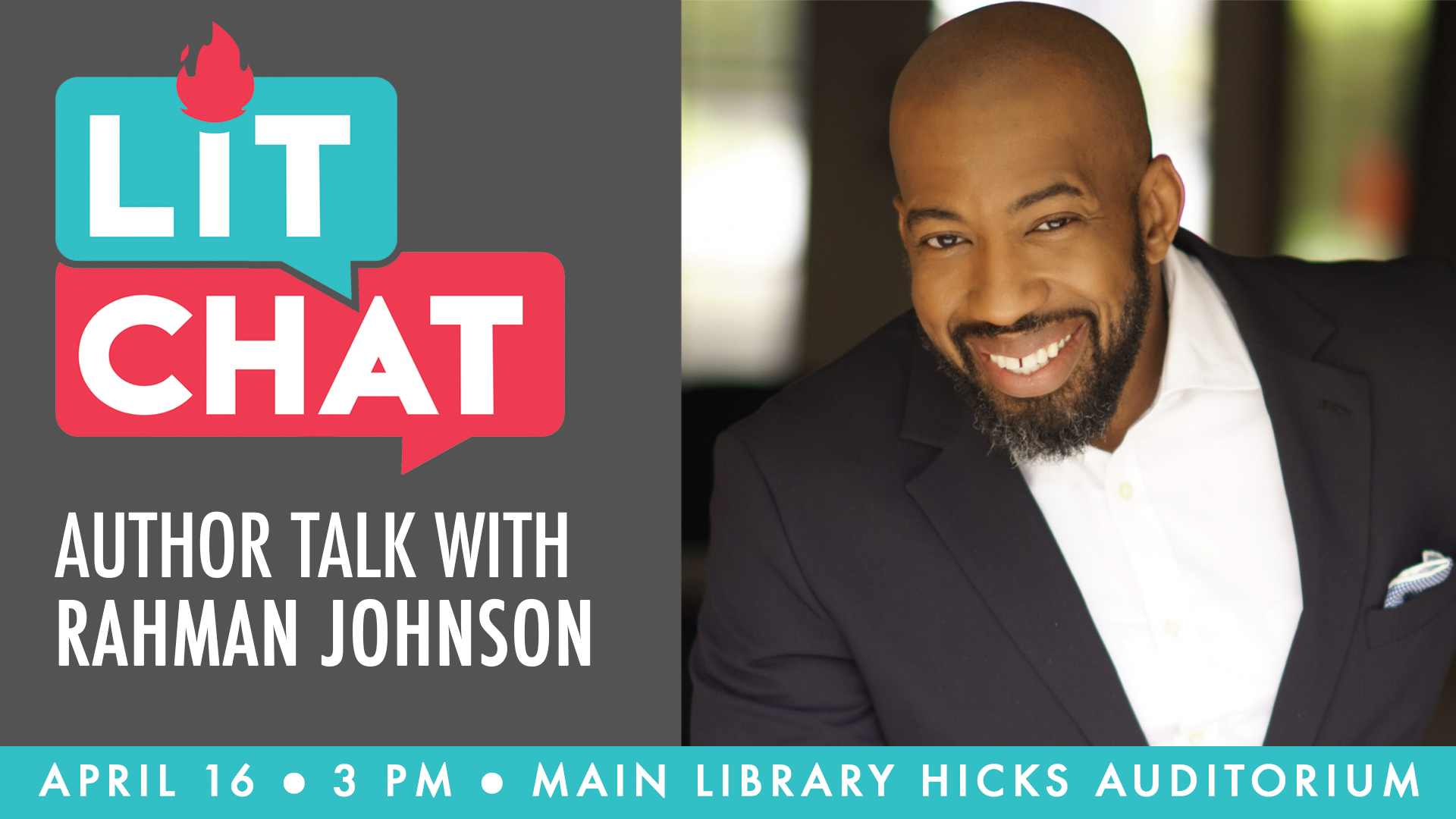 Celebrate National Poetry Month and learn about publishing your own poetry with local author Rahman Johnson, in our first Lit Chat live from the Main Library's Hicks Auditorium!
#JOIN:
Lit Chat with Rahman Johnson, Saturday, April 16, at 3 pm. This event will take place live at the Main Library and will be livestreamed online via Zoom. A reception and book signing will follow. No books will be sold on-site; order a copy from Rahman's website or your favorite bookseller. Click here to register.
Rahman Johnson was born and raised in Jacksonville, Florida and graduated from Jean Ribault Senior High School. He has earned degrees from Edward Waters College and Seton Hall University. Rahman is currently Professor of Journalism and Communications at Edward Waters College, where he was named 2021 Professor of the Year. In 2020, Rahman chose to write a collection of poetry as a memorial to his late mother, Ida Ross-Johnson. The book, Living, Loving, Letting Go, earned the esteemed 2021 Book of the Year Literary Award in the poetry category from the Black Caucus of the American Library Association.
Interviewer Carol Alexander is an arts management executive, producer, storyteller and educator with a passion for culture and history that has taken her around the globe, led to the founding of two Florida museums, a theater, and the renovation of the National Museum of Liberia, and fostered her success in the business and nonprofit worlds. As President and Chief Creative Officer of MaBu: A Cultural Resource, Carol assists organizations and individuals seeking to deepen their understanding of themselves and the cultures around them.
#READ: 
Find Rahman's poetry collection, Living, Loving, Letting Go in our catalog.
Rahman spent a lot of time at the Brentwood Library as a child and fondly remembers meeting Maya Angelou there in the 1980s. Check out her work in our catalog as well!
#EXPLORE: 
Rahman, along with fellow Jax writer Nikesha Elise Williams, was a winner of the 2021 Self-Publishing Ebook Award from the Black Caucus of the American Library Association. Learn more about this award on the BCALA website. Submissions for the 2022 awards are closed, but you can get your 2023 submission ready. 
Check out our upcoming Writer's Labs for ways to make your writing shine, including our workshop on ekphrastic poetry with local poet and educator Tiffany Melanson and our virtual workshop on building a profitable indie business with author Siera London!