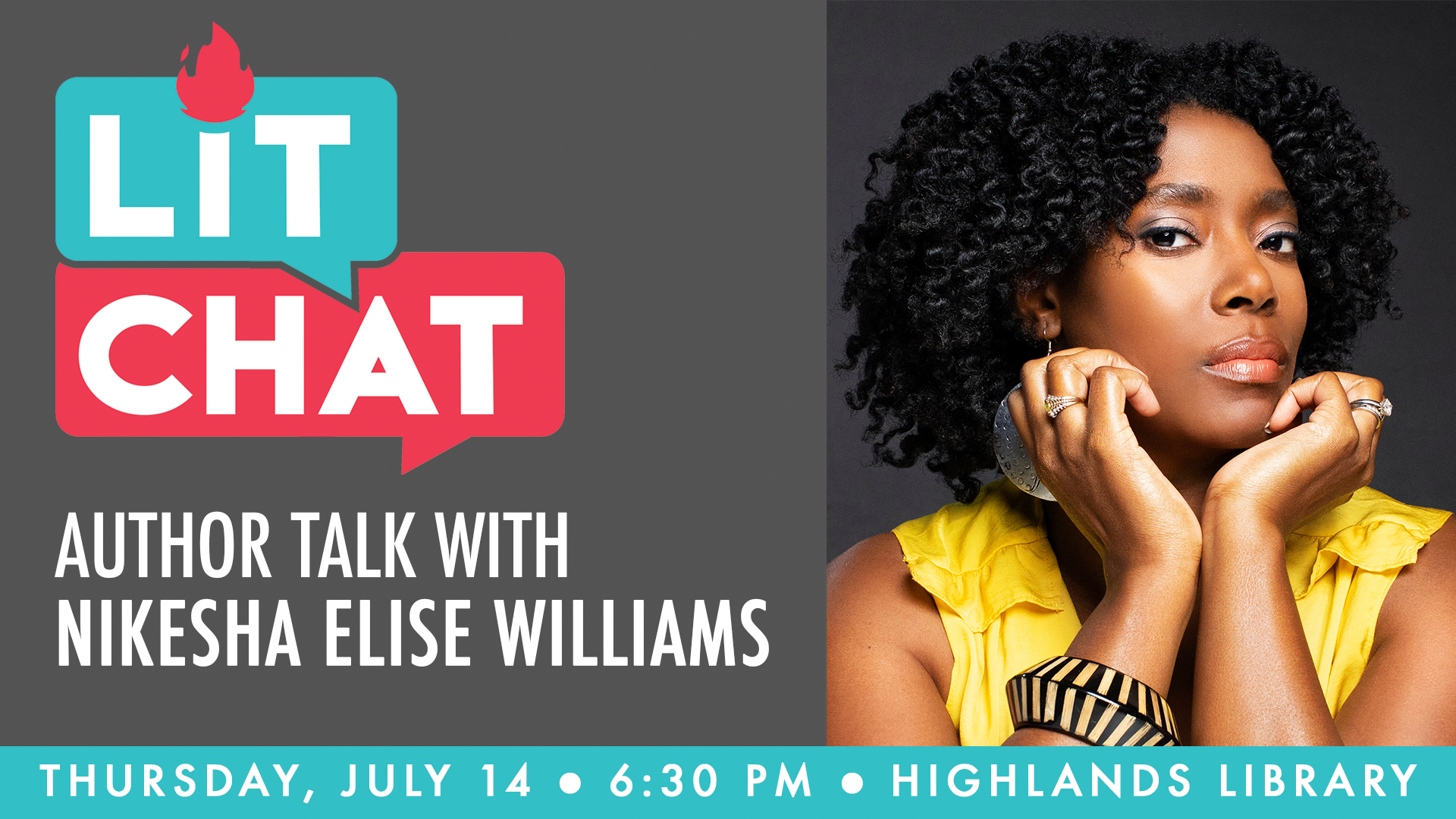 Nikesha Elise Williams has been featured at the library as a Writer's Lab workshop instructor and Lit Chat interviewer many times over the last two years. Now she takes on the role of featured author in our next Lit Chat! Join us at the Highlands Library to learn about Nikesha's journey as an award-winning self-published author, journalist, and podcaster.
#JOIN:
Lit Chat with Nikesha Elise Williams, Thursday, July 14, at 6:30 pm. This event will take place live at the Highlands Library and will be livestreamed online via Zoom. Williams will sign books after the event. Books will be available to purchase on-site from the author or you can bring a book purchased from your favorite bookseller. Click here to register. 
Nikesha Elise Williams is a two-time Emmy award winning producer, an award-winning author, and producer and host of the Black & Published podcast. Her latest novel, Beyond Bourbon Street, was awarded Best Fiction by the Black Caucus of African-American Librarians in the 2021 Self-Published eBook Literary Awards. It also received the 2020 Outstanding Book Award from the National Association of Black Journalists. Nikesha's forthcoming book, Mardi Gras Indians, will be published by LSU Press on October 5. A Chicago native, Nikesha is an Editor at Narrative Initiative and a columnist with JAX Today. Her work has also appeared in The Washington Post, ESSENCE, and VOX. She lives in Florida with her family and is working on her next novel.
Interviewer Yvette Angelique Hyater-Adams is a poet, teaching artist, and proven culture change strategist. She publishes, curates, and facilitates storytelling for healing, creating art, for consciouses-raising, and advocacy.  Her most recent work is a digital poetry chapbook: Something Old, New, Borrowed, and The Blues. As a recovering bank executive and management consulting firm CEO, Yvette runs a social arts practice, Narratives for Change, LLC. Writing poetry and essay, teaching, and activism is central to her social arts practice. She teaches creative writing for women and girls, and Scholarly Personal Narrative (SPN) for social justice thought leaders. Yvette is on the editorial board for Practising Social Change for Applied Behavioral Science. She is a volunteer for TEDx Jacksonville as a curator and speaker coach. She is the Chair of the Board of Directors for Alternate ROOTS, a social justice organization for artists and cultural organizers.  Yvette lives with her banker-jazz musician husband in Atlantic Beach, FL.  
#READ:
Check out Nikesha's books from the library, many of which are included in Biblioboard, a platform for self-published authors to share their work with libraries.
And for more great reads, here are Nikesha's current reading recommendations:
The Prophets, by Robert Jones, Jr. 
Long Division, Kiese Laymon 
In Every Mirror She's Black, Lola Akinmade Akerstrom 
Ain't That a Mother, Adiba Nelson 
#LISTEN:
Nikesha is the host of the Black & Published podcast, which "brings you the journeys of writers, poets, playwrights, and storytellers of all kinds to discuss what it means to be a writer, dissect the writing process, and demystify the steps between concept and publication." Nikesha also recommends these great podcasts:
Ratchet & Respectable with Demetria L. Lucas