Wednesday, September 21, 2022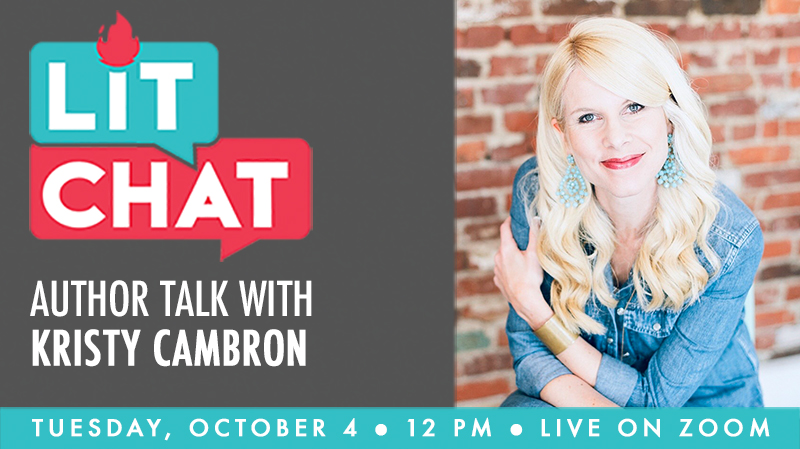 Have you ever wondered how authors make the people and places in their books feel so real? For Kristy Cambron, it's the research! Join Kristy and interviewer Madeline Martin for a live Zoom event to learn more about the painstaking process of researching a historical novel, and more! 
#JOIN:
Lit Chat with Kristy Cambron, Tuesday, October 4 at noon. This event will take place live on Zoom. Register here. 
Kristy Cambron is a vintage-inspired storyteller writing from the space where art, history, and faith intersect. She's a Christy Award-winning author of historical fiction, including her bestselling novels, The Butterfly and the Violin and The Paris Dressmaker. Her work has been named to Cosmopolitan's Best Historical Fiction Novels of 2021, Publishers Weekly Religion & Spirituality TOP 10, Library Journal Reviews' Best Books, RT Reviewers' Choice Awards, INSPY Award nominations, received a 2020 Christy Award for her novel, The Painted Castle, and is a 2022 Carol Award Finalist for The Paris Dressmaker. 
Interviewer Madeline Martin is a New York Times and international bestselling author of historical fiction and historical romance. She lives in sunny Florida with her two daughters, two incredibly spoiled cats and a husband so wonderful he's been dubbed Mr. Awesome. She is a die-hard history lover who will happily lose herself in research any day. When she's not writing, researching or 'moming', you can find her spending time with her family at Disney or sneaking a couple spoonfuls of Nutella while laughing over cat videos. She also loves travel, attributing her fascination with history to having spent most of her childhood as an Army brat in Germany. 
#READ: 
Check out Kristy's books from the library, including her World War II novels and verse mapping books. 
And for more WWII reads and some Highland romance, check out Madeline's books from the library. 
#KRISTY RECOMMENDS: 
"My favorite part of writing may be the research, which allows me to meet fascinating people, travel to new places, and watch history come alive before I write about it. Our family loved traveling to Sarasota to work with curators at the John & Mable Ringling Museum of Art for my Jazz Age novel, The Ringmaster's Wife. (You can tour the Ringlings' mansion featured in the novel by visiting The Ringling.) Our family spent nine days on a road-trip across Ireland—one hundred years after events of the 1916 Easter Rising—to research for my novel, Castle on the Rise. (The lesson there was to be bold and explore without a set agenda. Trying something new with travel can become a life-changing experience!) And while the pandemic prevented travel opportunities for The Paris Dressmaker and The Italian Ballerina books—WWII novels on the arts of occupied Paris and Rome—we can always research right where we are through the resources available from experts at local museums, universities, and. . . our wonderful libraries!"