Saturday, August 13, 2022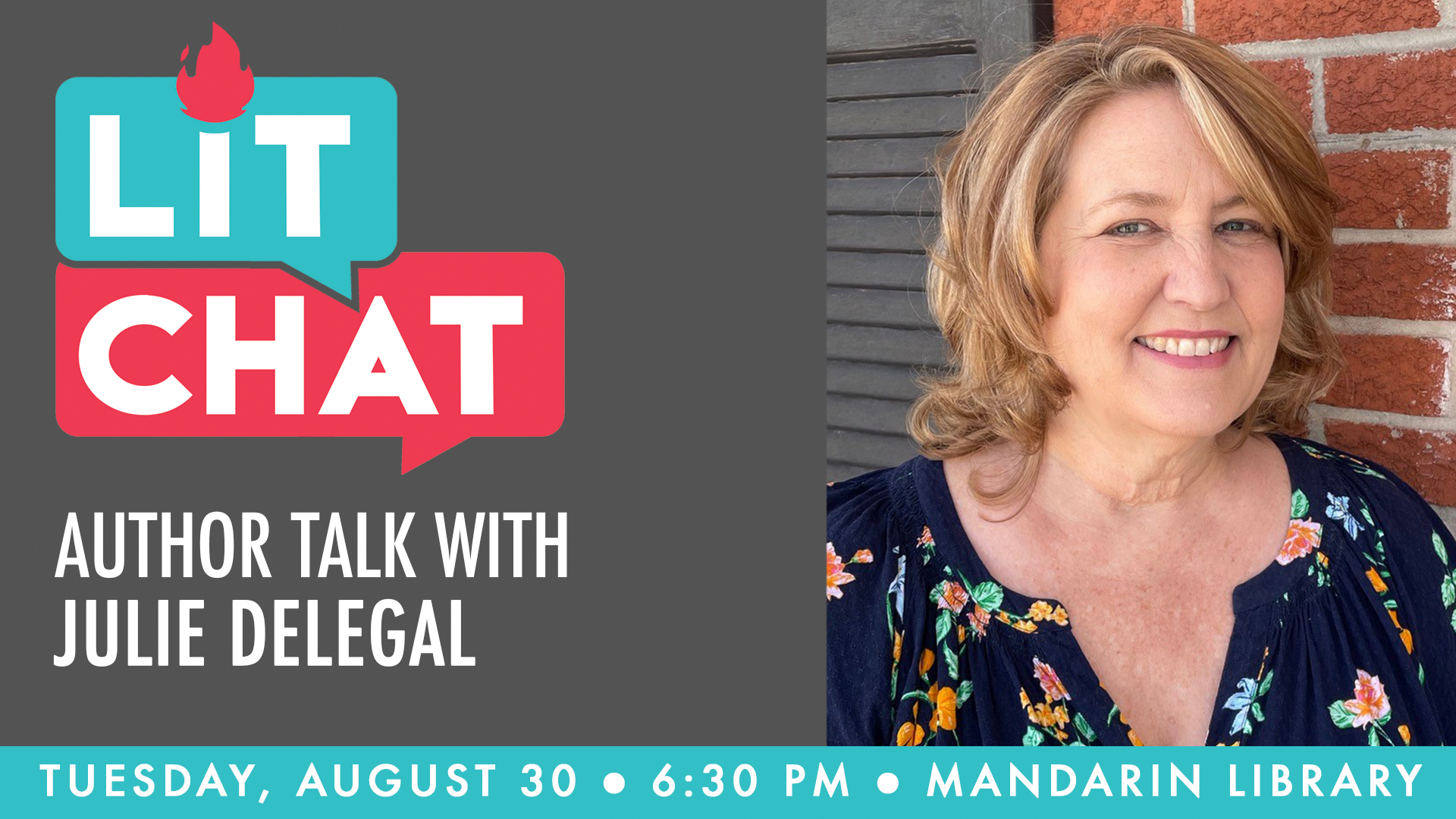 In her self-published novel, Seen, Julie G. Delegal takes a story straight from Jacksonville's headlines and tells a fictional version that explores a similar event from two perspectives. Join us to chat with Julie about the process of fictionalizing true events and how she was inspired to write this novel!
#JOIN:
Lit Chat with Julie G. Delegal, Tuesday, August 30, at 6:30 pm. This event will take place live at the Mandarin Library and will be livestreamed online via Zoom. Delegal will sign books after the event. Books will be available to purchase on-site or in advance from sponsor San Marco Books or you can bring a book purchased from your favorite bookseller. Click here to register. 
Julie G. Delegal is a freelance journalist and author who lives in Jacksonville. Her novel, Seen, earned the 2022 Independent Book Awards Gold Medal (IPPY) for best fiction in the Southeast region. For ten years, Julie covered education and other topics for Folio Weekly, Jacksonville's alternative weekly magazine. She has published journalism, editorials, and feature articles in various online and print media outlets throughout Florida.
A proud PTA veteran, Julie also wrote for the family law firm, now Delegal and Poindexter, P.A., while raising three children with her husband, Tad. She earned her bachelor's degree in English, minoring in Political Science and Women's Studies, from the University of Florida.
Interviewer Kay Huggins is a creative, the owner of Aphelion Editing and Consulting, and the host of The Raindrop Corner Podcast. As a longtime resident of Jacksonville, Florida, they have sought to support local artistry, foster thought-provoking content, and aid in human rights advocacy. For over a decade, their life has been dazzled with project management, technology industries, logistics, writing, and production. Through the intersectionality of Kay's craft, they aim to champion the community by providing a platform to marginalized groups. Currently, Kay is writing their debut novel and enjoying leisure moments with their wife and fur babies.
#READ:
Check out Seen from the library!
And for more books by Jacksonville-area writers, check out our Local Author Collection housed at the Main Library.
#JULIE RECOMMENDS:
TV to check out: "I just finished binge-watching My Brilliant Friend on HBO Max. It's based on the Neapolitan Novel Series by Elena Ferrante, which depicts her experiences growing up in and around Naples after WWII. While I don't usually go for foreign films or TV, it is beautiful filmmaking and imminently worth the caption-reading!"
A cultural day trip: "The best kept secret in Florida in my opinion is the Ringling Museum in Sarasota. I felt like I was in a museum in Italy! If you have a membership to Jacksonville's Cummer Museum, that'll get you in."
Planting tomatoes, which were plentiful and delicious in Julie's garden this summer: "This year, I'm going to try my luck with round two. Some tomato seeds I planted in a raised bed just sprouted, so we'll see what happens!"