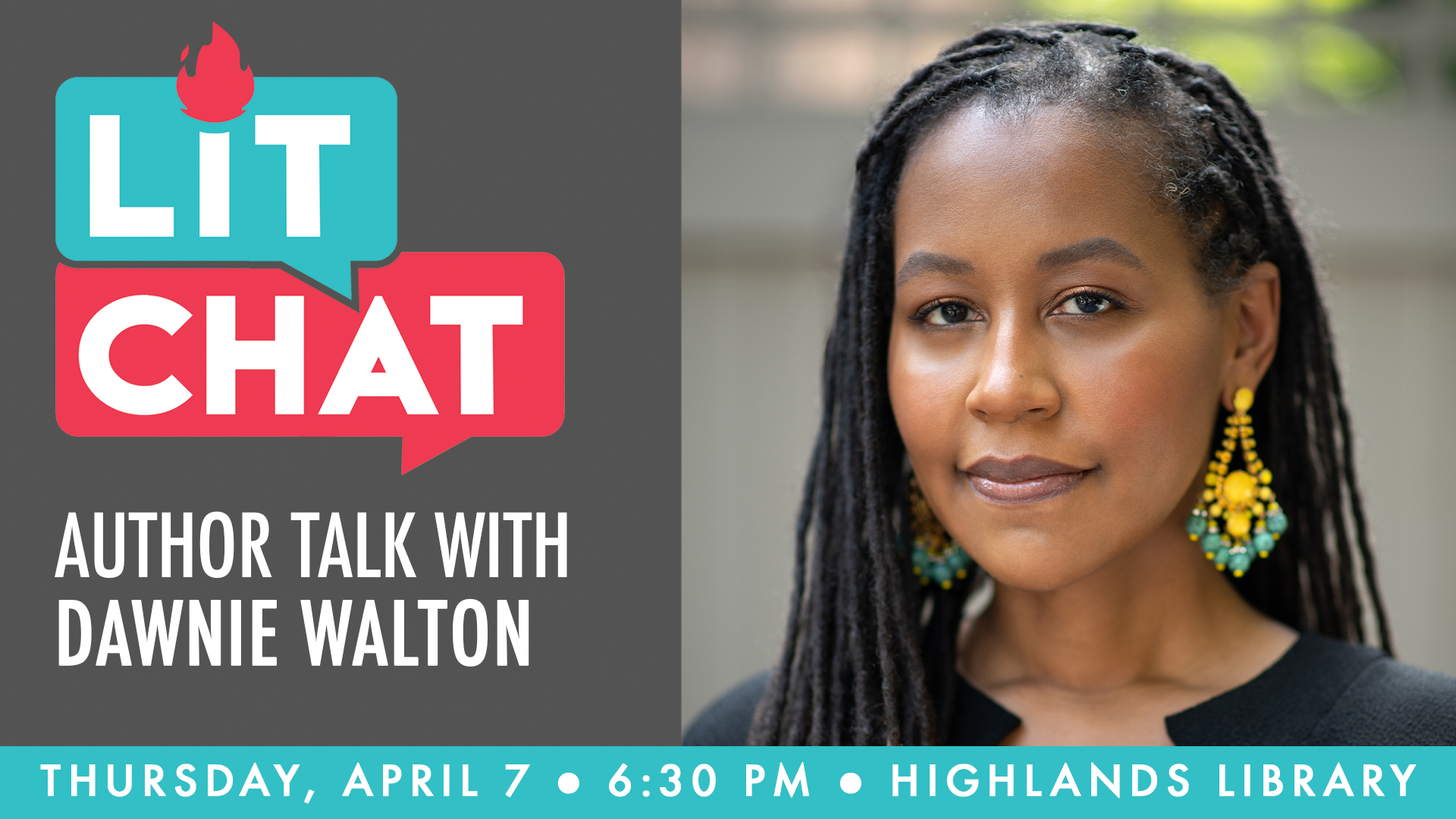 Dawnie Walton left Jacksonville after high school to pursue a successful career in magazines. Now she returns to town to chat with us about her first novel, which features a music magazine editor on a mission to discover the truth about an enigmatic music duo – a mission which includes a quick trip to Northeast Florida!
#JOIN:
Lit Chat with Dawnie Walton, Thursday, April 7, at 6:30 pm. This event will take place live at the Highlands Library and will be livestreamed online via Zoom. Click here to register.
Dawnie Walton is the author of the novel The Final Revival of Opal & Nev, a "spectacular debut" (Publisher's Weekly, starred review) that has been named one of 2021's most anticipated books by Essence, Vogue, The Oprah Magazine, Elle, The Independent, Lit Hub, PopSugar, The Millions, and Hypebae. Her work as a fiction writer and journalist explores identity, place, and the influence of pop culture. A MacDowell Colony fellow (2015), a Tin House Scholar (2017), and a graduate of the Iowa Writers' Workshop (MFA, 2018), she has worked as an executive-level editor for magazine and multimedia brands including Essence, Entertainment Weekly, Getty Images, and LIFE. A native of Jacksonville, Florida, she lives in Brooklyn.
Interviewer Nikesha Elise Williams is a two-time Emmy award winning producer, an award-winning author, and producer and host of the Black & Published podcast. Her latest novel, Beyond Bourbon Street, was awarded Best Fiction by the Black Caucus of African-American Librarians in the 2021 Self-Published eBook Literary Awards. It also received the 2020 Outstanding Book Award from the National Association of Black Journalists. Nikesha is a Chicago native and she attended The Florida State University. Nikesha writes full time with bylines in The Washington Post, ESSENCE, and VOX.
#READ:
Find books by Dawnie Walton and Nikesha Elise Williams in our catalog.
Dawnie says, "If you loved my character Opal Jewel and are interested in learning more about the real-life artists who inspired her, check out Maureen Mahon's wonderful Black Diamond Queens: African American Women and Rock and Roll. It features chapters about funk queen Betty Davis and the sisterhood of Labelle, and introduced me to hidden figures like the Blackberries and Devon Wilson.
I have to give a shoutout to my fellow Jacksonville natives Dantiel W. Moniz (Milk Blood Heat) and Deesha Philyaw (The Secret Lives of Church Ladies). These two extraordinary writers have pushed the short-story form forward."
#WATCH:
Dawnie says, "One of the best things about streaming services is that they've exposed me to so many more documentaries, which I love to watch. My favorite of last year was Summer of Soul, about the 1969 Harlem Cultural Festival. It takes the concert film a notch higher by placing performances in a historical context, and raises questions about why such a landmark festival got overshadowed.
I was very intentional about setting Opal & Nev's blastoff in 1971. Apple TV's docuseries 1971: The Year That Music Changed Everything gives you a peek at why, with episodes exploring the conscious music of Marvin Gaye and post-Beatles John Lennon, the Laurel Canyon scene, Sly & the Family Stone, and more."
#EXPLORE:
Looking for a place to eat near the Highlands Library that is hosting this event? Dawnie "can't visit home now without stopping in to Celestia's Coastal Cuisine (6765 Dunn Avenue). Of all the things I miss about Florida, amazing seafood ranks very high -- and Celestia's has everything from shrimp boils (with sausage, potatoes, corn, and neckbones) to fried oysters."