Wednesday, April 27, 2022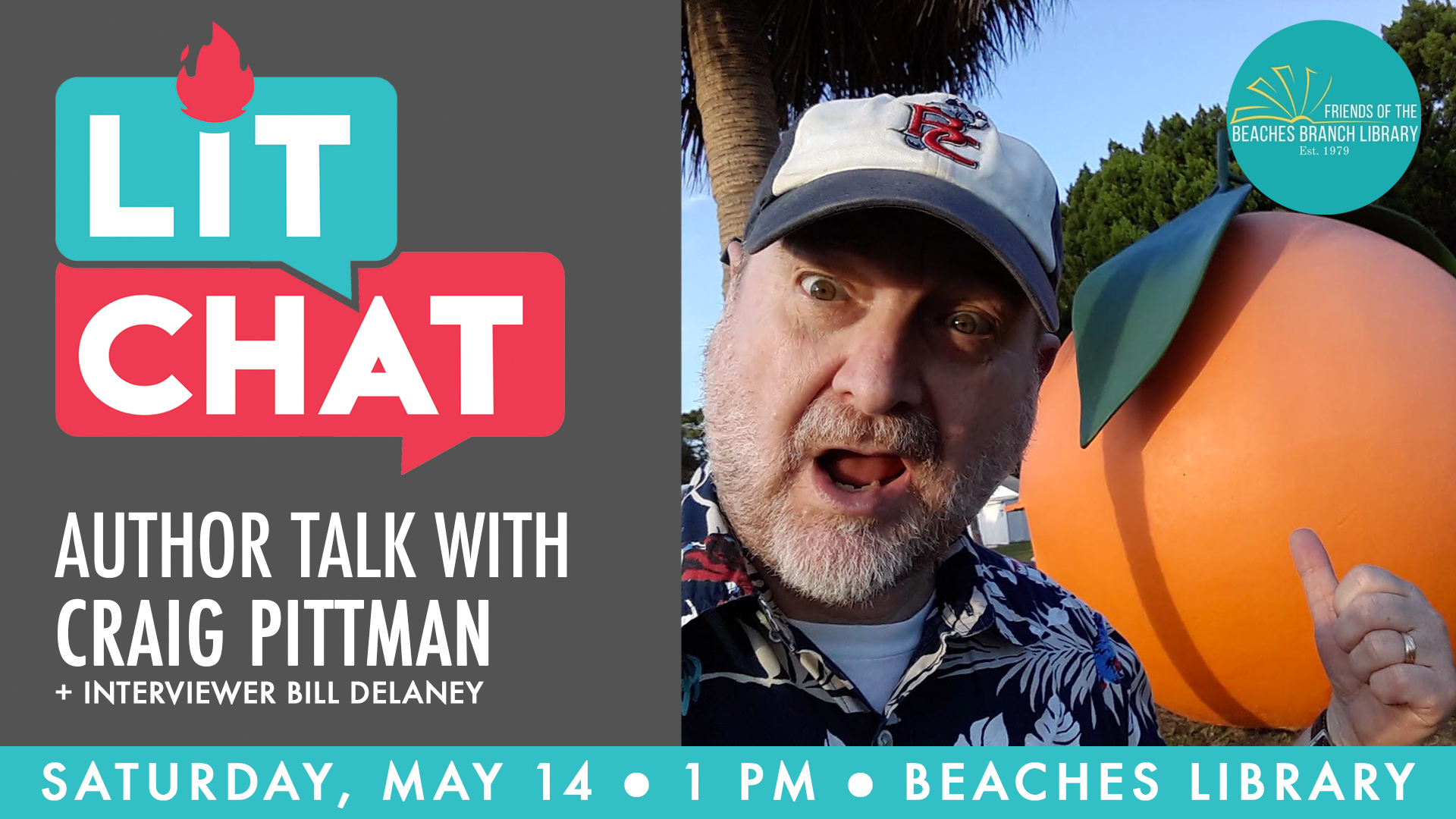 If you love living in Florida, and love to be annoyed at "Florida Man", you will definitely want to check out our upcoming Lit Chat with New York Times bestselling author Craig Pittman! Pittman writes fondly of the strange state we call home and all the interesting people who make it famous. Thanks to the Friends of the Beaches Branch Library for sponsoring this Lit Chat!
#JOIN:
Lit Chat with Craig Pittman, Saturday, May 14, at 1 pm. This event will take place live at the Beaches Library and will be livestreamed online via Zoom. Pittman will sign books after the event, with books available to purchase on-site from The Bookmark or you can bring a book purchased from your favorite bookseller. Click here to register. 
Craig Pittman is a native Floridian, an author, a podcaster and an award-winning environmental reporter. Born in Pensacola, he graduated from Troy State University in Alabama, where his muckraking work for the student paper prompted an agitated dean to label him "the most destructive force on campus." In 31 years at the Tampa Bay Times, Pittman covered a variety of beats and several natural disasters, including wildfires, hurricanes and the Florida Legislature. He now writes a weekly column for the Florida Phoenix and is co-host of the popular podcast "Welcome to Florida." He's the author of six non-fiction books about Florida, including the New York Times bestseller Oh, Florida: How America's Weirdest State Influences the Rest of the Country and Cat Tale: The Wild Weird Battle to Save the Florida Panther, which Garden & Gun magazine named one of the 20 best books of 2020. His most recent one, published in September 2021, is The State You're In: Florida Men, Florida Women, and Other Wildlife. He lives in St. Petersburg with his wife and two children.
Interviewer Bill Delaney is a writer, editor and higher education professional from Jacksonville whose work focuses on the culture and history of the First Coast. Delaney is the author of the guidebook Secret Jacksonville, and is co-owner and editor of the publications Modern Cities, TheJaxsonMag.com and Edible Northeast Florida Magazine. He holds bachelor's and master's degrees in English from the University of North Florida.
#READ:
Find Craig's books, including his newest, The State You're In, in our catalog.
And for more Florida non-fiction, check out books like these:
Bad Guys, Bullets, and Boat Chases, by Bob H. Lee
Fringe Florida, by Lynn Waddell
Sunshine State, by Sarah Gerard
#WATCH and LISTEN
Check out our previous Lit Chats covering the weird and wonderful history of Florida! Most of our Lit Chats are posted to our YouTube channel and podcast within a few weeks after the live event.
In April 2021 we featured Tyler Gillespie in conversation with Bill Delaney about his book, The Thing About Florida. (YouTube and podcast)
In September 2021 we welcomed music historian Michael Ray Fitzgerald to chat with Jacksonville Historical Society CEO Alan Bliss about Jacksonville and the Roots of Southern Rock. (YouTube and podcast)
And in December 2021 we brought Bill Delaney together with Alan Bliss to focus on the local with Delaney's Secret Jacksonville. (YouTube and podcast)
#EXPLORE:
If all this Florida talk has you itching for a road trip, check out Craig's recommendations for five state parks to visit in Florida's award-winning state park system, including one close to home in Gainesville!
"WeekiWachee Springs State Park in WeekiWachee Springs: The only government facility in America where the state employees include mermaids.
Homosassa Springs Wildlife State Park in Homosassa Springs: Home of Lu the Hippo, who was allowed to stay there after the state took over the park only because people petitioned then-Gov. Lawton Chiles to declare Lu an official citizen of Florida.
Falling Waters State Park in Marianna: Features a waterfall that drops into a sinkhole, so you never see where it ends up.
The Devil's Millhopper Geological State Park in Gainesville: A sinkhole that takes you through different ecosystems on your way down. Also, according to Tom Petty, it was the high school makeout spot when he was a teenager.
Fakahatchee Strand Preserve State Park in Copeland: The largest park in the state park system is so full of diverse wildlife that it's been called the Amazon of North America. It's also home to the famous ghost orchid, featured in the Susan Orlean book The Orchid Thief."