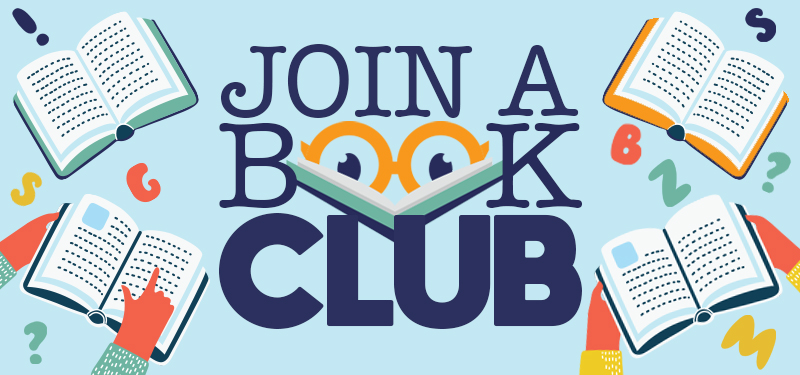 Kick-off the summer season and join one of our 11 book clubs in June! From serious memoirs to glitzy mysteries, one of these clubs will speak to you!
Check out the list of book clubs below and join your fellow readers for a great chat!
#Thursday, June 2 @ 6:30pm Discovery Book Club at Pablo Creek
The Mountain Between Us, by Charles Martin
"Stranded in a frigid mountain wilderness after a plane crash, a gifted surgeon and a young magazine writer are forced to rely on each other for survival while confronting painful truths about their personal lives."
Fifty Words for Rain, by Asha Lemmie
"Kyoto, Japan, 1948. Noriko "Nori" Kamiza will not question why her mother abandoned her, or her confinement to the attic of her grandparents' imperial estate. And she will not resist the scalding chemical baths she receives daily to lighten her shameful skin. The illegitimate child of a Japanese aristocrat and her African American GI lover, Nori is an outsider from birth. Her grandparents take her in only to conceal her, fearful of a stain on the royal pedigree that they are desperate to uphold in a changing Japan. When chance brings her legitimate older half-brother, Akira, to the estate that is his inheritance and destiny, the siblings form an unlikely but powerful bond-- one their formidable grandparents cannot allow and that will irrevocably change the lives they were always meant to lead. "
Daytripper, by Fábio Moon and Gabriel Bà
"What are the most important days of your life? Follow an aspiring writer as each chapter peers in at a completely different moment in his life, from his loves to his deaths and all the possibilities in between. Brás de Oliva Domingos is an obituary writer with a famous father, a career he hates, and tons of questions. How does a person become a successful writer? How does a man get out of his father's shadow? But those concerns will dwarf the surprise he'll find, which will grow into a mystery about the meaning of life itself."
The 39 Steps, by John Buchan
"When murder strikes a remote hamlet in the Shetland Islands, and the body of a teenage girl turns up in the winter snow, Inspector Jimmy Perez launches an investigation into the killing that takes him into the heart of sinister secrets from the past."
Sooley, by John Grisham 
"After seventeen-year-old Samuel "Sooley" Sooleymon receives a college scholarship to play basketball for North Carolina Central, he moves to Durham from his native, war-torn South Sudan, enrolls in classes, joins the team, and prepares to sit out his freshman season, but Sooley has a fierce determination to succeed so he can bring his family to America, working tirelessly on his game until he dominates everyone in practice, and when Sooley is called off the bench, the legend begins."
In the Dream House, by Carmen Maria Machado
"When he buys a beach house on the Carolina coast, Sedaris envisions long, relaxing vacations spent playing board games and lounging in the sun with those he loves most. And life at the Sea Section, as he names the vacation home, is exactly as idyllic as he imagined, except for one tiny, vexing realization: it's impossible to take a vacation from yourself."
Category: A book you've been meaning to read but haven't 
Are you participating in our Jax Stacks Reading Challenge? Do you want to? Do you need a few more ideas for books you can read for that one elusive category? Check out our Reading Challenge book club! Each month we'll get together to talk about that month's featured categories as well as books that you have read or will read for any of the categories in the challenge. No reading is required to attend this book club, just an interest in our reading challenge and the ability to talk about great books!
The Good Nurse: A True Story of Medicine, Madness, and Murder, by Charles Graeber
"A searing memoir of the author's efforts to understand her late mother's life and murder describes the traumatic loss of her mother in childhood, the 12-year manhunt for the killer and the author's investigations into her mother's past in the dark corners of a small Maine community."
#Saturday, June 25 @ 12:30pm New Leaf Book Club at Highlands
Mercy, by David Baldacci
"For her entire life, FBI agent Atlee Pine has been searching for her twin sister, Mercy, who was abducted at the age of six and never seen again. Mercy's disappearance left behind a damaged family that later shattered beyond repair when Atlee's parents inexplicably abandoned her. Now, after a perilous investigation that nearly proved fatal, Atlee has finally discovered not only the reason behind her parents' abandonment and Mercy's kidnapping, but also the most promising breakthrough yet: proof that Mercy survived her abduction and then escaped her captors many years ago."
The Club, by Ellery Lloyd
"Envisioned as a luxurious home-away from-home for Very Important People, The Home Group is a collection of celebrity members clubs dotted across the globe where the rich and famous can party hard and then crash out in its five-star suites, far from the prying eyes of fans and the media. But behind the scenes, tensions are at breaking point. As tempers fray and behaviour worsens, as things get more sinister by the hour and the body count piles up, some of Home's members begin to wish they'd never RSVP'd at all."
A Land Remembered, by Patrick Smith
"The story opens in 1858, when Tobias MacIvey arrives in the Florida wilderness to start a new life with his wife and infant son, and ends two generations later in 1968 with Solomon MacIvey, who realizes that the land has been exploited far beyond human need. The sweeping story that emerges is a rich, rugged Florida history featuring a memorable cast of crusty, indomitable Crackers battling wild animals, rustlers, Confederate deserters, mosquitoes, starvation, hurricanes, and freezes to carve a kingdom out of the swamp. But their most formidable adversary turns out to be greed, including finally their own. Love and tenderness are here too: the hopes and passions of each new generation, friendships with the persecuted blacks and Indians, and respect for the land and its wildlife."