Wednesday, October 19, 2022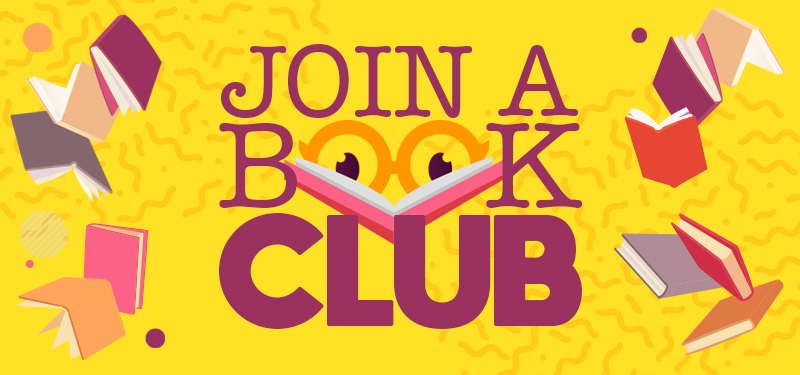 During the month of November, we're giving thanks for books, readers, and great discussions! We're reading non-fiction and memoir, true crime, mystery, history, sci-fi, romance, and more. Check out our newest book club, From Books to Films, at the Southeast Library, and make sure to keep an eye on the meeting dates this month as some have changed due to holiday closures.
Check out the list of book clubs below and join your fellow readers for a great chat! 
#Thursday, November 3 @ 6:30pm Discovery Book Club at Pablo Creek
Shutter Island, by Dennis Lehane
"The year is 1954. U.S. Marshal Teddy Daniels and his new partner, Chuck Aule, have come to Shutter Island, home of Ashecliffe Hospital for the Criminally Insane, to investigate the disappearance of a patient. Multiple murderess Rachel Solando is loose somewhere on this remote and barren island, despite having been kept in a locked cell under constant surveillance. As a killer hurricane relentlessly bears down on them, a strange case takes on even darker, more sinister shades—with hints of radical experimentation, horrifying surgeries, and lethal countermoves made in the cause of a covert shadow war. No one is going to escape Shutter Island unscathed, because nothing at Ashecliffe Hospital is what it seems. But then neither is Teddy Daniels."
The Long Way to a Small, AngryPlanet, by Becky Chambers 
"When Rosemary Harper joins the crew of the Wayfarer, she isn't expecting much. The patched-up ship has seen better days, but it offers her everything she could possible want: a spot to call home, a chance to explore the far-off corners of the galaxy and some distance from her past. And nothing could be further from what she's known than the crew of the Wayfarer."
300, by Frank Miller 
"The armies of Persia--a vast horde greater than any the world has ever known--are poised to crush Greece, an island of reason and freedom in a sea of madness and tyranny. Standing between Greece and this tidal wave of destruction are a tiny detachment of but three hundred warriors."
#Thursday, November 10@ 1pm As the Page Turns at Mandarin
Miss Benson's Beetle, by Rachel Joyce  
"It is 1950. London is still reeling from World War II, and Margery Benson--a sensible schoolmarm and lonely spinster--is just trying to get through life. But one day, she reaches her breaking point, abandoning her job and her tidy, circumscribed life, to set out on an expedition to the other side of the world in search of an insect that may or may not exist: the golden beetle of New Caledonia, Margery's childhood obsession ever since her father gave her a book on cryptozoology right before he killed himself. The assistant Margery hires to accompany her, Enid Pretty, in her pink hat and pompom sandals, is not the companion she had in mind. But together they will find themselves drawn into an adventure that exceeds all expectations: a cross-ocean voyage to a remote island covered with dense jungle--the last place two proper British ladies would expect to find themselves. They must risk everything and break all the rules, but at the top of a mountain deep in the South Pacific they will discover their best selves."
Killers of the Flower Moon, by David Grann 
"1920s Oklahoma. The richest people per capita in the world were members of the Osage Indian nation in Oklahoma after oil was discovered beneath their land. Then, one by one, the Osage began to be killed off. The family of an Osage woman, Mollie Burkhart, became a prime target. Her relatives were shot and poisoned. Many of those who dared to investigate the killings were themselves murdered. It became the FBI's first major homicide investigation... and the bureau badly bungled the case. J. Edgar Hoover turned to a former Texas Ranger named Tom White, who put together an undercover team which began to expose one of the most chilling conspiracies in American history."
A Prince On Paper, by Alyssa Cole 
"Nya Jerami fled Thesolo for the glitz and glamour of NYC but discovered that her Prince Charming only exists in her virtual dating games. When Nya returns home for a royal wedding, she accidentally finds herself up close and personal--in bed--with the real-life celebrity prince who she loves to hate. For Johan von Braustein, the red-headed step-prince of Liechtienbourg, acting as paparazzi bait is a ruse that protects his brother--the heir to the throne--and his own heart. When a royal referendum threatens his brother's future, a fake engagement is the perfect way to keep the cameras on him. Nya and Johan both have good reasons to avoid love, but as desires are laid bare behind palace doors, they must decide if their fake romance will lead to a happily-ever-after."
The Water Keeper, by Charles Martin 
"Murphy Shepherd lives alone, doing maintenance work for a church that no one attends and trying to heal from scars gained rescuing others who dwell in the margins. His specialty is finding young girls bought and sold in the flesh trade, and leading them from brokenness to freedom, but Shepherd thinks he has given everything he has and it may be time to retire. His hermetic healing process is interrupted when he rescues a woman named Summer in Florida's Intercoastal Waterway and gets drawn into a hunt after a gang of international human traffickers."
Category: "Book written by a 2022 Lit Chat author"
Are you participating in our Jax Stacks Reading Challenge? Do you want to? Do you need a few more ideas for books you can read for that one elusive category? Check out our Reading Challenge book club! Each month we'll get together to talk about that month's featured categories as well as books that you have read or will read for any of the categories in the challenge. No reading is required to attend this book club, just an interest in our reading challenge and the ability to talk about great books!
#Thursday, November 17 @ 6 pm From Books to Films at Southeast
Jurassic Park, by Michael Crichton
"Bioengineers clone 15 species of dinosaurs and establish an island preserve where tourists can view the large reptiles; chaos ensues when a rival genetics firm attempts to steal frozen dinosaur embryos, and it's up to two kids, a safari guide and a paleontologist to set things right."
The Man from the Train, by Bill James
"Between 1898 and 1912, families across the country were bludgeoned in their sleep with the blunt side of an axe. Jewelry and valuables were left in plain sight, bodies were piled together, faces covered with cloth. Some of these cases, like the infamous Villasca, Iowa, murders, received national attention. But few people believed the crimes were related. And fewer still would realize that all of these families lived within walking distance to a train station. When celebrated baseball statistician and true crime expert Bill James first learned about these horrors, he began to investigate others that might fit the same pattern. Applying the same know-how he brings to his legendary baseball analysis, he empirically determined which crimes were committed by the same person. Then after sifting through thousands of local newspapers, court transcripts, and public records, he and his daughter Rachel made an astonishing discovery: they learned the true identity of this monstrous criminal. In turn, they uncovered one of the deadliest serial killers in America."
The Dark Remains, by William McIlvanney
"When the body of lawyer Bobby Carter is found in an alley behind a pub that is known to be under the protective wing of a local crime boss, the fragile equilibrium that has been keeping Glasgow relatively safe for months is shattered. As two Glasgow gangs go to war, DC Laidlaw needs to find Carter's killer before the whole city explodes."
#Monday, November 21 @ 6:30pm Cumulative Realities at Murray Hill
Heart Berries: A Memoir, by Terese Marie Mailhot 
"Having survived a profoundly dysfunctional upbringing only to find herself hospitalized and facing a dual diagnosis of post traumatic stress disorder and bipolar II disorder, Terese Marie Mailhot is given a notebook and begins to write her way out of trauma. The triumphant result is Heart Berries, a memorial for Mailhot's mother, a social worker and activist who had a thing for prisoners; a story of reconciliation with her father-an abusive drunk and a brilliant artist-who was murdered under mysterious circumstances; and an elegy on how difficult it is to love someone while dragging the long shadows of shame." 
#Saturday, November 26 @ 12:30pm New Leaf Book Club at Highlands
The Choice, by Dr. Edith Eger 
"At the age of sixteen, Edith Eger, a trained ballet dancer and gymnast, was sent to Auschwitz. Hours after her parents were killed, the 'Angel of Death, ' Nazi officer Dr. Josef Mengele, forced Edie to dance for his amusement--and her survival. He rewarded her with a loaf of bread that she shared with her fellow prisoners--an act of generosity that would later save her life. Edie and her sister survived multiple death camps and the Death March. When the American troops liberated the camps in 1945 they found Edie barely alive in a pile of corpses. Edie spent decades struggling with flashbacks and survivor's guilt, determined to stay silent and hide from the past. Today, at ninety years old, Edie is a renowned psychologist and speaker who specializes in treating patients suffering from traumatic stress disorders. She weaves her remarkable personal account of surviving the Holocaust and overcoming its ghosts of anger, shame, and guilt with the moving stories of those she has helped heal. She explores how we can be imprisoned in our own minds and shows us how to find the key to freedom."
Doing it at the Dixie Dew, by Ruth Moose 
"Beth McKenzie's attempt to turn an old Southern mansion into a Bed and Breakfast called The Dixie Dew is thwarted when her first guest is found dead in bed. Murdered, it turns out. Three days later a young priest who looks better in tennis whites than cleric black, is found strangled in his chapel. The whole town of Littleboro, North Carolina is abuzz, and Ossie Delbardo, the town cop whose job heretofore mainly involved controlling football traffic on Friday nights, is not cut out to solve the murders. With her barely opened B & B in danger of failing, and aided by her friend from high school and trusty handyman, Beth sets out to discover the truth of the murders. Littleboro has its share of characters, some of which are helpful and others misleading. There's Crazy Reba who lives in a tree, bathes in any bathtub she finds empty, and dumpster dives; Verna, the town know-it-all and affectionate owner of Robert Redford, a huge white rabbit; and Miss Tempie Merritt, music teacher and organist who always wears hat, gloves, and lace-trimmed white socks. When Beth herself is attacked, there's no more time for baking muffins and stencilling pineapples on the porch. She's in a race to uncover her neighbors' secrets before her hometown becomes her burial ground."
#Tuesday, November 29 @ 6:45 pm Flamingo Book Club at Beaches
The Water Keeper, by Charles Martin 
"Murphy Shepherd lives alone, doing maintenance work for a church that no one attends and trying to heal from scars gained rescuing others who dwell in the margins. His specialty is finding young girls bought and sold in the flesh trade, and leading them from brokenness to freedom, but Shepherd thinks he has given everything he has and it may be time to retire. His hermetic healing process is interrupted when he rescues a woman named Summer in Florida's Intercoastal Waterway and gets drawn into a hunt after a gang of international human traffickers."