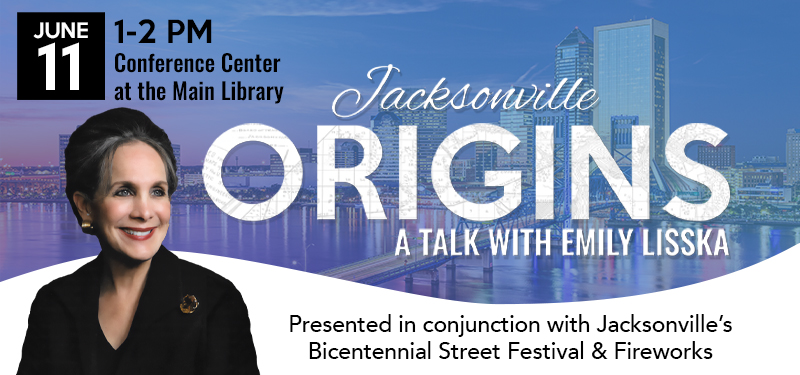 #A Bold City Bicentennial
The countdown to our City's bicentennial has begun! How will you celebrate Jacksonville's 200-year anniversary? The Library's doing what it does best: sharing and collecting stories! We hope you'll join us!
#Jacksonville Origins: A Talk with Emily Lisska
What was so important about this narrow crossing on the St. Johns River? Why was the timing right in 1822 to found the town? Who decided to set the founding in motion and how did they proceed? What results stemmed from that June day in 1822?
During her talk on Saturday, June 11 at 1 p.m. at the Main Library, Emily Lisska will answer these questions and more. Enjoy Emily's love of history and her gifted storytelling as she sheds light on the city's founding. Attend in-person or watch the virtual livestream from anywhere!
As a Jacksonville native, Lisska has actively researched, preserved, presented, and promoted North Florida's unique and diverse history for more than three decades. She is also the former Executive Director of the Jacksonville Historical Society (1996-2018) and Immediate Past President and current board member of the Florida Historical Society.
This event takes place in conjunction with the City's official "Bicentennial Street Festival & Fireworks" which kicks off across the street at James Weldon Johnson Park.
#Leave Your Mark
Jacksonville Public Library is also collecting your stories, your family history, and your vision for the future of this Bold City for a permanent, digital collection we're calling the Bicentennial Biographical Sketch Project. For more information, watch this video:
You can check out an early preview of the digital collection here! We'll continue to add your Jacksonville stories to this historic, growing collection through the end of 2022.
Why wait? Complete the "biographical sketch" questionnaire online now.