Thursday, August 11, 2022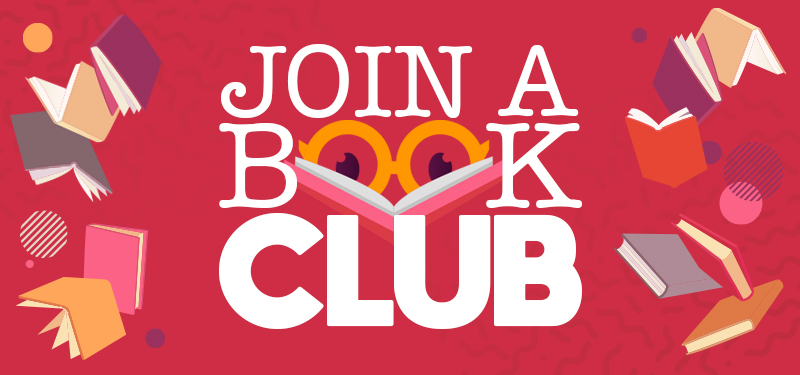 Continue your summer reading at the library with one of our 12 great book clubs this month! We've got nonfiction, mysteries, fantasy, romance, and a classic you might have missed to fill your reading hours.
Check out the list of book clubs below and join your fellow readers for a great chat! 
#Thursday, September 1 @ 6:30pm Discovery Book Club at Pablo Creek
Grunt, by Mary Roach
"Grunt tackles the science behind some of a soldier's most challenging adversaries—panic, exhaustion, heat, noise—and introduces us to the scientists who seek to conquer them. Mary Roach dodges hostile fire with the U.S. Marine Corps Paintball Team as part of a study on hearing loss and survivability in combat. She visits the fashion design studio of U.S. Army Natick Labs and learns why a zipper is a problem for a sniper. She visits a repurposed movie studio where amputee actors help prepare Marine Corps medics for the shock and gore of combat wounds. At Camp Lemmonier, Djibouti, in east Africa, we learn how diarrhea can be a threat to national security. Roach samples caffeinated meat, sniffs an archival sample of a World War II stink bomb, and stays up all night with the crew tending the missiles on the nuclear submarine USS Tennessee. She answers questions not found in any other book on the military: Why is DARPA interested in ducks? How is a wedding gown like a bomb suit? Why are shrimp more dangerous to sailors than sharks? Take a tour of duty with Roach, and you'll never see our nation's defenders in the same way again."
#Thursday, September 8 @ 1pm As the Page Turns at Mandarin
The Sweet Taste of Muscadines, by Pamela Terry
"Lila Bruce Breedlove never quite felt at home in Wesleyan, Georgia, especially after her father's untimely death when she was a child. Both she and her brother, Henry, fled north after high school, establishing fulfilling lives and relationships of their own, steeped in art and culture. In contrast, their younger sister, Abigail, opted to remain in Georgia to dote on their domineering, larger-than-life mother, Geneva. Yet, despite their years-long independence, Lila and Henry both know they've never quite reckoned with their upbringing. Now, when their elderly mother dies suddenly and strangely in the muscadine arbor behind the family estate, they must travel back to the town that raised them. But as Lila and Henry uncover more about Geneva's death, shocking truths are revealed that upend the Bruces' history as they know it, sending the pair on an extraordinary journey to chase a truth that will dramatically alter the course of their lives."
SandmanVol. 1 and Vol. 2, by Neil Gaiman
"An occultist attempting to capture Death to bargain for eternal life traps her younger brother Dream instead. After his 70 year imprisonment and eventual escape, Dream, also known as Morpheus, goes on a quest for his lost objects of power."
Category: "A book about a culture other than your own"
Are you participating in our Jax Stacks Reading Challenge? Do you want to? Do you need a few more ideas for books you can read for that one elusive category? Check out our Reading Challenge book club! Each month we'll get together to talk about that month's featured categories as well as books that you have read or will read for any of the categories in the challenge. No reading is required to attend this book club, just an interest in our reading challenge and the ability to talk about great books!
Folly, by Stella Cameron 
"Following the breakdown of her marriage, Alex Duggins has returned to her picturesque hometown of Folly-on-Weir in the Cotswolds in order to start afresh. But you can't outrun the past, as Alex is about to discover when she stumbles across a frosted corpse buried in the snow. The subsequent murder investigation threatens to unearth old secrets - including Alex's own. As Folly-on-Weir braces for a chilling winter and Alex finds herself top of the police's suspect list, she determines to clear her name and find the real murderer. But as she begins to peel back the layers of deception that have long-concealed one of the town's darkest secrets, she herself becomes the target of a ruthless killer who has nothing left to lose. Will Alex be the next snow-covered body to be found in the beautiful hills above the town?"
Act Your Age, Eve Brown by Talia Hibbert
"Eve Brown is a certified hot mess. No matter how hard she strives to do right, her life always goes horribly wrong--so she's given up trying. But when her personal brand of chaos ruins an expensive wedding (someone had to liberate those poor doves), her parents draw the line. It's time for Eve to grow up and prove herself even though she's not entirely sure how. Jacob Wayne is in control. Always. The bed and breakfast owner's on a mission to dominate the hospitality industry and he expects nothing less than perfection. So when a purple-haired tornado of a woman turns up out of the blue to interview for his open chef position, he tells her the brutal truth: not a chance in hell. Then she hits him with her car supposedly by accident. Yeah, right. Now his arm is broken, his B&B is understaffed, and the dangerously unpredictable Eve is fluttering around, trying to help. Before long, she's infiltrated his work, his kitchen and his spare bedroom. Jacob hates everything about it. Or rather, he should. Sunny, chaotic Eve is his natural-born nemesis, but the longer these two enemies spend in close quarters, the more their animosity turns into something else. Like Eve, the heat between them is impossible to ignore and it's melting Jacob's frosty exterior."
#Monday, September 19 @ 6:30pm Cumulative Realities at Murray Hill
Greedy: Notes from a Bisexual Who Wants Too Much, by Jen Winston  
"Jen's provocative, laugh-out-loud debut takes us inside her journey of self-discovery, leading us through stories of a childhood 'girl crush,' an onerous quest to have a threesome, and an enduring fear of being bad at sex. Greedy follows Jen's attempts to make sense of herself as she explores the role of the male gaze, what it means to be "queer enough," and how to overcome bi stereotypes when you're the posterchild for all of them: greedy, slutty, and constantly confused. With her clever voice and clear-eyed insight, Jen draws on personal experiences with sexism and biphobia to understand how we all can and must do better. She sheds light on the reasons women, queer people, and other marginalized groups tend to make ourselves smaller, provoking the question: What would happen if we suddenly stopped? Greedy shows us that being bisexual is about so much more than who you're sleeping with--it's about finding stability in a state of flux and defining yourself on your own terms. This book inspires us to rethink the world as we know it, reminding us that Greedy was a superpower all along." 
The Maidens, by Alex Michaelides 
"Edward Fosca is a murderer. Of this Mariana is certain. But Fosca is untouchable. A handsome and charismatic Greek tragedy professor at Cambridge University, Fosca is adored by staff and students alike-particularly by the members of a secret society of female students known as The Maidens. Mariana Andros is a brilliant but troubled group therapist who becomes fixated on The Maidens when one member, a friend of Mariana's niece Zoe, is found murdered in Cambridge. Mariana, who was once herself a student at the university, quickly suspects that behind the idyllic beauty of the spires and turrets, and beneath the ancient traditions, lies something sinister. And she becomes convinced that, despite his alibi, Edward Fosca is guilty of the murder. But why would the professor target one of his students? And why does he keep returning to the rites of Persephone, the maiden, and her journey to the underworld? When another body is found, Mariana's obsession with proving Fosca's guilt spirals out of control, threatening to destroy her credibility as well as her closest relationships. But Mariana is determined to stop this killer, even if it costs her everything-including her own life."
Evidence of Love: A True Story of Passion and Death in the Suburbs, by John Bloom 
"Candy Montgomery and Betty Gore had a lot in common: They sang together in the Methodist church choir, their daughters were best friends, and their husbands had good jobs working for technology companies in the north Dallas suburbs known as Silicon Prairie. But beneath the placid surface of their seemingly perfect lives, both women simmered with unspoken frustrations and unanswered desires. On a hot summer day in 1980, the secret passions and jealousies that linked Candy and Betty exploded into murderous rage. What happened next is usually the stuff of fiction. But the bizarre and terrible act of violence that occurred in Betty's utility room that morning was all too real. Based on exclusive interviews with the Montgomery and Gore and families, Evidence of Love is the riveting account of a gruesome tragedy and the trial that made national headlines when the defendant entered the most unexpected of pleas: not guilty by reason of self-defense."
#Saturday, September 24 @ 10:30am Excalibris Book Club at Regency 
Altered Carbon, by Richard K. Morgan 
"In the twenty-fifth century, humankind has spread throughout the galaxy, monitored by the watchful eye of the U.N. While divisions in race, religion, and class still exist, advances in technology have redefined life itself. Now, assuming one can afford the expensive procedure, a person's consciousness can be stored in a cortical stack at the base of the brain and easily downloaded into a new body (or "sleeve") making death nothing more than a minor blip on a screen. Ex-U.N. envoy Takeshi Kovacs has been killed before, but his last death was particularly painful. Dispatched one hundred eighty light-years from home, re-sleeved into a body in Bay City (formerly San Francisco, now with a rusted, dilapidated Golden Gate Bridge), Kovacs is thrown into the dark heart of a shady, far-reaching conspiracy that is vicious even by the standards of a society that treats "existence" as something that can be bought and sold."
#Saturday, September 24 @ 12:30pm New Leaf Book Club at Highlands
Red at the Bone, by Jacqueline Woodson 
"An unexpected teenage pregnancy pulls together two families from different social classes and explores their histories – reaching back to the Tulsa race massacre of 1921 — and exposes the private hopes, disappointments, and longings that can bind or divide us from each other, from the New York Times-bestselling and National Book Award-winning author of Another Brooklyn and Brown Girl Dreaming."
#Tuesday, September 27 @ 6:45 pm Flamingo Book Club at Beaches
True Grit, by Charles Portis
"True Grit tells the story of Mattie Ross, who is just fourteen when the coward Tom Chaney shoots her father down in Fort Smith, Arkansas, and robs him of his life, his horse, and $150 cash. Filled with an unwavering urge to avenge her father's blood, Mattie finds and, after some tenacious finagling, enlists one-eyed Rooster Cogburn, the meanest available U.S. Marshal, as her partner in pursuit, and they head off to Indian Territory after the killer."