Wednesday, September 14, 2022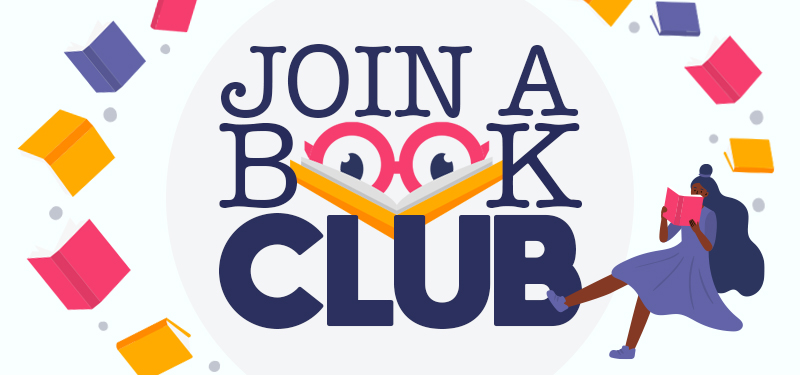 It's finally fall and for some of us, it's spooky season! Read on for some creepy, magical, thrilling, and comfort reads to curl up with and then discuss with our 13 book clubs.
Check out the list of book clubs below and join your fellow readers for a great chat!
Categories: "The first book in a series" and "A book written for teens"
Are you participating in our Jax Stacks Reading Challenge? Do you want to? Do you need a few more ideas for books you can read for that one elusive category? Check out our Reading Challenge book club! Each month we'll get together to talk about that month's featured categories as well as books that you have read or will read for any of the categories in the challenge. No reading is required to attend this book club, just an interest in our reading challenge and the ability to talk about great books!
#Thursday, October 6 @ 6:30pm Discovery Book Club at Pablo Creek
The Upstairs House, by Julia Fine
"There's a madwoman upstairs, and only Megan Weiler can see her. Ravaged and sore from giving birth to her first child, Megan is mostly raising her newborn alone while her husband travels for work. Physically exhausted and mentally drained, she's also wracked with guilt over her unfinished dissertation—a thesis on mid-century children's literature. Enter a new upstairs neighbor: the ghost of quixotic children's book writer Margaret Wise Brown—author of the beloved classic Goodnight Moon—whose existence no one else will acknowledge. It seems Margaret has unfinished business with her former lover, the once-famous socialite and actress Michael Strange, and is determined to draw Megan into the fray. As Michael joins the haunting, Megan finds herself caught in the wake of a supernatural power struggle—and until she can find a way to quiet these spirits, she and her newborn daughter are in terrible danger."
Reviver, by Seth Patrick
"Jonah Miller is a Reviver, able to temporarily revive the dead so they can say goodbye to their loved ones--or tell the police who killed them. Jonah works in a department of forensics created specifically for Revivers, and he's the best in the business. For every high-profile corpse pushing daisies, it's Jonah's job to find justice for them. But while reviving the victim of a brutal murder, he encounters a terrifying presence. Something is on the other side watching. Waiting. His superiors tell him it's only in his mind, a product of stress. Jonah isn't so certain. Then Daniel Harker, the first journalist to bring revival to public attention, is murdered. Jonah finds himself getting dragged into the hunt for answers. Working with Harker's daughter Annabel, he becomes determined to find those responsible and bring them to justice. Soon they uncover long-hidden truths that call into doubt everything Jonah stands for, and reveal a sinister force that threatens us all."
Basketful of Heads, by Joe Hill
"June Branch is in trouble. She's trapped on Brody Island with nowhere to run. Her boyfriend, Liam, has been kidnapped. And four bloodthirsty escaped convicts will stop at nothing to find her. All poor June has to defend herself with is a strange Viking axe with the terrifying power to decapitate a person and leave their head still talking. If she's going to save Liam and herself, June will have to keep a cool head...or even a whole basket of them!"
#Thursday, October 13 @ 1pm As the Page Turns at Mandarin
The House of the Spirits, by Isabel Allende
"The House of the Spirits brings to life the triumphs and tragedies of three generations of the Trueba family. The patriarch Esteban is a volatile, proud man whose voracious pursuit of political power is tempered only by his love for his delicate wife, Clara, a woman with a mystical connection to the spirit world. When their daughter Blanca embarks on a forbidden love affair in defiance of her implacable father, the result is an unexpected gift to Esteban: his adored granddaughter Alba, a beautiful and strong-willed child who will lead her family and her country into a revolutionary future."
West with Giraffes, by Linda Rutledge
"Woodrow Wilson Nickel, age 105, feels his life ebbing away. But when he learns giraffes are going extinct, he finds himself recalling the unforgettable experience he cannot take to his grave. It's 1938. The Great Depression lingers. Hitler is threatening Europe, and world-weary Americans long for wonder. They find it in two giraffes who miraculously survive a hurricane while crossing the Atlantic. What follows is a twelve-day road trip in a custom truck to deliver Southern California's first giraffes to the San Diego Zoo. Inspired by true events, the tale weaves real-life figures with fictional ones, including the world's first female zoo director, a crusty old man with a past, a young female photographer with a secret, and assorted reprobates as spotty as the giraffes."
#Monday, October 17 @ 6:30pm Cumulative Realities at Murray Hill
Toil & Trouble, by Augusten Burroughs
"For as long as Augusten Burroughs could remember, he knew things he shouldn't have known. He manifested things that shouldn't have come to pass. And he told exactly no one about this, save one person: his mother. His mother reassured him that it was all perfectly normal, that he was descended from a long line of witches, going back to the days of the early American colonies. And that this family tree was filled with witches. It was a bond that he and his mother shared - until the day she left him in the care of her psychiatrist to be raised in his family (but that's a whole other story). After that, Augusten was on his own. On his own to navigate the world of this tricky power; on his own to either use or misuse this gift."
Harvest Moon, by Robyn Carr
"Rising sous-chef Kelly Matlock's sudden collapse at work is a wake-up call. Disillusioned and burned out, she's retreated to her sister Jillian's house in Virgin River to rest and reevaluate. Puttering in Jill's garden and cooking with her heirloom vegetables is wonderful, but Virgin River is a far cry from San Francisco. Kelly's starting to feel a little too unmotivated...until she meets Lief Holbrook. The handsome widower looks more like a lumberjack than a sophisticated screenwriter—a combination Kelly finds irresistible. But less appealing is Lief's rebellious stepdaughter, Courtney. She's the reason they moved from LA, but Courtney's finding plenty of trouble even in Virgin River. Kelly's never fallen for a guy with such serious baggage, but some things are worth fighting for. Besides, a bratty teenager can't be any worse than a histrionic chef...right?"
Apples Never Fall, by Liane Moriarty
"The Delaneys are fixtures in their community. The parents, Stan and Joy, are the envy of all of their friends. They're killers on the tennis court, and off it their chemistry is palpable. But after fifty years of marriage, they've finally sold their famed tennis academy and are ready to start what should be the golden years of their lives. So why are Stan and Joy so miserable? The four Delaney children—Amy, Logan, Troy, and Brooke—were tennis stars in their own right, yet as their father will tell you, none of them had what it took to go all the way. But that's okay, now that they're all successful grown-ups and there is the wonderful possibility of grandchildren on the horizon. One night a stranger named Savannah knocks on Stan and Joy's door, bleeding after a fight with her boyfriend. The Delaneys are more than happy to give her the small kindness she sorely needs. If only that was all she wanted. Later, when Joy goes missing, and Savannah is nowhere to be found, the police question the one person who remains: Stan. But for someone who claims to be innocent, he, like many spouses, seems to have a lot to hide. Two of the Delaney children think their father is innocent, two are not so sure—but as the two sides square off against each other in perhaps their biggest match ever, all of the Delaneys will start to reexamine their shared family history in a very new light."
#Saturday, October 22 @ 12:30pm New Leaf Book Club at Highlands
The Sweetness of Water, by Nathan Harris
"In the waning days of the Civil War, brothers Prentiss and Landry, freed by the Emancipation Proclamation, seek refuge on the homestead of George Walker and his wife, Isabelle. The Walkers, wracked by the loss of their only son to the war, hire the brothers to work their farm, hoping through an unexpected friendship to stanch their grief. Prentiss and Landry, meanwhile, plan to save money for the journey north and a chance to reunite with their mother, who was sold away when they were boys. Parallel to their story runs a forbidden romance between two Confederate soldiers. The young men, recently returned from the war to the town of Old Ox, hold their trysts in the woods. But when their secret is discovered, the resulting chaos, including a murder, unleashes convulsive repercussions on the entire community. In the aftermath of so much turmoil, it is Isabelle who emerges as an unlikely leader, proffering a healing vision for the land and for the newly free citizens of Old Ox."
#Tuesday, October 25 @ 6:45 pm Flamingo Book Club at Beaches
The Premonition: A Pandemic Story, by Michael Lewis
"A thirteen-year-old girl's science project on transmission of an airborne pathogen develops into a very grown-up model of disease control. A local public-health officer uses her worm's-eye view to see what the CDC misses, and reveals great truths about American society. A secret team of dissenting doctors, nicknamed the Wolverines, has everything necessary to fight the pandemic: brilliant backgrounds, world-class labs, prior experience with the pandemic scares of bird flu and swine flu...everything, that is, except official permission to implement their work. Michael Lewis is not shy about calling these people heroes for their refusal to follow directives that they know to be based on misinformation and bad science. Even the internet, as crucial as it is to their exchange of ideas, poses a risk to them. They never know for sure who else might be listening in."
The Babysitter, by Liza Rodman
"Growing up on Cape Cod in the 1960s, Liza Rodman was a lonely little girl. During the summers, while her mother worked days in a local motel and danced most nights in the Provincetown bars, her babysitter-the kind, handsome handyman at the motel where her mother worked-took her and her sister on adventures in his truck. He bought them popsicles and together, they visited his "secret garden" in the Truro woods. To Liza, he was one of the few kind and understanding adults in her life. Everyone thought he was just a "great guy." But there was one thing she didn't know; their babysitter was a serial killer. Some of his victims were buried-in pieces-right there, in his garden in the woods. Though Tony Costa's gruesome case made screaming headlines in 1969 and beyond, Liza never made the connection between her friendly babysitter and the infamous killer of numerous women, including four in Massachusetts, until decades later. Haunted by nightmares and horrified by what she learned, Liza became obsessed with the case. Now, she and cowriter Jennifer Jordan reveal the chilling and unforgettable true story of a charming but brutal psychopath through the eyes of a young girl who once called him her friend."
A Mortal Likeness, by Laura Joh Rowland
"Hired by wealthy banker, Sir Gerald Mariner, to find his missing son, photographer and private eye Sarah Bain must figure out if the kidnapping is a cover-up for murder, especially when the case intertwines with her search for her father who disappeared 20 years earlier."