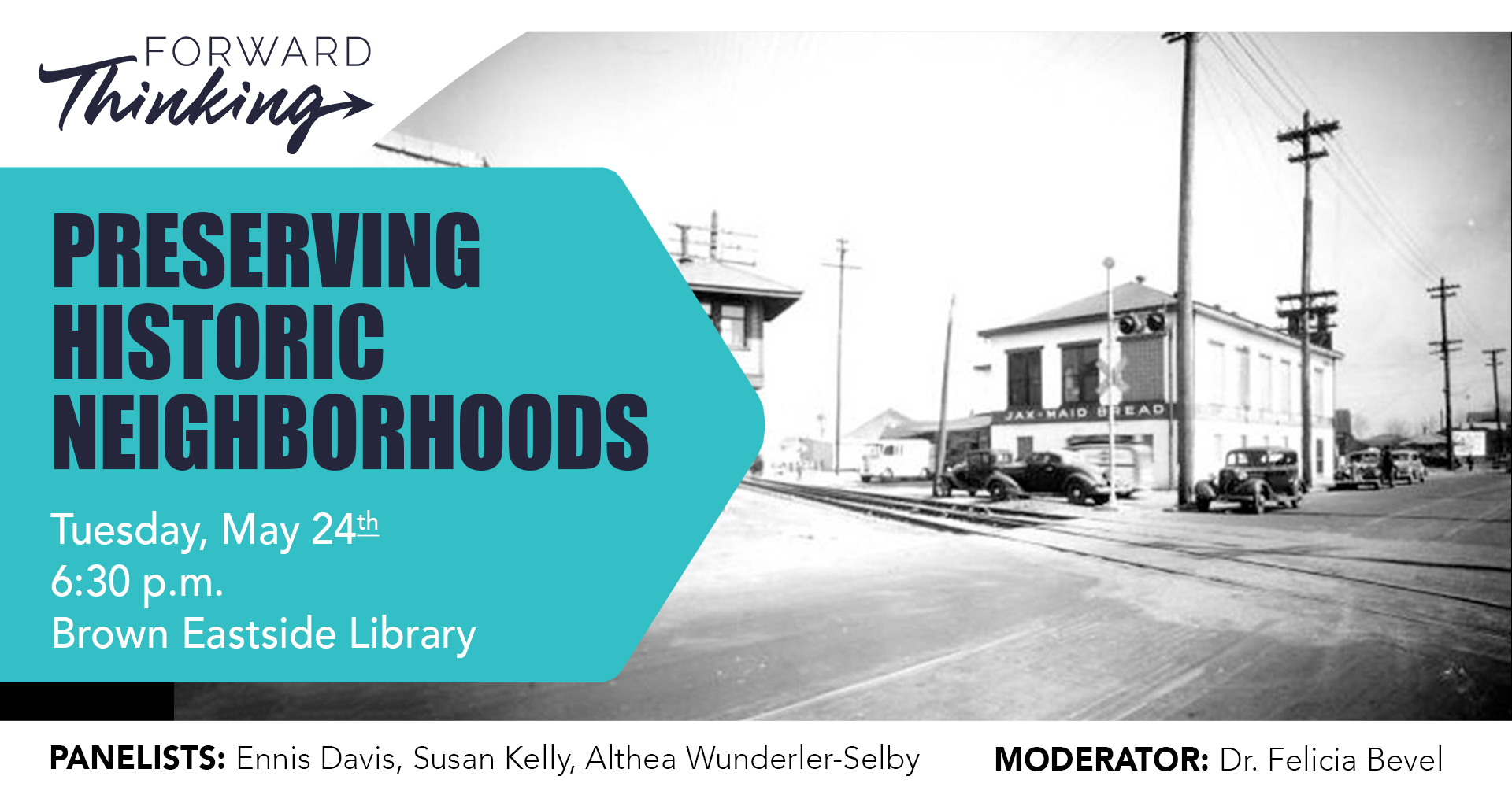 Celebrate Historic Preservation Month at the Brown Eastside Library on Tuesday, May 24! A panel of preservation experts will discuss the various processes that go into preserving historic neighborhoods, challenges, and preservation trends in our city. The program will wrap up with an audience Q&A session! 
#JOIN: 
Forward Thinking: Preserving Historic Neighborhoods, Tuesday, May 24, at 6:30 pm.
This event will take place live at the Brown Eastside Library. Register here!
About our speakers…
Panelist, Ennis Davis: 
Ennis Davis is a certified senior planner who holds a degree in Architecture from Florida A&M University. He is the cofounder of Modern Cities and TheJaxsonMag. Davis is also the author of Reclaiming Jacksonville, Cohen Brothers: The Big Store, and Images of Modern America: Jacksonville. Davis has served with various organizations committed to improving urban communities, including the American Planning Association and the Florida Trust for Historic Preservation.  
Panelist, Susan Kelly:  
Susan Kelly is the Supervisor of the Historic Preservation Section within the Planning and Development Department. She began working with the Planning Department in 2007 and has experience ranging from community engagement and visioning exercises to zoning and land development policy. She began working with the Historic Preservation Section in 2021. Susan has a Bachelor's Degree from UF's College of Architecture and a Master's Degree in City and Regional Planning from Georgia Tech. 
Panelist, Althea Wunderler-Selby: 
Althea works across the Southeast specializing in hands-on technical preservation, preservation planning, cemetery survey and conservation, in-depth research, historic context development, and architectural inventory.  
Moderator, Dr. Felicia Bevel:  
  
Felicia Bevel is an Assistant Professor of History at the University of North Florida (UNF). Her research interests include African American history, U.S. cultural history, southern studies, and childhood studies. Her current project, Exporting Dixie: Race, Nation, and Nostalgia in the Age of Empire, examines twentieth century American culture that romanticized the Old South and circulated in Canada and Australia. At UNF, she teaches courses on topics like the civil rights movement, and is on the advisory boards of Africana Studies and the Digital Humanities Institute. 
#READ:
Historic places have shaped our past, present, and future. How have historic places shaped the way you experience Jacksonville? Browse our collection to learn more about the value of historic preservation and historic sites around our city. The suggested books below are a good place to start. 
Why Old Places Matter: How Historic Places Affect Our Identity and Well-being, by Thompson M. Mayes
Jacksonville's Architectural Heritage: Landmarks for the Future, by Wayne Wood
#WATCH:
Watch Unmarked, a documentary about the need to preserve African-American gravesites and burial grounds and current efforts to save this history from neglect. Click here to watch it on Kanopy, a free streaming service available through the Jacksonville Public Library! 
#EXPLORE:
Drop-in: Research Your Historic Home Workshop at the Brown Eastside Library on Tuesday, May 17 at 6:30 pm
The workshop will be an introductory, "get your feet wet" type of experience. It will cover two common resources that are used to research historic homes: The City Directories and the Sanborn Fire Insurance Maps. Visitors will be shown how to access these resources through our JPL remote databases and be guided through the process. The importance of these resources will be expanded upon. Examples of possible research scenarios will be explored. They will also be educated on the nuances of doing historic home research in Jacksonville. Click here to register.