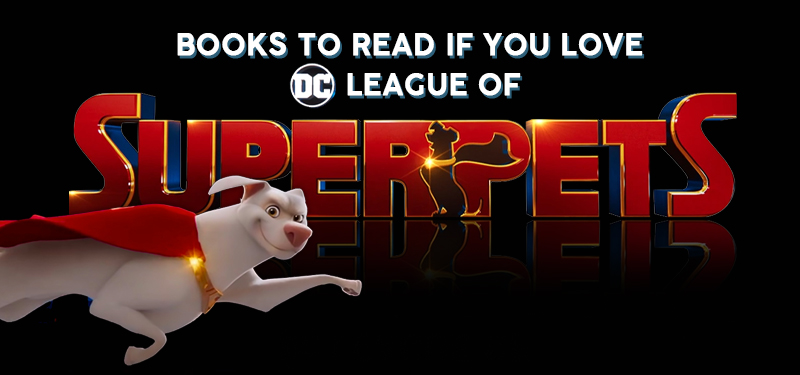 #The Dog Days of Summer... Have Only Just Begun!
It's a bird, it's a plane, it's Superman! Well, not exactly…
To be fair, Krypto the Super-Dog and "the last son of Krypton" have the exact same superpowers. Which is why you'll see the caped, crime-fighting canine flying side-by-side with his best friend in the skies over Metropolis! And now, he's the star of the new summer blockbuster DC League of Super-Pets – in theatres July 29.
#When Pigs (and Puppies) Fly!
New to the Krypto fandom? Catch up with him and Ace the Bat-Hound in Pooches of Power by Sarah Stephens. In the movie, Krypto must gather together a (ragtag) group of other super animals to mount a daring rescue when Superman and the rest of the Justice League go missing! For more adventures with the whole team, check out DC League of Super-Pets by David Lewman (a leveled reader for children, ages 4-6).
#Read All About It
If you like Super-Pets, then we have good news for you (and several book recommendations)! You can find even more awesome animals and other pets with superpowers right here at the Library. From a super rabbit to the daring Supermouse, the high-flying adventures never end!  
Let's Get Cracking! follows avian hero, Kung Pow Chicken, on the hard-boil streets of Fowladelphia.
More of a cat person? Check out Max Meow: Cat Crusader by John Gallagher or Cat Ninja by Matthew Cody.
#Finish Summer Strong
Remember, reading at least 20 minutes a day paves the way! Our Summer Reading Challenge ends July 31 but the rewards of reading last a lifetime! So, don't stop now! And if you need some tips on how to have your best school year yet, don't forget to register for our Back-To-School Boot Camps.
Happy Reading!