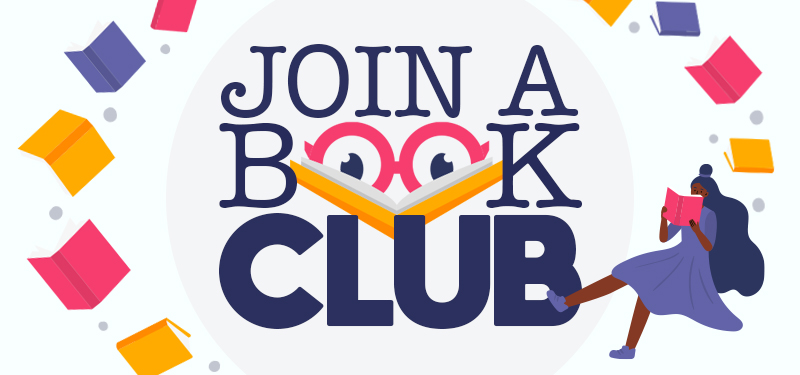 Continue your summer reading at the library with one of our 12 great book clubs this month! We'd like to give a special welcome to our newest book club (which starts July 30), Excalibris, a speculative fiction book club at the Regency Library.
Check out the list of book clubs below and join your fellow readers for a great chat! 
Thursday, August 4 @ 6:30pm Discovery Book Club at Pablo Creek
Big Summer, by Jennifer Weiner
"Six years after the fight that ended their friendship, Daphne Berg is shocked when Drue Cavanaugh walks back into her life, looking as lovely and successful as ever, with a massive favor to ask. Daphne hasn't spoken one word to Drue in all this time - she doesn't even hate-follow her ex-best friend on social media - so when Drue asks if she will be her maid-of-honor at the society wedding of the summer, Daphne is rightfully speechless. Drue was always the one who had everything - except the ability to hold onto friends. Meanwhile, Daphne's no longer the same self-effacing sidekick she was back in high school. She's built a life that she loves, including a growing career as a plus-size Instagram influencer. Letting glamorous, seductive Drue back into her life is risky, but it comes with an invitation to spend a weekend in a waterfront Cape Cod mansion. When Drue begs and pleads and dangles the prospect of cute single guys, Daphne finds herself powerless as ever to resist her friend's siren song."
Monday, August 8 @ 6:30pm Between the Covers Romance Readers Book Club at Brown Eastside Library
Layla, by Colleen Hoover
"When Leeds meets Layla, he's convinced he'll spend the rest of his life with her--until an unexpected attack leaves Layla fighting for her life. After weeks in the hospital, Layla recovers physically, but the emotional and mental scarring has altered the woman Leeds fell in love with. In order to put their relationship back on track, Leeds whisks Layla away to the bed-and-breakfast where they first met. Once they arrive, Layla's behavior takes a bizarre turn. And that's just one of many inexplicable occurrences."
Monday, August 8 @ 6:45pm Jax Stacks Reading Challenge Book Club at Beaches
Categories: "An award-winner or celebrity book club pick"
Are you participating in our Jax Stacks Reading Challenge? Do you want to? Do you need a few more ideas for books you can read for that one elusive category? Check out our Reading Challenge book club! Each month we'll get together to talk about that month's featured categories as well as books that you have read or will read for any of the categories in the challenge. No reading is required to attend this book club, just an interest in our reading challenge and the ability to talk about great books!
Tuesday, August 9 @ 6pm ComiClub Graphic Novel Book Club at Willow Branch
The Unbeatable Squirrel Girl Vol. 1 and 2, by Ryan North
"Wolverine, Deadpool, Doctor Doom, Thanos: There's one hero that's beaten them all-and now she's got her own ongoing series! That's right, it's Squirrel Girl! The nuttiest and most upbeat super hero in the world is starting college!"
Saturday, August 13 @ 10:30am Scottish Mystery Book Club at Regency
The Adventure of the Speckled Band, by Sir Arthur Conan Doyle (this story is in most collections of Doyle's mysteries)
"Sherlock Holmes and Doctor Watson are visited by a beautiful young woman with a face like a hunted animal. Two years ago, a low whistle in the night preceded her sister's premature and inexplicable death. Last night the whistle sounded again..."
Monday, August 15 @ 6:30pm Cumulative Realities at Murray Hill
Running with Scissors, by Augusten Burroughs
"Running with Scissors is the true story of a boy whose mother (a poet with delusions of Anne Sexton) gave him away to be raised by her unorthodox psychiatrist who bore a striking resemblance to Santa Claus. So at the age of twelve, Burroughs found himself amidst Victorian squalor living with the doctor's bizarre family, and befriending a pedophile who resided in the backyard shed. The story of an outlaw childhood where rules were unheard of, and the Christmas tree stayed up all year round, where Valium was consumed like candy, and if things got dull an electroshock-therapy machine could provide entertainment. The funny, harrowing and bestselling account of an ordinary boy's survival under the most extraordinary circumstances." 
Tuesday, August 16 @ 6pm Nuts About Reading Book Club at West
And Then There Were None, by Agatha Christie
"Ten strangers, each with a dark secret, are gathered together on an isolated island by a mysterious host. One by one, they die, and before the weekend is out, there will be none."
Saturday, August 20 @ 2:30 pm Mysterious Affairs Book Club at Highlands
The Other Mrs., by Mary Kubica
"Sadie and Will Foust have only just moved their family from bustling Chicago to small-town Maine when their neighbor Morgan Baines is found dead in her home. The murder rocks their tiny coastal island, but no one is more shaken than Sadie."
Thursday, August 25 @ 7 pm Club 364.1 True Crime Book Club Online via Zoom
Bone Deep, by Charles Bosworth
"Describes how Russ Faria was wrongfully prosecuted and convicted for his wife's 2011 murder, despite having an alibi supported by surveillance video, receipts, and friends' testimony and that her friend, Pamela Hupp, had recently replaced him as her insurance beneficiary."
Saturday, August 27 @ 10:30am Excalibris Book Club at Regency 
Dead Silence, by S. A. Barnes
"Investigating a strange distress signal, Claire Kovalik and her crew discover a luxury space-liner that vanished 20 years prior and board the vessel to find words scrawled in blood, strange movements and whispers in the dark."
Saturday, August 27 @ 12:30pm New Leaf Book Club at Highlands
Middlesex,by Jeffrey Eugenides
"So begins the breathtaking story of Calliope Stephanides and three generations of the Greek-American Stephanides family who travel from a tiny village overlooking Mount Olympus in Asia Minor to Prohibition-era Detroit, witnessing its glory days as the Motor City, and the race riots of l967, before they move out to the tree-lined streets of suburban Grosse Pointe, Michigan. To understand why Calliope is not like other girls, she has to uncover a guilty family secret and the astonishing genetic history that turns Callie into Cal, one of the most audacious and wondrous narrators in contemporary fiction. Lyrical and thrilling, Jeffrey Eugenides's Middlesex is an exhilarating reinvention of the American epic."
Tuesday, August 30 @ 6:45 pm Flamingo Book Club at Beaches
The Night Watchman, by Louise Erdrich
"It is 1953. Thomas Wazhushk is the night watchman at the first factory to open near the Turtle Mountain Reservation in rural North Dakota. He is also a prominent Chippewa Council member, trying to understand a new bill that is soon to be put before Congress. The US Government calls it an 'emancipation' bill; but it isn't about freedom - it threatens the rights of Native Americans to their land, their very identity. How can he fight this betrayal? Unlike most of the girls on the reservation, Pixie - 'Patrice' - Paranteau has no desire to wear herself down on a husband and kids. She works at the factory, earning barely enough to support her mother and brother, let alone her alcoholic father who sometimes returns home to bully her for money. But Patrice needs every penny to get if she's ever going to get to Minnesota to find her missing sister Vera. In The Night Watchman, multi-award winning author Louise Erdrich weaves together a story of past and future generations, of preservation and progress. She grapples with the worst and best impulses of human nature, illuminating the loves and lives, desires and ambitions of her characters with compassion, wit and intelligence."