The Library's Center for Adult Learning (CAL) and our partners at the Literacy Alliance of Northeast Florida (formerly Learn to Read) wouldn't be what they are today—places where adults can learn to read, learn English as a second language, prepare for GED classes and testing—without the vision, innovation and passion of Jean Ulmer Brinkman.
As the founder of CAL and Learn to Read, Jean had a big dream—to give every adult the opportunity and right tools to learn to read.
Jean passed away from ALS in 2013. Walt Brinkman, her devoted husband of 49 years, is helping to keep her dream alive by supporting the Jean Ulmer Brinkman Memorial Scholarship Fund. Established in 2014 by the Presbyterian Women of the Riverside Presbyterian Church, where Jean was an active member, the fund provides scholarships for adults with financial need to cover costs of GED materials and testing. Presbyterian donors and Walt regularly contribute to the scholarship fund, which is a godsend for students who are working toward a better future.
"There's not much you can do if you're 30 years old and don't have a diploma," said Walt. "You can't even go to Florida State college at Jacksonville. You have to learn to read. Then you can get a GED, and then you can go to college. You've got a long road ahead of you but this is incredible. We've never had a program like this before. I'm so proud of the women of the church who saw this as something Jean would've done herself if she had the opportunity."
Although Jean, a behind-the-scenes person who never drew attention to herself, would have shied away from having her name on a scholarship fund, Walt said if she were here today she would be giving generously to it, and that's one reason he supports it. "Jean's dream helped so many people realize their dream," said Walt. "She was a humble person; she never saw it as anything she did. When she would sit and work with the students, she'd offer help, but they were doing the work. She wasn't proud of what she was doing; she was proud of what they were doing."
#Finding the need, funding the dream
Jean found her calling to work with adults, unexpectedly, from working with young students in Duval County Public Schools from 1976 – 1981. As a teacher in special education, she saw students whose learning needs weren't being met; they were falling behind, labeled disruptive, and likely to drop out of school at age 16. She felt students would seek help in later life when they became breadwinners or grandparents; she saw few options for these adult learners.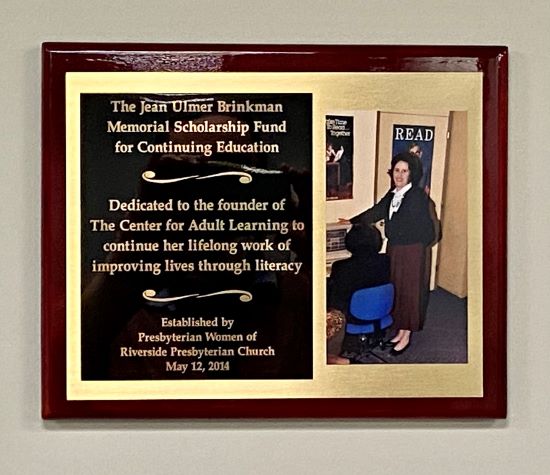 Jean taught school during the day and attended the University of North Florida in the evenings, working on a master's degree in special education. Research for her senior thesis on computer assisted learning for adults led her to explore the use of computers—fairly new at the time and mostly used for games—as a way to help people learn to read.
The more Jean researched, the more she became convinced a computer and literacy program could benefit adult learners. Computers allowed you to adapt the program to individual learning styles. Determined to get a program underway, Jean sought help from Florida Community College at Jacksonville, now known as Florida State College at Jacksonville, and with the assistance of FCCJ's grant writer, she obtained a grant for her program.
An avid reader and big believer in libraries, Jean next approached the library for a place to house the computers and the adult learning program. In 1984 the first CAL—Computers and Literacy program for adults—in the state of Florida was established in the Haydon Burns Library. She grew the adult learning program for the next 15 years until she was tapped to become the library's human resources manager and retired in 2005.
#Name change
When the Computers and Literacy program moved from Haydon Burns Library to the new Main Library in 2005, it would be renamed the Center for Adult Learning. Learn to Read, which was established by Jean and others at Riverside Presbyterian Church in 1969 changed locations several times over the years and finally relocated to the library in 2014. Both CAL and Learn to Read provide complementary adult education programs at the Main and Bradham and Brooks libraries.
"This program has gone so far beyond what she has done but not beyond her vision; this is exactly where she would've brought it had she stayed with it."
Jean's bio reads like a Who's Who in literacy and to date, the Center for Adult Learning has helped thousands of adults fulfill their educational goals. With 200,000 functionally illiterate adults reading below the sixth-grade level in Duval County today, Walt believes there's more reason than ever to give to the fund.
"I feel like I'm helping Jean's dream broaden and affect more people," said Walt. "I'll do what I can to help support that, not just for Jean or her memory, but for people who need this help. She identified something that really was a need. This program has gone so far beyond what she has done but not beyond her vision; this is exactly where she would've brought it had she stayed with it."
Walt, a JEA retiree, was also active at Learn to Read and served as president for two years. He now serves on the ALS Regional Council for Northeast Florida, and is the chair of the Walk Committee. Each year, along with Jean's sisters, he participates on Team Jean to raise money for ALS research. He is hopeful about a new FDA-approved drug that will come out in August 2017, which has been shown to retard the loss of abilities caused by ALS.
Jacksonville Public Library and the Foundation give a huge thank you to Jean—for her vision and leadership—and to Walt and the donors who generously seeded and continue to give to the Jean Ulmer Brinkman Scholarship Fund to help more adults fulfill their dreams to learn to read and pass the GED exam.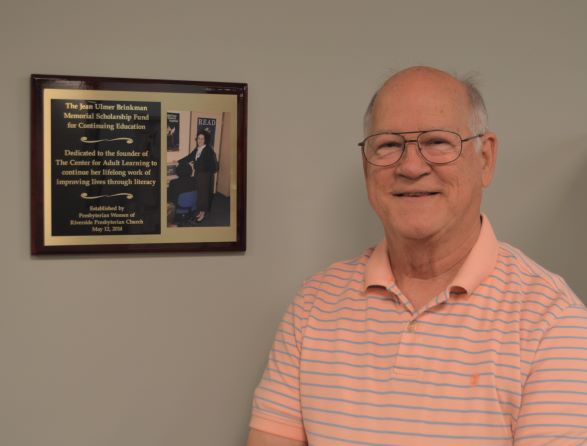 The Jean Ulmer Brinkman Memorial Scholarship Fund continues CAL founder Jean Brinkman's lifelong work of improving adult lives through literacy. The fund was established by the Presbyterian Women of Riverside Presbyterian Church in 2014. To make a tax deductible contribution to the scholarship fund, contact the Jacksonville Public Library Foundation.