Thursday, November 17, 2022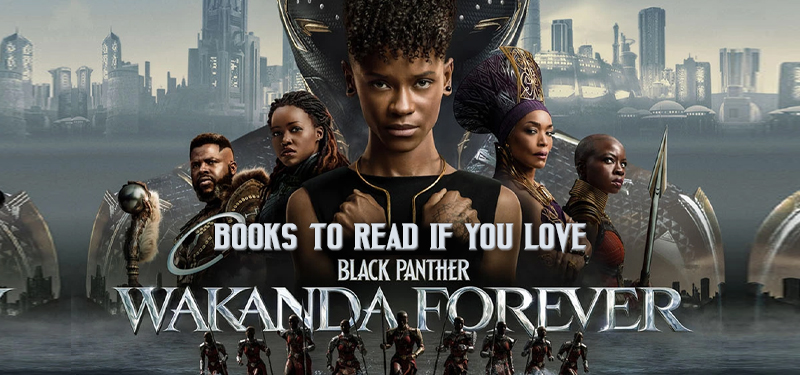 #The World of Wakanda
In the much-anticipated sequel to the 2018 global blockbuster, the people of Wakanda must fight to protect their home as they mourn the loss of their beloved King T'Challa (aka the Black Panther).
If you're already a fan but want to explore some of the new characters and themes introduced, check out King in Black: Namor by Kurt Busiek or Ironheart: Meant to Fly by Eve L. Ewing.
New to the franchise and hoping to catch up? Start with Rise of the Black Panther by Evan Narcisse or Marvel-Verse: Black Panther by Jeff Parker.  
#A celebration of Black culture
Black Panther: Wakanda Forever is more than just a comic book movie or the thirtieth film set in the Marvel Cinematic Universe; it is a cultural phenomenon that's already earned a whopping 180 million (opening weekend). In 2018, award-winning author and Jacksonville Public Library Lit Chat alum, Frederick Joseph raised over a million dollars with one of the biggest GoFundMe campaigns in history so that 75,000 children worldwide could see Black Panther in theatres.
Black Panther was the first Marvel Studios film to win an Oscar (three Oscars, in fact). The movie soundtrack (which you can stream for FREE on Hoopla) debuted at "No. 1 on the Billboard 200" when it was released.
For more about the cultural impact and philosophical importance of a superhero comic book with an all-black cast, check out Black Panther: The Ultimate Guide by Stephen Wiacek.
#Afrofuturism
Black Panther and stories like it combine elements of science fiction and fantasy to imagine a better history (and future) – for Black people. This is why technology plays such a huge role in both films.
For more adventures with Black Panther's techno-genius sister, read Shuri: The Search for Black Panther by Afrofuturist author Nnedi Okorafor.
#More book recommendations