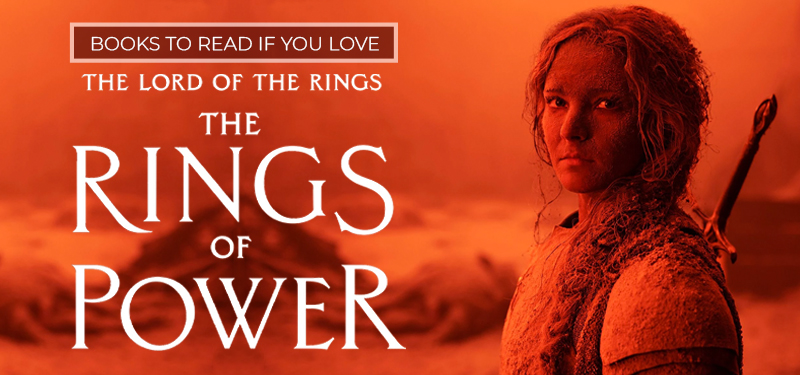 #Are you a Ringer?
If you're a fan of J. R. R. Tolkien's classic books and (especially) Peter Jackson's epic fantasy-adventure film trilogy The Lord of the Rings (from the early 2000s), you might just be watching the first two episodes of Amazon Prime Video's newly released The Lord of the Rings: The Rings of Power this weekend.  
Set in the "Second Age" of Middle-Earth (thousands of year before The Hobbit) and based off appendices (supplementary material) included in Tolkien's The Lord of the Rings, the show will cover major events (that were previously only summarized) like the forging of the Rings of Power and the rise of the Dark Lord Sauron.
#More EPIC stories
Looking for fantasy book recommendations between premiere dates?
Terry Brooks' Shannara Chronicles – with 28 novels written over the course of 40+ years – certainly fits the bill. You can start at the beginning with The Sword of Shannara (1977) or The Black Elfstone (2017), the first entry in the epic four-part conclusion of the mythopoeic series.
#The "American Tolkien"
If you like books with TV tie-ins, you might check out author George R. R. Martin. He's earned international acclaim and millions of loyal readers with A Game of Thrones (and the rest of the fantasy series A Song of Ice and Fire). His work was also adapted for the HBO series of the same name. If you haven't yet, this might be the right time to visit the Seven Kingdoms.
#New in Fantasy
The Art of Prophecy by Wesley Chu is the first book of a new fantasy saga that follows Jian, a prophesied hero who ends up not being the "chosen one" after all. Of course, that doesn't stop him and his unlikely band of allies from trying to save the kingdom anyway.
#More book recommendations