Thursday, November 17, 2022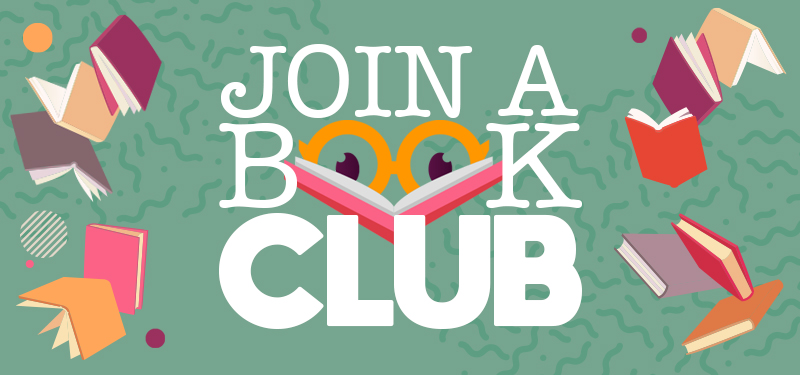 This month we're celebrating great books and readers! Close out the year with a comforting read or a challenging one, and come talk about it with other book lovers! Check out our newest book club, Top Shelf, at the South Mandarin Library, and make sure to keep an eye on the meeting dates this month as some have changed due to holiday closures.
Check out the list of book clubs below and join your fellow readers for a great chat! 
#Thursday, December 1 @ 6:30pm Discovery Book Club at Pablo Creek
The Four Winds, by Kristin Hannah
"Millions are out of work and a drought has broken the Great Plains. Farmers are fighting to keep their land and their livelihoods as the crops are failing, the water is drying up, and dust threatens to bury them all. One of the darkest periods of the Great Depression, the Dust Bowl era, has arrived with a vengeance. In this uncertain and dangerous time, Elsa Martinelli-like so many of her neighbors-must make an agonizing choice: fight for the land she loves or go west, to California, in search of a better life."
The Library at Mount Char, by Scott Hawkins 
"After she and a dozen other children found themselves being raised by 'Father,' a cruel man with mysterious powers, Carolyn and her 'siblings' begin to think he might be God. When Father disappears, they square off against each other to determine who will inherit his library, which may hold the power to all Creation. As Carolyn gathers the tools she needs for the battle to come she has a plan. The only trouble is that in the war to make a new God, she's forgotten to protect the things that make her human."
#Saturday, December 3 @ 12:30pm New Leaf Book Club at Highlands
The Choice, by Dr. Edith Eger 
"At the age of sixteen, Edith Eger, a trained ballet dancer and gymnast, was sent to Auschwitz. Hours after her parents were killed, the 'Angel of Death, ' Nazi officer Dr. Josef Mengele, forced Edie to dance for his amusement--and her survival. He rewarded her with a loaf of bread that she shared with her fellow prisoners--an act of generosity that would later save her life. Edie and her sister survived multiple death camps and the Death March. When the American troops liberated the camps in 1945 they found Edie barely alive in a pile of corpses. Edie spent decades struggling with flashbacks and survivor's guilt, determined to stay silent and hide from the past. Today, at ninety years old, Edie is a renowned psychologist and speaker who specializes in treating patients suffering from traumatic stress disorders. She weaves her remarkable personal account of surviving the Holocaust and overcoming its ghosts of anger, shame, and guilt with the moving stories of those she has helped heal. She explores how we can be imprisoned in our own minds and shows us how to find the key to freedom."
#Thursday, December 8@ 1pm As the Page Turns at Mandarin
The Sentence, by Louise Erdrich  
"A small independent bookstore in Minneapolis is haunted from November 2019 to November 2020 by the store's most annoying customer. Flora dies on All Souls' Day, but she simply won't leave the store. Tookie, who has landed a job selling books after years of incarceration that she survived by reading with murderous attention, must solve the mystery of this haunting while at the same time trying to understand all that occurs in Minneapolis during a year of grief, astonishment, isolation, and furious reckoning."
The No. 1 Ladies Detective Agency, by Alexander McCall Smith 
"Immediately upon setting up shop in a small storefront in Gaborone, Mma Ramotswe is hired to track down a missing husband, uncover a con man, and follow a wayward daughter. But the case that tugs at her heart-and lands her in danger-is that of a missing eleven-year-old boy who may have been snatched by witch doctors."
#Saturday, December 10 @ 10:30 am Top Shelf Book Club at South Mandarin 
There There, by Tommy Orange
"Jacquie Red Feather is newly sober and trying to make it back to the family she left behind in shame in Oakland. Dene Oxedrene is pulling his life together after his uncle's death and has come to work the powwow and to honor his uncle's memory. Edwin Frank has come to find his true father. Bobby Big Medicine has come to drum the Grand Entry. Opal Viola Victoria Bear Shield has come to watch her nephew Orvil Red Feather; Orvil has taught himself Indian dance through YouTube videos, and he has come to the Big Oakland Powwow to dance in public for the very first time. Tony Loneman is a young Native American boy whose future seems destined to be as bleak as his past, and he has come to the Powwow with darker intentions--intentions that will destroy the lives of everyone in his path."
Category: "Book under 300 pages"
Are you participating in our Jax Stacks Reading Challenge? Do you want to? Do you need a few more ideas for books you can read for that one elusive category? Check out our Reading Challenge book club! Each month we'll get together to talk about that month's featured categories as well as books that you have read or will read for any of the categories in the challenge. No reading is required to attend this book club, just an interest in our reading challenge and the ability to talk about great books!
Always, in December, by Emily Stone  
"Every December, Josie posts a letter from her home in London to the parents she lost on Christmas night many years ago. Each year, she writes the same three words: Missing you, always. But this year, her annual trip to the postbox is knocked off course by a bicycle collision with a handsome stranger--a stranger who will change the course of Josie's life. Josie always thought she was the only one who avoided the Christmas season, but this year, Max has his own reasons for doing the same-and coincidence leads them to spending the holiday together. Aglow with new love, Josie thinks this might be the start of something special. Only for Max to disappear without saying goodbye. Over the course of the next year, Max and Josie will find that fate continues to bring them together in places they'd never expect. New York City. Edinburgh. The quiet English countryside. And it turns out, Max had every reason to leave and every reason to stay. But what does fate hold for Josie and Max as Christmas approaches again?"
Klaus: How Santa Claus Began, by Grant Morrison 
"He's a myth. He's a legend. He's loved worldwide by children and adults alike...but does anyone truly know the origins of Santa Claus? Set in a dark fantastic past of myth and magic, Klaus tells the origin story of Santa Claus. It's the tale of one man and his wolf against a totalitarian state and the ancient evil that sustains it."
#Thursday, December 15 @ 6 pm From Books to Film at Southeast
12 Years A Slave, by Solomon Northup 
"Solomon Northup, born a free man in New York, was lured to Washington, D.C., in 1841 with the promise of fast money, then drugged and beaten and sold into slavery. He spent the next twelve years of his life in captivity on a Louisiana cotton plantation. After his rescue, Northup published this exceptionally vivid and detailed account of slave life."
Case Histories, by Kate Atkinson 
"Case One: Olivia Land, youngest and most beloved of the Land girls, goes missing in the night and is never seen again. Thirty years later, two of her surviving sisters unearth a shocking clue to Olivi'as disappearance among the clutter of their childhood home. Case Two: Theo delights in his daughter Laura's wit, effortless beauty, and selfless love. But her first day as an associate in his law firm is also the day when Theo's world turns upside down. Case Three: Michelle looks around one day and finds herself trapped in a hell of her own making. A very needy baby and a very demanding husband make her every waking moment a reminder that somewhere, somehow, shed made a grave mistake and would spend the rest of her life paying for it--until a fit of rage creates a grisly, bloody escape. As Private Detective Jackson Brodie investigates all three cases, startling connections and discoveries emerge. Inextricably caught up in his clients grief, joy, and desire, Jackson finds their unshakable need for resolution very much like his own."
#Monday, December 19 @ 6:30pm Cumulative Realities at Murray Hill
Rememberings, by Sinéad O'Connor 
"Blessed with a singular voice and a fiery temperament, Sinéad O'Connor rose to massive fame in the late 1980s and 1990s with a string of gold records. By the time she was twenty, she was world famous--living a rock star life out loud. From her trademark shaved head to her 1992 appearance on Saturday Night Live when she tore up Pope John Paul II's photograph, Sinéad has fascinated and outraged millions. In Rememberings, O'Connor recounts her painful tale of growing up in Dublin in a dysfunctional, abusive household. Inspired by a brother's Bob Dylan records, she escaped into music. She relates her early forays with local Irish bands; we see Sinéad completing her first album while eight months pregnant, hanging with Rastas in the East Village, and soaring to unimaginable popularity with her cover of Prince's 'Nothing Compares 2U.'" 
People Like Her, by Ellery Lloyd 
"To her adoring fans, Emmy Jackson, aka @the_mamabare, is the honest 'Instamum' who always tells it like it is. To her skeptical husband, a washed-up novelist who knows just how creative Emmy can be with the truth, she is a breadwinning powerhouse chillingly brilliant at monetizing the intimate details of their family life. To one of Emmy's obsessive followers, she's the woman that has everything but deserves none of it. As Emmy's moral compass veers wildly off course, she becomes vulnerable to a very real danger circling ever closer to her family."
#Tuesday, December 20 @ 6:45 pm Flamingo Book Club at Beaches
The Lion, the Witch and the Wardrobe, by C.S. Lewis 
"Four English schoolchildren find their way through the back of a wardrobe into the magic land of Narnia and assist Aslan, the golden lion, to triumph over the White Witch, who has cursed the land with eternal winter."
The Third Rainbow Girl, by Emma Copley Eisenberg 
"In the early evening of June 25, 1980 in Pocahontas County, West Virginia, two middle-class outsiders named Vicki Durian, 26, and Nancy Santomero, 19, were murdered in an isolated clearing. They were hitchhiking to a festival known as the Rainbow Gathering but never arrived; they traveled with a third woman however, who lived. For thirteen years, no one was prosecuted for the 'Rainbow Murders', though deep suspicion was cast on a succession of local residents in the community, depicted as poor, dangerous, and backward. In 1993, a local farmer was convicted, only to be released when a known serial killer and diagnosed schizophrenic named Joseph Paul Franklin claimed responsibility. With the passage of time, as the truth seemed to slip away, the investigation itself caused its own traumas--turning neighbor against neighbor and confirming a fear of the violence outsiders have done to this region for centuries."